"Wilderness is not a luxury but a necessity of the human spirit," wrote Edward Abbey in the book Desert Solitaire. There are some people who, faced with the chaos and industrialization of the modern world, retreat into that proverbial 'wild,' an abstract space far from civilization where they can either fortify or confront their own spirit. Various films have covered this, from narratives like Into the Wild and Captain Fantastic to documentaries like Grizzly Man and My Octopus Teacher. For whatever reason, many souls have been stirred by Jack London's 'call of the wild.'
Wildcat chronicles the journey of two such people, who brought their own personal trauma deep into the Peruvian Amazon in order to save animals and themselves. Harry was a British soldier in Afghanistan who suffers from PTSD and depression, but when he found Hoja Nueva, a conservation and rewilding center in Peru, Harry had a chance to bring meaning and peace back into his life. Aided by Samantha, the founder of the non-profit, Harry spends years helping animals transition back into the wild.
When Harry developed a close bond with an ocelot named Keanu, filmmakers and partners Trevor Frost and Melissa Lesh decided to turn Keanu's rewilding process into a documentary. They had no idea that it would become not only one of the best documentaries of 2022, but an arduous four-year task that nearly killed them. Ahead of their film's premiere on Prime Video, Frost and Lesh spoke with MovieWeb about Wildcat, its study of mental health and the human spirit, and how their film became increasingly and unnervingly personal.
The Soldier and the Ocelot
Wildcat is getting awards buzz (especially as a late-season Oscar contender for Best Documentary) because it really does capture a perfect confluence of forces, and if it wasn't so powerfully real, it'd be the stuff of a great screenplay. Harry was suicidal after his medical discharge from the military; feeling like a bother to his parents and brother, he headed as far from civilization as possible, toward the Las Piedras region of the Peruvian rainforest. He eventually began working with animals. Little did he know that by rescuing a wild animal, he would rescue himself.
While in that wet wilderness, Harry met the American academic and conservationist Samantha Zwicker, or Sam, and assisted with her efforts. They began a romantic and professional relationship, and it soon seemed as if Harry had found his calling, especially when he met an ocelot named Khan. Perhaps the first ocelot anyone has ever attempted to reintroduce into the wild, Khan lit up Harry's life, and it seemed like he and Sam had stumbled into some sort of biodiverse paradise. Unfortunately, it wouldn't last — Khan was killed, sending Harry into a deep depression. When they eventually came across another baby ocelot named Keanu, Harry decided that this time he would do everything he could to successfully reintroduce it, despite the emotional and physical difficulty it entailed. This is when Frost and Lesh got involved.
Related: The Best Nature Documentaries Streaming Right Now
"The thing that was driving us at the beginning was these remarkable characters," explained Lesh. "Particularly Harry at first, with his experience in war and going to the Amazon, essentially to make his death look like an accident, to disappear. That in and of itself is a very kind of striking backdrop, and then you have this incredible relationship with him and the cat." Lesh continued:
When Trevor first met Harry, they brought him a small archive of footage with Khan, which is the first ocelot you see in the film. And I remember Trevor calling me and then getting home and showing me. He plugged in the footage and was looking at it to try and put something together, to get some funding, and it was just like nothing you've you've ever seen before. I mean, this young cat and the level of intimacy, the kind of care there was from harry, and also a lack of awareness with the camera. There was a transparency and a vulnerability that made it feel like you were really there with him.
Melissa Lesh and Trevor Frost Embed with Wildcats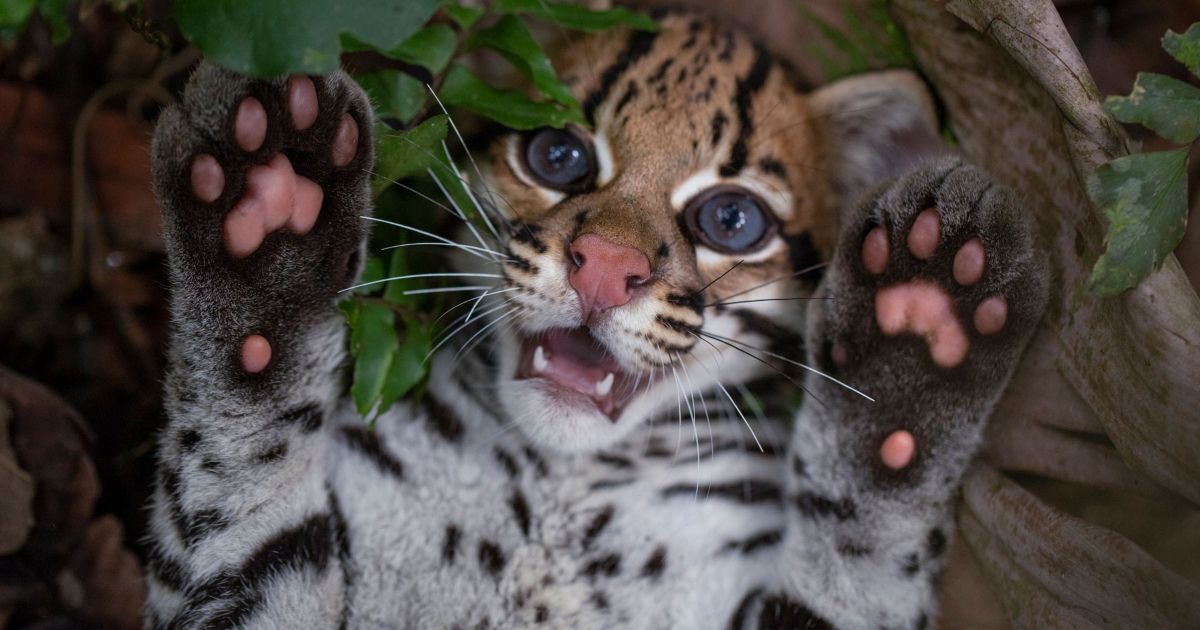 "I met them when I was down there on a separate project, and met them very accidentally," said Frost, who has been all over the world filming and photographing nature. "The thing that immediately drew me in is that, of all my years of traveling to remote places, I noticed that everywhere I went, whether it was somewhere in Indonesia or somewhere in Africa, the people that I met there were always kindred spirits. They always seemed to be looking for something. Many of them came from backgrounds where they had a difficult childhood, or trauma, or struggled with mental health issues like depression or anxiety. What was it that made all these people kind of gravitate towards these remote wild places? So I guess immediately, the first thing that came to mind for me was, what is it about Harry and Sam that led them both to this place and to inevitably finding each other on this river, and then working together? That really intrigued me a lot."
Harry and Sam are fascinating characters, the animals (and Keanu specifically) are almost hypnotic to watch, and the rainforest setting is stunning and exotically dangerous. Suffice it to say, there were many elements that attracted Lesh and Frost, but they never expected to spend half a decade on the project. "I don't think that we fully knew what the timeline and the total investment was going to be," admitted Lesh. "When we got the first call that Keanu had been rescued and that we would follow that journey, I think we just put one foot in front of the next. It wasn't like, 'Okay, the next year and a half are gonna be 200 days in the Amazon.' It was about what's happening right now, what do we need to capture that's unfolding currently?" Lesh continued:
Of course, we did have some idea that we were going to want to capture the full reintroduction, the 17 months approximately. We knew that was the general timeframe that the cat needed to return to the wild; that was about the time that they leave their biological mother. And because of Khan, they had developed some protocols that informed the reintroduction with Keanu. But as you get deeper into it, and specifically as we made those deeper human connections, we realized this isn't just a story about a reintroduction. There are also parallels between them as characters.
Wildcat Became Personal for Frost and Lesh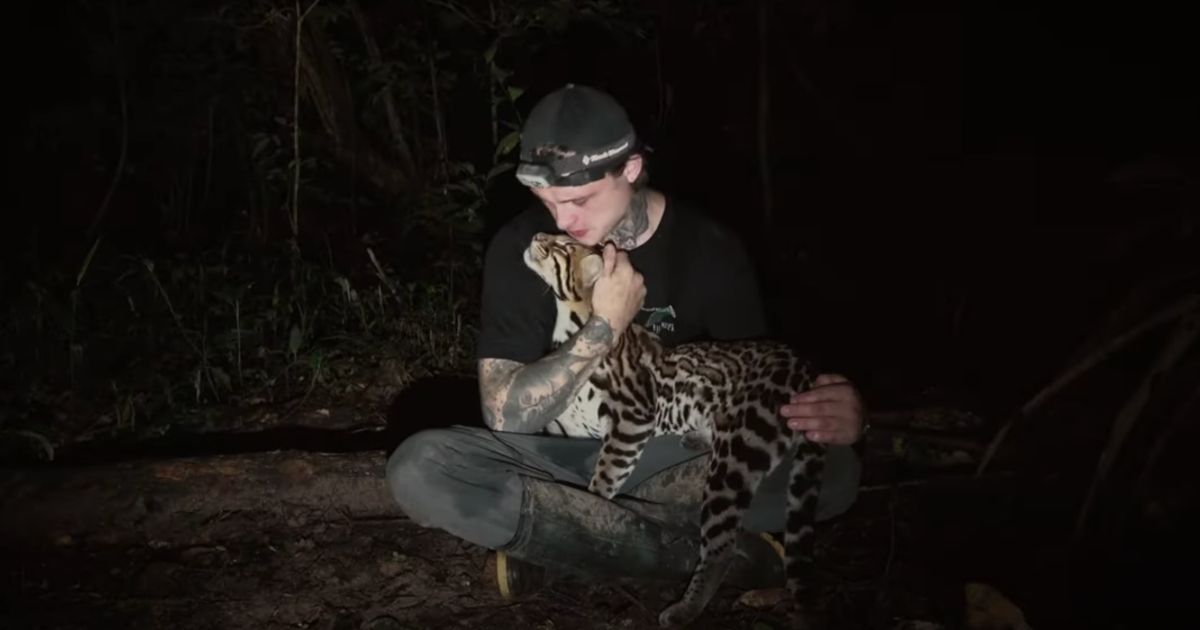 "When we first started filming, they were actually at a research site downriver. So in the film, you see they move Keanu upriver to a more remote and protected, bigger area," said Lesh. "In the first few months of production, we were living at that main headquarters, and Harry's platform with Keanu and his enclosure was about a 30 to 40-minute walk from that main headquarters. So every morning, we would do the hike with our camera gear, film breakfast with Harry, and then he would leave and go walk Keanu and come back, but we had some time, and at night, we would always go back to that main headquarters. Then, when they move Keanu to that upriver location, that was about an hour by boat upstream, and then another hike into the rainforest."
"It wasn't the kind of thing where you could come and go every day, so we all lived on this 20′ by 30′ platform together," Lesh continued. "They had this beautiful design, it was gonna have showers and was gonna have running water, but none of that happened while we were there. It was very bare bones, there was a little solar power so we could charge just the basics or have one light bulb at night. At that point, everything changed." The filmmaker elaborated:
We all started living together and not leaving, and we were sleeping together and waking up together and all of our meals were together. We became infinitely more entwined, and the relationship got deeper and deeper. I think we saw that, with the shift in location and it being so remote in the rainforest without any service or Wi-Fi, it creates a space where you're totally present with each other. That's very conducive to both the beautiful things that you see — the bond and the love and the openness — but also, of course, we were there for all the hard things too. In those moments, it really became about what is best in that situation. Sometimes I just had to leave the platform and go down to the stream and just walk away. Things got a little bit too intense.
Wildcat Is a Self-Portrait of Love and Suffering
The stress mounted from all fronts, and Harry and Sam were fighting. Harry was cutting himself and talking of suicide; Sam had to fly back to the States more often; Keanu was having difficulty rewilding; Frost was developing deeper depression. Perhaps worst of all, Lesh got the news from an MRI that she had a growing, amorphous brain mass. "They feared it might be a Hydatid cyst, which is caused by tapeworms that form a fluid-filled sack in the brain that contains tapeworm eggs," wrote Lesh in a piece with Frost for IndieWire. "I was told if it is a Hydatid cyst, and it wasn't removed properly, the sack could rupture, spreading eggs throughout my brain, possibly sending me into anaphylactic shock."
The portion of Wildcat which documents this later phase in the reintroduction process is incredibly tense, even without mentioning the filmmakers' struggles themselves. There seemed to be a personal, powerful parallel between the two couples — two filmmakers in a relationship are documenting two human subjects in a relationship, and both couples have a man who is becoming increasingly depressed; eventually, each of the women has to leave (Sam for her PhD and to raise funds, Lesh for brain surgery), leaving Harry and Frost alone together for a month. Everything had become overwhelming.
Related: Best Documentary Movies of 2022, So Far
"I think the parallels ran really, really deep," said Lesh. "From the beginning, it was clear how much Trevor related to Harry, or at least was able to talk about things in a personal, intimate way. Then as the production went on, Samantha became a part of the picture, and then it was only when her father passed away about halfway through production that she started opening up about her past. And it was right around that same time that I started opening up about my past with my father and trauma that I had experienced." Lesh continued:
In a weird way, it almost feels like this was a kind of self-portrait. Like, you do have these two couples that are living in the rainforest, that are grappling with their own pasts and their present challenges, and you're trying to be there for one another. And I think that was something that I also really deeply connected with Samantha on, and something that helped pull out her story — being the partner of someone that's struggling, and the toll that takes also on you and on your relationship. How do you navigate that as someone who loves someone deeply, but ultimately also needs to take care of yourself and draw your own boundaries?
Frost and Lesh Are Still on the Journey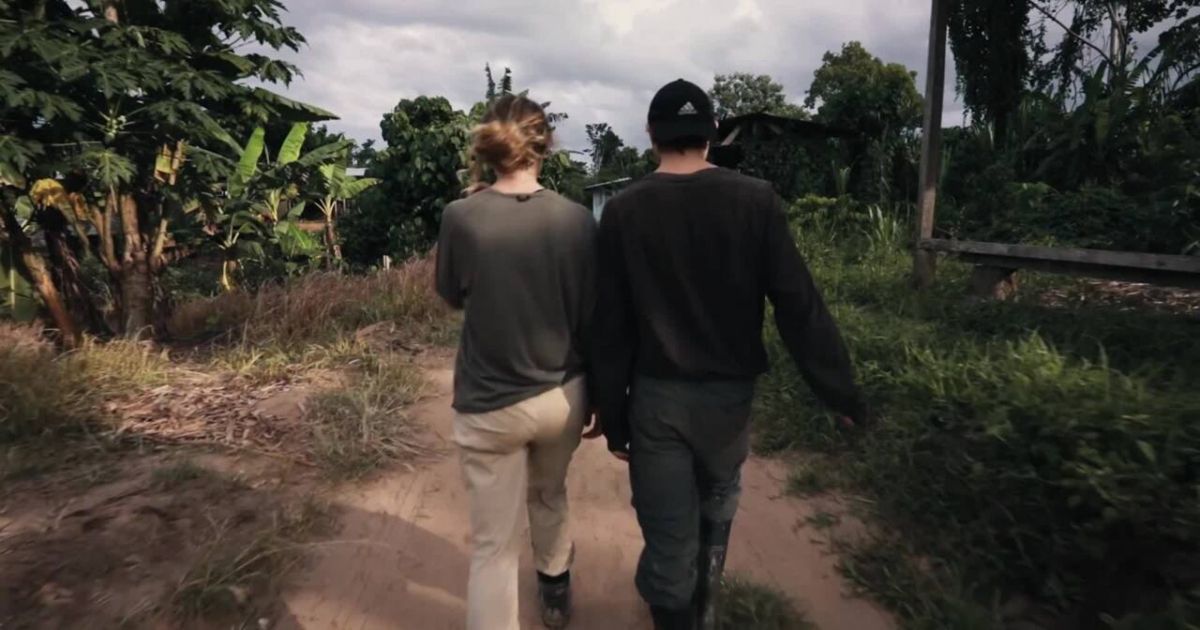 It was easy for everyone involved to forget about their mental and physical health during these years, making their time in the rainforest fairly dangerous. In Wildcat, on-screen and off, this can be attributed to the combination of being so close to someone in a relationship with having a project that feels bigger and more important than yourself (be it saving Keanu or making this film).
"The closer you are with someone, the more difficult that stuff inevitably is," said Frost. "Of course, the other major issue is that we grew up being taught all these things. We're taught how to read, how to write, how to do math, but no one teaches us how to handle things, emotional things, no one gives us classes on that. So we go into adulthood, and when these things inevitably start happening to us, we lose a friend, or we lose a family member, we lose an animal that we care about, whatever it may be, we're not prepared for it. We have absolutely no kind of toolkit to handle these things. Melissa and I both, neither one of us had the toolkit to be dealing with some of the stuff that we dealt with. And because we were so close, it made it even more difficult. So yeah, there were a lot of extremely challenging moments throughout production that were very emotionally difficult to get through."
"Whether you're a writer, filmmaker, or photographer, it's very easy for you to throw yourself fully into something," continued Frost. "I think that's the case, even more, when you feel that what you're working on is hopefully going to contribute to the world in some larger way. Then you kind of justify it, because you say, 'Well, this will hopefully have an impact.' […] If you go into it with that in mind, you kind of end up ignoring yourself. I think going into the next film, Melissa and I are already making sure that we're protecting ourselves a little better." They're out of the wilderness — Lesh's brain mass was thankfully benign, and Frost has been treating his depression.
"There's still more work to do. There's always work to do," said Frost. "We tend to create a sort of idea, especially in Western society, where you can magically just get better and everything's all wonderful again. The reality with so many things in life, whether it's the loss of a loved one or depression, is that it's going to be something that you deal with for the rest of your life. You never get over the loss of a parent or a family member. You just kind of have to figure out how to contend with it. So I think that's the case for both of us — we're still on that journey, but we've certainly been putting in the work."
After its limited run in theaters, which began December 21, Wildcat will be streaming on Prime Video on December 30. Wildcat is a production of Unbound Films and Emerging Earth Films, in association with Ajna Films, 30WEST, and Harmonium Pictures.