The tagline for National Lampoon's Christmas Vacation read "Yule crack up!" For Violent Night, Universal's new holiday release, the tagline might read "Yule crack up… and shriek from time to time." The R-rated Christmas film features plenty of violent moments and a handful of familiar faces, including one or two who are experienced in the genre.
In addition to Stranger Things star David Harbour as Santa Claus, Beverly D'Angelo holds the down the fort in the new Christmas-themed action-comedy. It's certainly fun to see in theaters, especially hearing an audience react to adults-only moments.
We recently caught up with D'Angelo to learn more about 87North's Violent Night, which was helmed by Dead Snow director Tommy Wirkola. She also dished on what it was like to work with Harbour and other projects in the works.
Returning to the Holiday Genre in Violent Night
MW: What was it about the project that attracted you to it?
Beverly D'Angelo: Well, I would say, primarily, Tommy Wirkola. I'm a huge fan of his. I think he's a master at genre-shifting. I think he has a master's ability to create moments, so clearly, of comedy, action, drama, horror, and guide you through that in a way that you don't lose anything. I mean, he can create a heartfelt moment, and then, five minutes later, you're laughing at somebody getting his head cut off. That takes a master. So I really wanted to work with him. But I also saw in that role an opportunity to be an empowered badass. In the context of Christmas, I thought, "How wonderful to be able to explore Christmas through that lens." When I was so familiar to audiences as Ellen [Griswold from Christmas Vacation], the sweet, devoted, patient wife, I just loved kind of the 360. And my dream, and I really hope it comes true, is that everybody goes to the theaters to see Violent Night and then comes home, and they crank up the Griswolds [in Christmas Vacation].
Related: David Harbour Teases Violent Night Cinematic Universe, Wants Pedro Pascal & Oscar Isaac as Easter Bunny & Tooth Fairy
MW: Was your experience on National Lampoon's Christmas Vacation part of the reason why you joined Violent Night?
Beverly D'Angelo: Again, I thought more of the character. The fact that it was set at Christmas was kind of coincidental. But also, I liked that aspect of it, but that wasn't why. It wasn't, "Oh, here's a Christmas movie I could do because I've done some other Christmas movies." It was the role, and it was the director and the cast. And just the whole thing was really good to be a part of.
MW: What was it like working with David Harbour as Santa Claus?
Beverly D'Angelo: It's funny because the Lightstone family doesn't have much direct interaction with him. He's the sweetest man in the world. And so on the last night [of filming]… he said, "God, you guys, it was great working with you. I mean, even though I know that we didn't get to spend that much time actually working." Because he's a real actors' actor, and so we didn't have a chance… to discuss larger acting and all the little secret conversations that actors have. But he was our tent post. He was our guide, you know? And again, there's a heart, and Tommy [Wirkola] was very keyed into that. Tommy really understands human beings. And no matter what he does, no matter how wild the trip is, you always understand the characters. He always gives you the humanity of them.
Entourage Parallel and Future Projects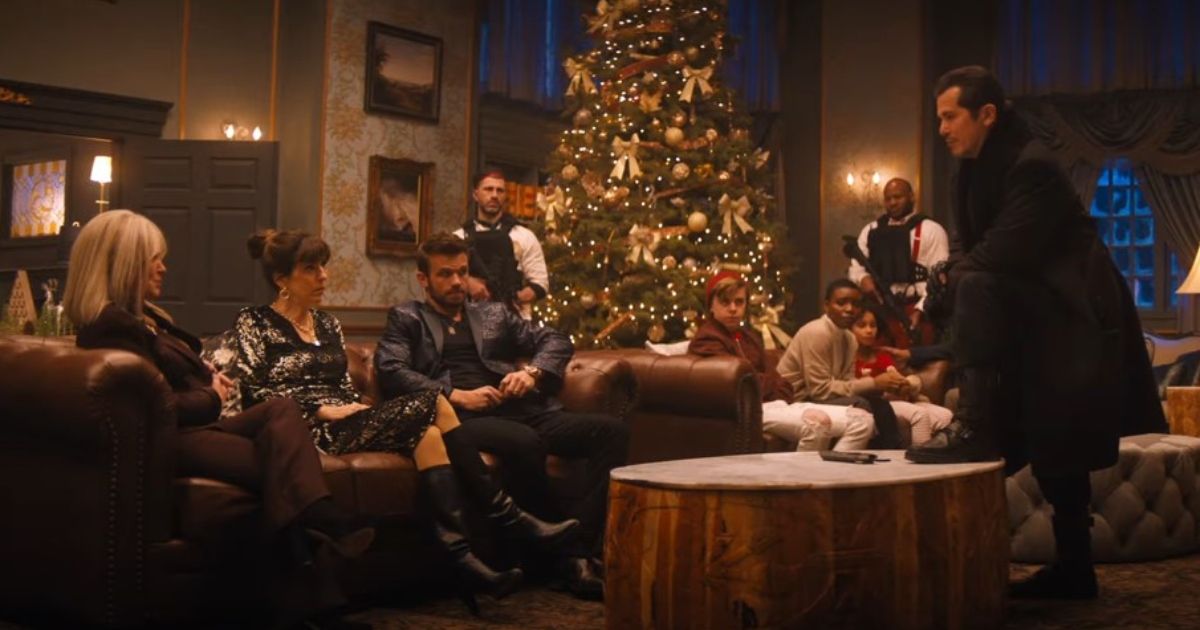 MW: Tommy Wirkola told me that some you improvised some of your character's one-liners. Can you tell me more about that?
Beverly D'Angelo: Well it was really good writing, though. I mean, the writing was really inspiring. And I didn't improvise everything. But it was a great group. It was a great atmosphere. It was a very, very, very creative atmosphere. It was definitely an artist's set. We felt that even though we all knew we were doing a studio picture. We all knew that it was franchised-oriented and all that kind of stuff. But that isn't what we lived day-to-day. We were all very committed to turning in great performances there in that moment. And Tommy was brilliant about getting what he knew he wanted.
Related: Exclusive: Elizabeth Hurley Goes On an 'Invigorating' Dune Buggy Ride in Christmas in the Caribbean
MW: Your character Gertrude reminded me of your Babs persona from Entourage.
Beverly D'Angelo: I think that too! It's in that lineage. It'd be great to find a character that was everything. I'll take that… In fact, because you brought it up, that is one of the things that resonated. I recognized her. I get that person.
MW: Are any other upcoming projects you'd like to talk about?
Beverly D'Angelo: I have a nice recurring role in a CBS series that's going to come out in the spring. It's called True Lies, and it's based on that film. It's an extension of that, starring Steve Howey and Ginger Gonzaga — speaking of improvisers, she's the master. And then I did another film with Tony Kaye called The Trainer, and that'll probably take the Cannes route, you know, May or early summer. I just finished a film… directed by Nicholaus Goossen and starring Esther Povitsky. I don't know if you've heard of her, but she's fantastic. She's had a few specials on HBO, and she's a fantastic comedian. That one's called Drugstore June. So yeah, it's all happening!
Violent Night comes to us from Universal Pictures and is available as of December 2.