Starring Stranger Things fan-favorite David Harbour, the new action-packed comedy Christmas movie Violent Night hits theaters on December 2. It follows a well-equipped Papa Noel who's out for blood following a dramatic hostage situation.
From the creators of John Wick, the epic new black comedy is directed by Tommy Wirkola (The Trip, Dead Snow) from an original screenplay written by Pat Casey and Josh Miller. It also stars John Leguizamo (Encanto, John Wick: Chapter 2) and Beverly D'Angelo (National Lampoon's Christmas Vacation).
We recently caught up with Wirkola to hear more about the production process and what it was like to work with Hollywood heavy-hitters.
Shooting A Christmas Movie With David Harbour
MW: What was it like shooting a Christmas movie? Is that something you've always wanted to do?
Tommy Wirkola: Well, I didn't realize it until I read the strip that yes, it would be very appealing and fun to actually do a Christmas movie. As so many other people in the world, obviously, I love Christmas movies. I love the variety of them. Yes, I love the Home Alones, but I also love Bad Santa. As long as you have a big beating heart, I think you can get away with anything, and you can make a Christmas movie in any genre — as long as you kind of walk out of the theater feeling filled with Christmas spirit. So that was the appeal to me, like, "OK, I know I can do an action film, and I can know I can do the extreme humor and all that stuff. But how would it be to combine that with a Christmas movie?" And that was really appealing to me.
Related: David Harbour Praises Gran Turismo Director, Teases Visceral Video Game Movie
MW: What was it like working with David Harbour?
Tommy Wirkola: David was fantastic. He came on really early, and he helped shape the character. A lot of that was in there, but he had a lot of ideas on the journey of Santa. "Where do we start, and where do we finish him?" And we really wanted to embrace that Coca-Cola version of Santa Claus in the beginning — with the perfect red suit, the white hair, and those tiny glasses — and just really put him to the grinder and have him come out the other end as the real Santa or who used to be. And yeah, he's a fantastic collaborator. He's got great ideas, great instinct. He's obviously a great actor, as we all know, but he also has great physicality, a presence. And we knew he wanted that. When a Santa steps into a room, we should just feel that power.
And he's also funny, and he has that heartwarming ability that we needed for this role. He's just a very good guy and funny guy. And this didn't dawn on me until later, but I do think it can be daunting for an actor to take on the role of Santa Claus because so many actors have done it in so many movies. But David really nailed it. I think he created a new type of Santa Claus, a kick-ass original version of Santa Claus.
MW: When you were on set, was there a particular scene that was the most fun to shoot?
Tommy Wirkola: The Home Alone scene was so fun because that's a movie that everybody knows and loves, of course. And it was fun doing our own twisted version of that. The final fight was fun to shoot because we were out in the middle of nowhere. It was freezing cold, but it really helped the scene that we were out there. Those are real [cold[ breaths you see, real snow around us and trees. And it was fun shooting snowmobiles. I'm a big fan of snowmobiles, I'm a big snowmobiler myself. I always feel like there haven't been really that many snowmobile sequences in films in general. You have Die Hard 2, you have a James Bond movie — that's kind of about it. So we really wanted to have some snowmobile action in this one, and that was fun to shoot.
Beverly D'Angelo and Seeing Violent Night in Theaters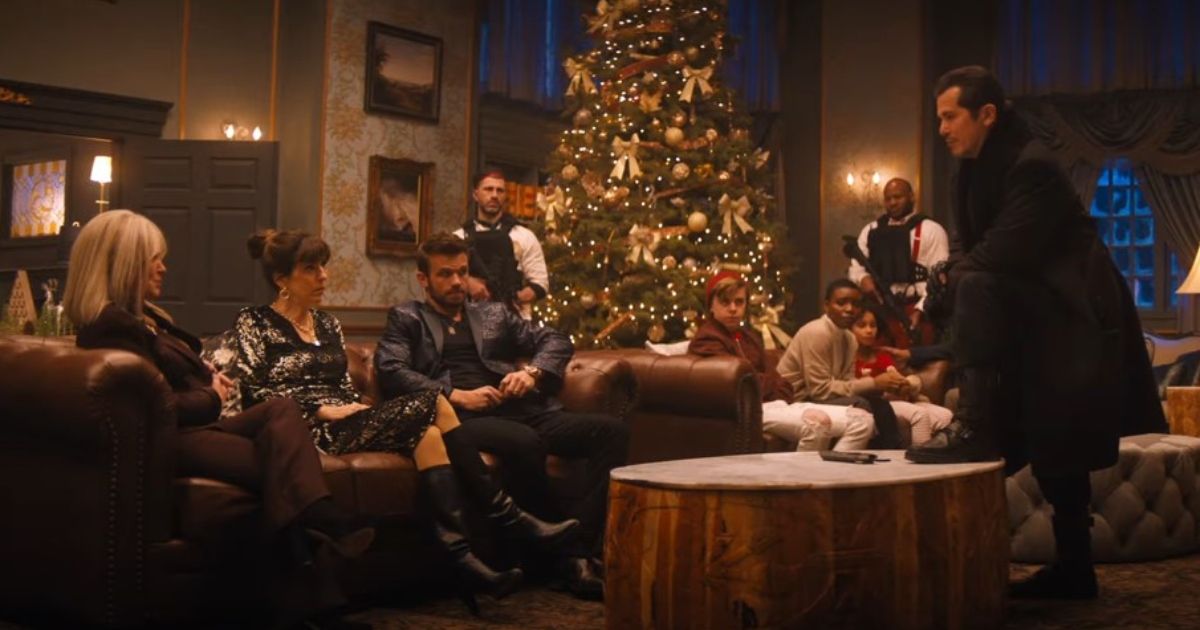 MW: Given her experience starring in Christmas Vacation, how was it working with Beverly D'Angelo for Violent Night?
Tommy Wirkola: It was a joy. That's one of my favorite Christmas movies. And so when the chance arose to get her for this role, it was a no-brainer. And she's so funny, and she really embraced that role. And she really impressed me with her variety in swearing. Some of that was not in the script, but she went for it and had a lot of good ones. But it's fun paying tribute to her and that movie in our own way.
Related: Exclusive: Violent Night Star Beverly D'Angelo on Her R-Rated Christmas Film
MW: Do any other movies come to mind that inspired how you wanted this movie to look, whether it was another Christmas movie or just another film in general?
Tommy Wirkola: When it came to looking at the film, it was us again just going back to Christmas movies. And we wanted to have the colors pop, that red of Santa Claus. You want to really feel the white of the snow and the warmth of the fireplace and the lights and the Christmas tree. We wanted to make it feel like Christmas all around. It should feel cozy so that the action and the craziness that comes is a juxtaposition against that. It was part of the fun. We really wanted to have a lot of the houses all, you know, dark wood. We just really embraced, again, the Christmas nature of it.
And that also plays into the fights. That was something we talked about when it came to the fights. "OK, how do we make them unique and different? Well, we have to use Christmas. We have to use Christmas decorations, a Christmas tree, presents, and Santa's sack. Anything that has anything to do with Christmas, we wanted to bring into our fights, which is part of the fun.
MW: Yes, I really enjoyed seeing it in a theater!
Tommy Wirkola: Yeah, this is a film that should be seen with a crowd. I saw it at New York Comic Con with 4,000 people around me, and that was so cool and so fun. And yeah, I think people going into the theater for this one, you really get a different type of Christmas movie experience. And the laughter and the shocks really play well on the crowd.
Violent Night comes to us from Universal Pictures and is available as of December 2.