Tom Brooke plays Neil in Sam Mendes' newest film Empire of Light. Check out our interview with the English actor.
When Empire of Light first came Tom Brooke's way, the English actor wasn't interested in work. Though he had worked with director Sam Mendes before — he played Edgar in Mendes' London stage production of King Lear in 2014 — and thoroughly enjoyed his experience, he was in the middle of grieving the loss of his mother. Things changed when the script was sent over, and Brooke realized that Empire of Light was, as outlined by Deadline, Mendes' tribute to his own mother. "I thought, 'Oh, I wonder if this is the universe offering me something that might be worth doing?'" he said in our phone interview ahead of the film's release. What's more, when the pair eventually met, Mendes gave Brooke the space to talk about his mom for over an hour. "I've never had an interview like it. It was like a therapy session, but it was [also] great fun."
An autobiographical film of sorts for Mendes, Empire of Light stars Olivia Colman as Hilary Small, one of the managers of the titular Empire theater, who oversees the daily minutiae of operations. While not the most glamorous life, it's suitable for Hilary, especially since she has returned from an extended leave as a result of her mental health issues. Of course, everything changes for her, both in and out of the theater, after Stephen (Micheal Ward), a young, Black man starts a job at the Empire. Set in 1980s Britain, Mendes' film dives into the once-in-a-lifetime connection that forms between Hilary and Stephen at a particularly poignant time when racism was pervasive and mental health less understood.
On Working with Sam Mendes Onstage and On-Screen
Brooke plays Neil, one of the employees at the Empire, who, though quiet and somewhat soft-spoken, holds true to his values and love of cinema. Indeed, he's one of the warmest characters that the audience meets in Empire of Light. "I was taken by the fact that he stands up to his boss in support of Hilary," Brooke said, referring to a pivotal moment between Neil and Mr. Ellis (played by Colin Firth). "He's just a nice guy. He doesn't have a side to him. He's discreet, friendly, supportive, and kind, and I don't think the Neils of the world get enough credit."
Related: TIFF 2022 Review: Empire of Light is a Beautiful Love Letter to Cinema
For Brooke, getting into character fundamentally involved relying on the script — "My way in is always the words." — which incidentally was not unlike Mendes' own approach to directing. In fact, both while rehearsing King Lear and before shooting Empire of Light, Mendes would bring the team together for a "roundtable with scripts," as Brooke called it, which involved multiple read-throughs and an almost-forensic examination of the characters, their circumstances, and, most importantly, the dialogue. Notably, on King Lear, Brooke recalled how Mendes carried around a Shakespeare thesaurus in order to swap certain words that felt inauthentic for the actor.
Another unconventional aspect of Mendes' approach to Empire of Light that proved beneficial to Brooke was that the director shot the film in chronological order. "[It was] a gift," he said, when asked what it was like to shoot his scenes in this way. "In that respect, it's identical [to theater] because you start at the beginning of the play and work through to the end. It takes away one of the tricky things about filming, which is that [before each scene] you have to work out what [your character] just did and where you're at in the story."
On First Falling in Love with Movies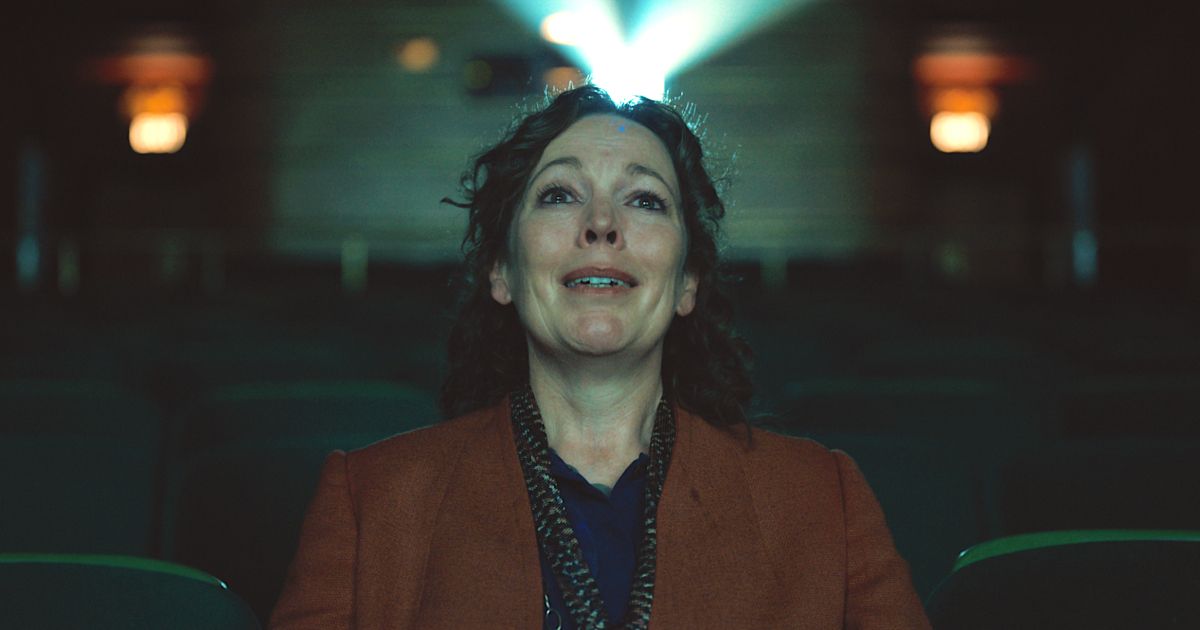 Underlying the love story between Hilary and Stephen, and the socio-political themes of 80s Britain, Empire of Light is fundamentally an homage to cinema itself. Between the Empire staff preparing themselves for a movie premiere event and the reverent way in which we see Toby Jones' projectionist prepare a reel of film, Mendes' movie effectively harkens back to the old days of cinema. Interestingly, the Empire seen in the film was actually a derelict theater in Margate, used primarily for exterior shots. According to Brooke, the interiors were all constructed. "Two doors down, there was an empty lot, and so they built a huge domed tent, and inside the tent, they built the [Empire's] lobby."
Related: Exclusive: Sinqua Walls Talks Starring in Nanny, Working with Nikyatu Jusu, and Upcoming Roles
The magic of movies, both as an actor with a behind-the-scenes perspective and a viewer who gets lost in the story on-screen, is something that moves Brooke deeply. In fact, when asked about his first introduction to cinema, the actor pointed to a screening of The Last Dinosaur as formative in his youth. "The thing that really struck me — this was when, before the main feature, you had shorts — there was a short film that I found out years later was directed by Tim Burton, about a kid whose dog ran out of the house and got hit by a car, and he brought him back to life. The Dinosaur film was neither here nor there, but [Burton's short] was extraordinary and magical and scary. That was a big moment for me."
Empire of Light is now playing in theaters.