Punch, the New Zealand movie from filmmaker and academic Welby Ings, is a unique project. A boxing film that is ultimately against violence, Punch uses the testosterone and traditional masculinity of boxing to comment upon the bullying and prejudice that disenfranchised communities experience, whether that's based on poverty, gender identity, or race.
The film features a father, an aging alcoholic named Stan (played by Tim Roth), who is training his son Jim (the young Jordan Oosterhoff) for an upcoming match. The film studies their relationship as Jim drifts away from the life he's been led to live and into a friendship with ostracized, bullied, but liberated and carefree Whetu (played by Conan Hayes). Roth and Oosterhoff discussed Punch and their characters with MovieWeb.
An Alcoholic Trains His Son to Box
Roth is one of the great actors today, and while he is arguably on par with icons like De Niro and Walken, he remains somewhat underrated. From early masterpieces like Meantime and The Hit to popular mainstream films like Quentin Tarantino movies and MCU titles like She-Hulk, Roth has had four decades of incredible work. Nonetheless, he flew to New Zealand in order to appear in this quiet little film in which he plays a largely supportive, yet still integral, role. It's a performance with little dialogue, but he conveys an extraordinary amount of fatigue, guilt, love, and stubbornness.
"When you say lack of dialogue, it's something that I actually love," said Roth. "What's the scene about? What would we say and when would we need to say it, instead of throwing plot into everything, that habit of quite a lot of films nowadays. [Stan] has time to breathe, or not to be able to breathe; it's time to exist. Obviously, he has his demons, as everybody does, but the way that he dealt with his demons is by medicating. He's an alcoholic. That's his drug of choice, that's the one that's snagged him. So that is something that his son has grown up seeing and being around."
Tim Roth Drew From His Father for Punch
"That's what his father is, he is an alcoholic," continued Roth, "and quite often that has got in the way of his ability to possibly express his love for all his feelings to his son. It's also been a barrier between him. However, one thing he does have is an absolute love for him and his son's abilities as a boxer, as an athlete; it's his son's way out of what he's in now." Roth had a personal connection to not only his character of Stan, but also to the queer experiences the film depicts. "I've been around alcoholics all my life and my father was one. He had terrible PTSD from the Second World War, which he started fighting in when he was 17 in 1939, and went all the way through to VE Day, doing terrible, terrible, terrible things and seeing terrible things. So I just used that as my launch pad." Roth continued:
He was very left wing, my dad, and he was insistent that we pay attention when he talked about the homosexuals dying in the concentration camps alongside the Jews, and the trade unionists, socialists, and whoever it may be, 'the useful other,' and so we were brought up that way. And in the '60s, and in the '70s, and the '80s, the whole gay pride movement was on the rise and beaten down. And so I put those thoughts into my character, and those feelings into my character, and took him through the flow of the script and into Jordan's character's life. Central to the film is Jordan and Conan, and my job was to flow through that and through Jim's existence when needed.
Related: Tim Roth's Best Performances, Ranked
While Stan is more of an apparition that haunts the narrative, a specter Jim is first possessed by, then exorcizes, and then accepts, the character has much less screen time than Oosterhoof's and Hayes'. But Roth knew that getting Stan right would help the leads and the larger themes of the film in a sort of self-sacrificial way. "To be honest with you, I read things not for the character that I'm playing; I read the whole story. I was swept away [with Punch]. So many friends of mine grew up being beaten down because of their sexuality. I lost a couple of them to HIV […] What was written was not for me, what was written was not for Jordan, what was written was those characters."
Jordan Oosterhoff Boxed Himself to the Lead of Punch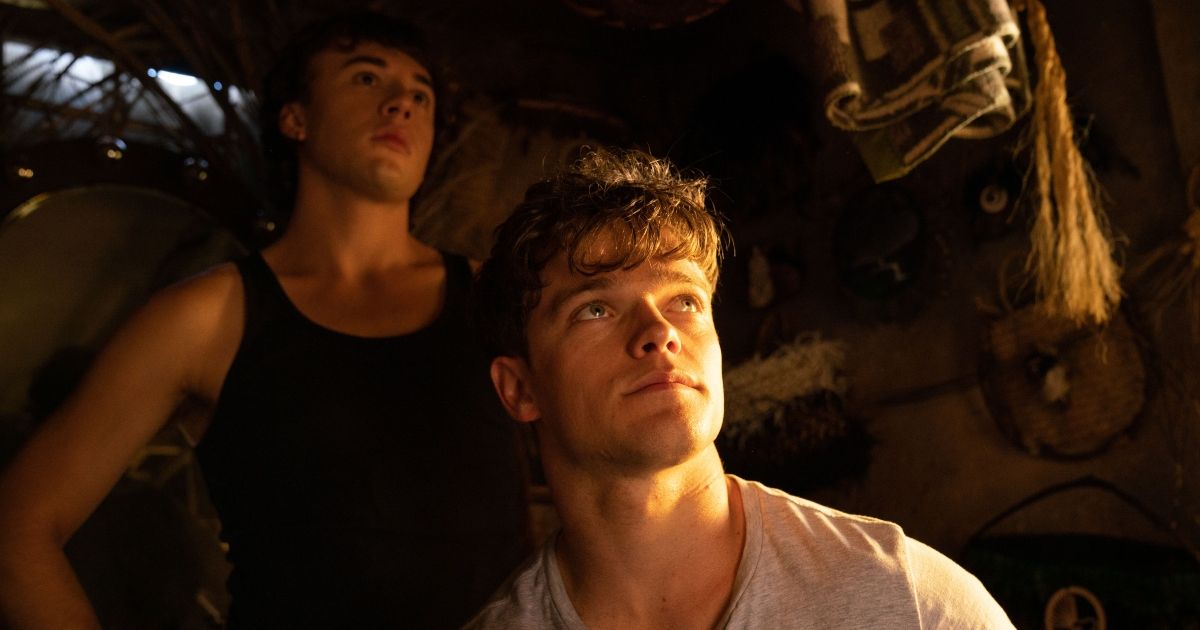 Oosterhoff's character, Jim, is a complicated balancing act between testosterone and sensitivity, between male rage and male desire. He has a popular girlfriend, hangs out with the cool kids, and is in immaculate shape, but he's actually a square peg who is being pushed into a round hole. There's a dissatisfaction there, and when Whetu helps him on the beach from a jellyfish sting, Jim opens up and feels a closeness and joy that was missing in his 'traditional' life. How did Oosterhoff walk that balancing act?
Related: Quentin Tarantino Pushed Back on Studio Head's Request to Cast Johnny Depp Over Tim Roth in Pulp Fiction
"With a lot of consideration," said the young actor. "A lot of it was there in the script already with Welby's beautiful writing, and then the rest was kind of just figuring it out as we went through conversation, through collaboration. Then it was just trying to feel it, to see the journey from where Jim starts to where he finishes, and the sort of feelings that come up and understanding of self that he begins to develop."
Oosterhoff also spend many weeks training at boxing, eventually practicing five days a week to get in incredible shape and be as authentic as possible, even if, in some ways, Punch is an anti-boxing film. "It prepared me in many ways," said Oosterhoff, "like obviously the physicality of a boxer and that whole sort of mental state that they get into. I've played sort of high school-level football my entire life but never a solo sport. So the training five days a week really taught me about that sort of 'self-drivenness' that boxers have. Also seeing the violent perspective of it, the sort of wanting to inflict pain, or wanting to do damage against another person, to have that and learn that, because Welby was really big on the contrast between touch and punch." Oosterhoff elaborated:
In the film, to me, the violence of the boxing suddenly erupts, the violence of the male aggression. Then that's contrasted with the softest, sweetest moments through the film, you know, a glance between Conan's and my character, or a little look across the table between Tim's and my character. And I think that both of those things serve to increase the brutality and how that hurts, and then also serve the vulnerability, the softness of the film.
They all must have gotten something right, because in its own prosaic, meditative way, Punch is immensely touching. Dark Star Pictures will release Punch in select theaters, On Demand, and on digital platforms on March 10, 2023. The film will be available on DVD beginning April 11, 2023.