The incongruity between the posh London Hotel and the gigantic, 1973 Chevrolet Caprice convertible, parked on the hotel terrace one blazing Los Angeles morning, makes us giggle.
The clash of styles also fits with the theme of the morning. We've arrived at the London to meet with the cast and crew of They Cloned Tyrone, the new Netflix horror-comedy from director Juel Taylor and producer Charles D. King. The movie arrives on the service July 21. The story follows Fontaine (John Boyega), a low-level drug dealer grieving over the death of his young son. A money dispute with his longtime frenemy Slick (Jamie Foxx) ends with Fontaine shot to death.
Needless to say, when Fontaine reemerges the next morning, Slick has a few questions. The pair team up with the Nancy Drew-loving hooker Yo-Yo (Teyonah Parris) to find out how Fontaine has resurrected, and stumble onto a bizarre conspiracy involving hair straightener, fried chicken, purple soda and mind control. It's that kind of movie.
For the cast of They Cloned Tyrone, the movie's strange plot twists — and the style of director Taylor — offered them the best kind of challenges. Boyega, Parris, Taylor, and King elaborated in the interview below, and you can watch Boyega and Parris speak about the film in the above video.
John Boyega Sends in the Clones
"It's a bit of a challenge, but it's a fun challenge," explained Boyega, who plays multiple roles in the film. "It's not a challenge that cripples you. The support's there. Jamie's there. Teyonah's there. Juel's there. It's more a challenge of the logistics of it all. Movement, speed, tone — you have to have all that planned. I said to Juel, 'If I have three characters in one scene, if [the audience] can't tell the difference, I haven't done my job right.' I had to make sure there was some distinction."
Related: Jamie Foxx 'Is Doing Well' Following Health Scare, John Boyega Assures
Finding the right balance of horror and comedy demanded just as much of Boyega as an actor as playing multiple roles. "Juel left it to us to figure out," continued the Star Wars and Breaking star. "But there were moments where he was like, 'Look, we gotta bring it back.' So I relied on his barometer of what was too much. I just tried a bit of both and hoped in post they would figure it out. I just had fun playing."
"Juel knows his dialogue too," added Boyega. "He knows it like the Bible or something. Sometimes he would just say it back to you in terms of how he saw it."
Teyonah Parris Talks Yo-Yo and Jamie Foxx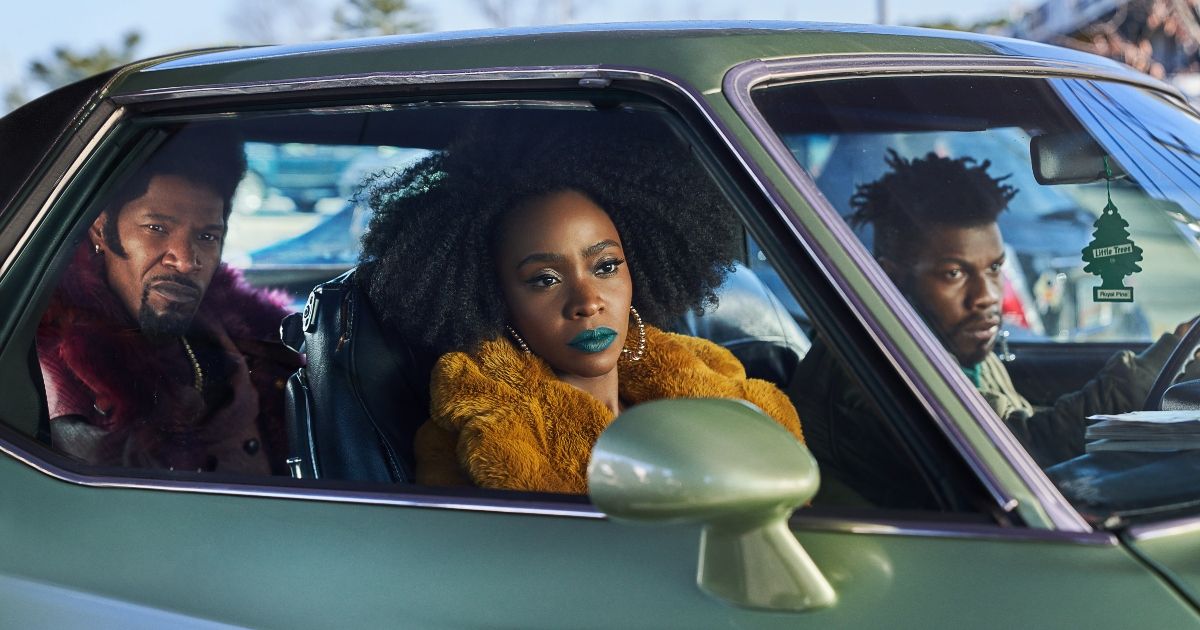 Though Parris only had one role to play in the film, Juel Taylor still found a way to push her abilities as an actor. That involved giving her long passages of dialogue, including one scene early in the film where she rants about cryptocurrency and blockchain. Taylor also complicated the scene by asking Parris and Foxx to perform it in a single take.
"In that opening scene where you see Yo-Yo and Slick, it was especially challenging because that was my first day on set," laughed Parris. "My very first scene!" She continued:
So I was still trying to figure out different shifts in what I'm trying to accomplish. And also, Jamie Foxx was right here. He's my scene partner and it was our first time. We didn't have rehearsals. So I was sweating bullets. There a line that Jamie improved: 'Sit down Yo-Yo before your ass passes out!' That was the truth. Teyonah was about to pass out. I was so nervous!
"That was nerve wracking," interjected Parris, punctuating her story. "I'm not going to lie. And it's Jamie Foxx. He was so generous and present for me."
The Long Game with Juel Taylor
"That was the first scene," recalled director Taylor, echoing Parris. You can watch his and producer Charles D. King's entire interview above. "That one, I think we did more takes than we really had time to at the time we were shooting. Normally I do three or four takes just to keep it moving. That particular scene, I think, since it was so formative to her character, I think we did seven or eight takes. Each time it was just getting more dialed in."
"A big reason I like longer takes is that I just like to see the performance develop," continued Taylor. "Because they are longer takes, a lot of times, the first take is just discovery. And we had more long takes that were truncated for pace. From that scene on, Teyonah just knew."
Related: They Cloned Tyrone Review: A Funny and Frightening 70s Throwback
When asked about modulating the tone between comedy and horror, Taylor, dressed in a letter jacket and ball cap, raises his folded hands to his lips, contemplative. He admits:
"The actors definitely embodied the characters, and they understood the characters so much, I didn't have to add anything. I just had to put the camera on them and watch. They understood the tone. So really, in a lot of ways, they are my get out of jail card. We relied on them, and just tried to get out of their way. The material was pre-vetted to some extent. Hopefully people watching feel that is well navigated."
Spoiler alert: it is well navigated. They Cloned Tyrone, with its mix of horror, comedy, and 1970s Grindhouse style, might just be the year's most unique cinematic cocktail. Its potency testifies to both the vision of its writer/director, and the extreme talent of its three leads. After our time with the cast, sipping coffee and munching a pastry, we walked outside to regard the Chevy Caprice. It sits there atop the marble pavement, glittering bronze in the morning light. Looking at it, we have to giggle — it's a sight to behold, just like the movie that produced it.
They Cloned Tyrone debuts on Netflix July 21. This interview occurred prior to the SAG-AFTRA strike.