The new supernatural thriller There's Something Wrong with the Children follows Ellie (Amanda Crew, Silicon Valley) and Thomas (Carlos Santos, Gentefied), and their two children Lucy (Briella Guiza), and Spencer (Briella Guiza) (David Mattle) as they spend the weekend at a cabin with their longtime friends Ben (Zach Gilford, The Purge: Anarchy) and Margaret (Alisha Wainwright, Raising Dion). The seemingly ideal weekend is ruined by conflict as each couple struggles with personal issues in their separate relationships. However, the stress turns to madness as the children display abnormal behavior after sighting a large, strange edifice in the woods, and ultimately disappear.
We spoke with Crew about her role in the film, as well as delving back into the horror genre, and working with her creepy child co-stars.
Amanda Crew Discusses There's Something Wrong with the Children
MovieWeb: Can you talk about how you got involved in the project?
Amanda Crew: Boring story, you know, your classic actor story. You get sent to an audition. You're like, 'This looks cool.' You put it on tape, and then you get a call. I'd worked with Zach Gilford before, so I was really excited to work with him again, and I was excited to work with Roxanne Benjamin as the director, I have friends who have worked with her, and I'd heard such great things. And of course, Alisha Wainwright and Carlos Santos. It's an incredible cast, and I was very excited to get to work with such a great group of people.
MW: Can you talk about working with Roxanne as a director? Because this film is definitely in her wheelhouse.
Crew: She's such a horror fan. She has such a true love for this genre. Getting to work with her pulled me into her enthusiasm. She just came with such a clear vision for this and knew what she wanted and was so clear about conveying that to us as actors. I think sometimes you work with people who maybe have a clear vision, but they don't know how to kind of relay that to you. And so you kind of feel like you're just like out in the sea, just like, 'I think we're doing what we're supposed to be doing.' Roxanne just creates such an incredible environment of safety, and because of that, I never questioned what we were doing. I always felt like I was in such solid hands. And again, her enthusiasm just like makes you excited about what we're doing.
Character Development in There's Something Wrong with the Children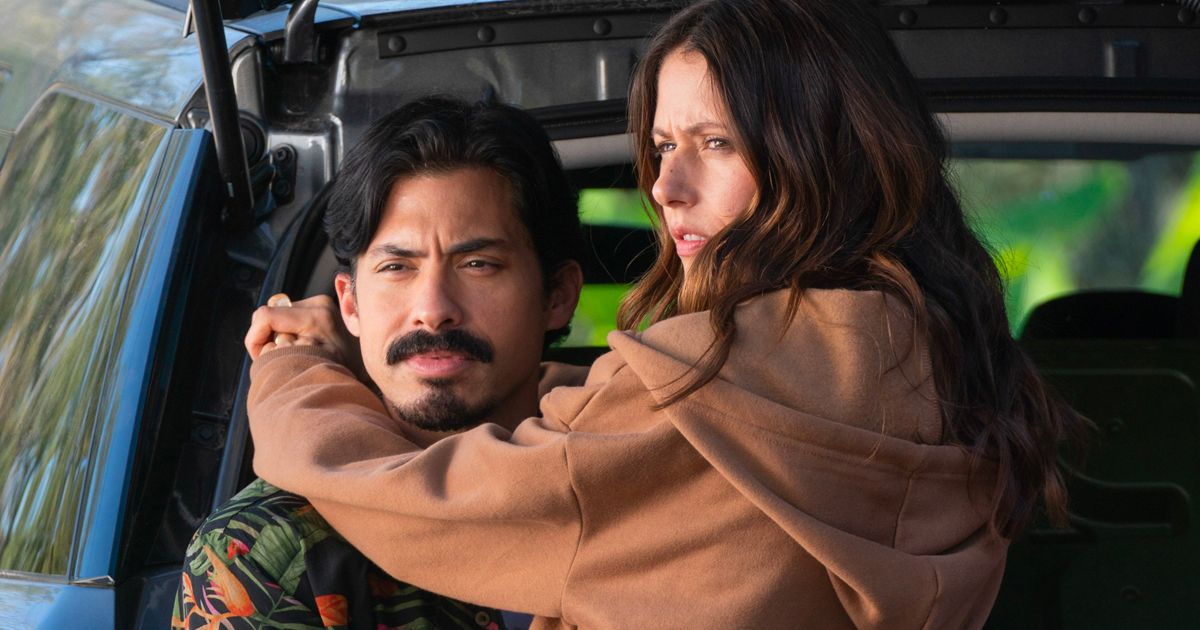 MW: How would you describe your character, Ellie?
Crew: So Ellie is a mom and a wife, and what I love about Roxanne is that the way she was initially written was a kind of more stereotypical mother, wife archetype. And Roxanne is just like, "We're not doing that. I hate when it's the wife, and she's got her little sweater on, and she's like, 'Where's everyone? I'm scared.'" She like gave me concert T-shirts and cut-offs, and I'm messy. I just leaned into this idea that she loves her kids, but she's also just so exhausted in life and kind of going through a little bit of a phase where she's just like, 'I'm just gonna do me.' So, they go on this weekend vacation, and instead of the kind of mom who's just doting on the kids and making sure they're having a good time. She's just having her wine. You know, she's just there for a good time for herself, and someone else will take care of the kids.
MW: She was very grounded and very realistic.
Crew: ​​​​​​​Oh, thank you.
MW: It's not what you'd usually expect out of a mom character in the media. I know moms just like this. They're camping and drinking and letting the kids be on their own.
Crew: ​​​​​​​(laughing) Yeah, Mommy's got her mommy juice, and the kids can just do their thing.
Related: M3GAN's James Wan Reveals 80s Horror Movie That Instigated His Killer Doll Obsession
MW: You and Alicia had really good chemistry. I really got the feeling that you were long-time best friends. Could you talk about working with Alicia?
Crew: ​​​​​​​I didn't know her before this. I knew of her, but I didn't know her personally. Alicia is so cool. We just got along really well right away. She just embodies this kind of confidence that I really admire. Sometimes female friendships can have like a bit of kind of competitiveness, especially if it's between actors, which is unfortunate. I understand where it comes from. It's just like internalized patriarchal shit in our world, and in our industry, but she doesn't embody any of that. We just got along very well. She's so smart and so talented and so wise. I really do admire her and I thought she did such an incredible job in this role. She carried this film, and she did it so well. I could not say anything bad about her. She's just so incredible, so it was very easy to be friends with her. She's also really funny. I can't wait for people to start seeing her in comedic roles as well because she's so funny. She's just a force. She's a star.
MW: The sub-stories in the film are very grounded and very realistic. The problems that you and your characters go through outside of the supernatural aspect of the film could have been its own movie. Was that something that drew you to the film?
Crew: ​​​​​​​Yeah. I really love the kind of the opening of the film because it kind of starts off as a really grounded, I don't want to say rom-com, because it's not like super comedic, but It's really rooted in these issues with marriages, and it's very freaking real; the dynamic and the tension between the couples. I'm always drawn to that, because, for me, what I love about being an actor is getting to portray these emotions and real-life, feelings and themes. Even when you put it into a horror movie, there is this opportunity to move an audience in a certain way. That was definitely one of the aspects that really spoke to me about the script. I was excited to play with the dynamics of these friends.
MW: You shot this in New Orleans, is that correct?
Crew: ​​​​​​​Yes, we did.
MW: The giant complex that the characters found… was that an actual location, or was it a soundstage, or a little of both?
Crew: ​​​​​​​No, it was a location. I don't know how to explain it. It's like some sort of old mossy structure?
MW: I worked as a location scout for a while, so that really drew my attention. It was a spectacular set.
Crew: ​​​​​​​Yeah, yeah, they found that. I don't know how or why it exists. I think they built some things within it, but it was a real thing. The floor was wet. It wasn't like some dry soundstage where you exit out of it and go to the warm craft service table. We were in some ruins.
I Don't Know What's Wrong with These Kids Today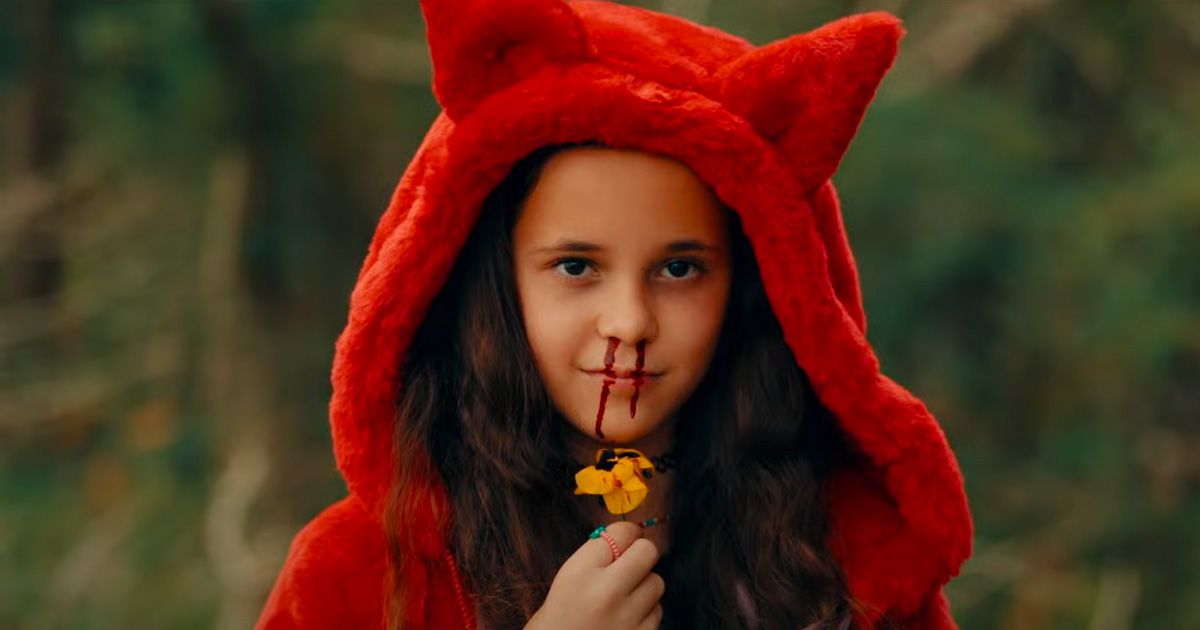 MW: I have to talk about the kids, Briella and David. I mean, they're creepy as hell.
Crew: ​​​​​​​They're so talented. So talented.
MW: Can you talk about working with them? Because, working with kids can be dicey, obviously, but I thought they just crushed it in this film.
Crew: ​​​​​​​I think they auditioned something like 500 kids, and they just came knowing what they wanted to do. I don't know how they know to do that; just naturally know how to be creepy. But they're so opposite of that. They're so bright and fun and really smart and engaged, and all of these like buoyant characteristics. But then it's time for action, and they turn really intense. But they were such a joy to work with. I think it's really fun to work with kids because it forces you to be really present with them because they're so present. You have to be paying attention in case they veer in a different direction. But it's also their joy and excitement. They're discovering what it means to be on set, and you remember, 'Oh, yeah, this is really cool what we get to do, and that's so cool that there's a table with a bunch of snacks for us. Yeah, that's amazing.'
Related: These 10 Indian Folklore Horror Movies Are a Must-Watch
MW: This is not your first horror film.
Crew: ​​​​​​​(laughing) No.
MW: Is it a genre that you are naturally attracted to, or is it happenstance that you keep getting cast in these genre films?
Crew: ​​​​​​​I really love horror. I don't love watching horror, but I love acting in horror. I think it's just so much fun. And to be honest, I feel like horror has been more advanced in kind of the writing that they've done for female characters for like for a while now. That's why I've loved doing it because I get to play these characters, especially in like psychological thrillers, that is very layered. And I love a damaged character. I feel like those characters are often written in psychological thriller, horror-type genres, and maybe they're not taking the chance of like writing that nuanced a character in other genres. A lot of the characters I've gotten to play are really disturbing and messed up, and that to me is fun. I think it's boring to just play basic. I don't want to do that.
MW: Does your approach to a role differ depending on what genre and what medium you're working in? Say a film like this versus, say, Silicon Valley, which is a very different character, and even a very different even shooting schedule. Does that affect your approach to the role?
Crew: I think there's like a foundation that always remains the same for me, no matter what I'm doing. And then absolutely it's different. I think that's what's so cool about filmmaking is that you bring your building blocks of like, 'This is what usually holds me steady.' But then someone else brings something you're like, 'That's so interesting,' and you get to co-create together. So, it's different every single time. I think it's important for me that I have like those fundamental tools that like, always keep me rooted in my process, but then being so open to like all these other aspects.
There's Something Wrong with the Children is available on VOD and digital on January 17th and will stream on MGM+ on March 17th.