The Team Behind Aliens Abducted My Parents and Now I Feel Kinda Left Out Discuss Their Sundance Premiere
The 2023 Sundance Film Festival was just days away when director Jake Van Wagoner, actors Emma Tremblay and Jacob Buster, and I sat down over Zoom to discuss their film Aliens Abducted My Parents and Now I Feel Kinda Left Out. The coming-of-age sci-fi was selected as part of this year's Kids program and, like dozens of other movies, made its premiere at the renowned festival. For Tremblay and Buster, the nerves initially set in, but after a full day of pre-festival interviews, which proved to be the perfect ice-breaker, they were left feeling excited more than anything. "The truth is: this film is really so fun. So, to look at all these things [you have to do] and say it's stressful, is really to not look at the fact that it's all about the film," said Buster.
For Van Wagoner, Aliens Abducted My Parents being accepted into Sundance has been a full-circle moment. In addition to being based in Utah — "I've lived [here] for 10 years now, but I've never attended Sundance," he said — the film itself was shot entirely in the state's rural areas. "It's the pinnacle of independent filmmaking," Van Wagoner said of Sundance, "so it's very fun for me to be able to go there for the first time with a film that I directed."
Aliens Abducted My Parents follows Itzy's (Tremblay) family as they, much to her chagrin, move from New York City to the small town of Pebble Falls. Having left behind everything she knew and loved, Itzy's primary goal as soon as she steps foot in their fixer-upper of a house is to return to the Big Apple. Fortunately, she learns of a journalism competition, the prize for which is a summer internship in Manhattan. Itzy decides the perfect subject for her piece is her new neighbor and classmate, Calvin (Buster), who not only believes that aliens abducted his parents (Elizabeth Mitchell and Will Forte) when he was just a kid, but that there just might be a way for him to join them.
On Telling a Family-Friendly Story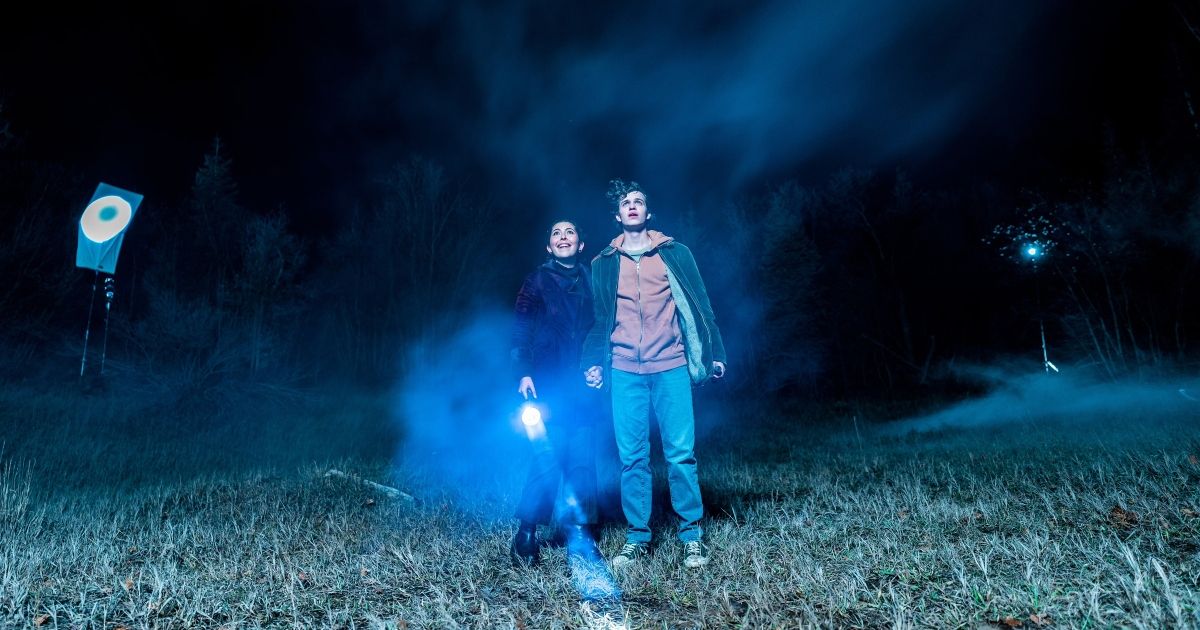 Aliens Abducted My Parents began with Van Wagoner and cinematographer Jeremy Prusso raising money to make a film, but needing an actual story to tell. As such, Van Wagoner reached out to screenwriter Austin Everett for what he described as "anything in the four-quadrant realm that could be for everyone and maybe have some sci-fi or fantastical elements to it." Everett, at the time, didn't have anything family-friendly, but, a few months later, approached Van Wagoner with the idea that would become Aliens Abducted My Parents. "We just took off as soon as he pitched me the idea."
Related: Sundance 2023: Most Exciting Movies Making Their World Premiere
Tremblay's initial experience with the script was virtually all-encompassing. "I have a very poor attention span, so anytime I'm reading a script for something, it takes a few days and a few sessions of trying to focus," she said. "But this one was so different. And I think that was the first moment where I was like, 'I need to do everything I can to be part of this film,' because I couldn't put the script down."
For Buster, it was the characters that drew him to the script. "I love films that allow characters to be so human and grounded, and you really get to see the growth throughout [Aliens Abducted My Parents]," he said. "When I first started reading, I [could see], yeah, this is definitely a family-friendly film, but as it progresses and as you watch these characters learn and grown and build from each other — they really do feel so human and alive."
On Getting Into Character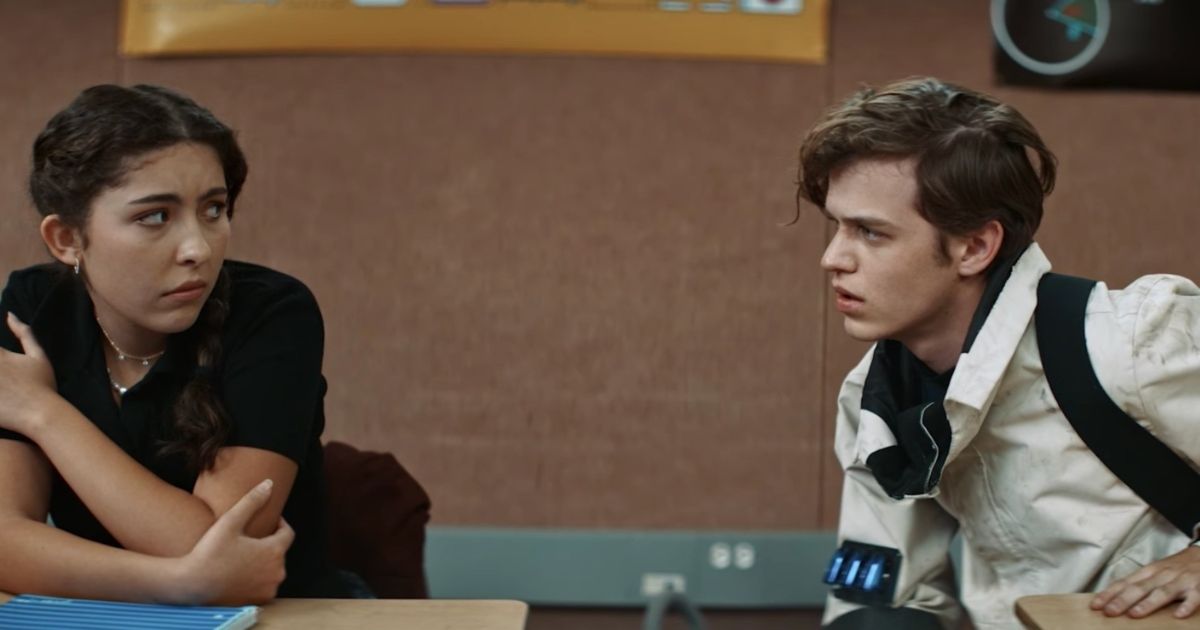 What's interesting about Aliens Abducted My Parents — indeed, what makes it such a fun watch — is how it harkens to coming-of-age movies of the 2000s, a time when teen movies were arguably at their height, honing in on the simultaneous awkwardness, insecurity, yearning, and feeling of possibility of adolescence. With Van Wagoner's film, here, the alchemy between a strong script, great direction, and talented actors presents two of the most complex and interesting characters in a modern teen movie.
Related: Exclusive: Marlee Matlin Is Excited to Bring a 'Unique Perspective' as Festival Juror at Sundance 2023
As it turns out, music became the key to helping Tremblay and Buster unlock their characters. "Jacob and I over music a lot during the film, and we both had playlists for our own characters," said Tremblay. "Itzy and I are very different. She's really goal-oriented, and I'm more go-with-the-flow, so it was really fun getting to know her through music." Similarly, for Buster, in addition to channeling his friends who were most like Calvin — whom he described as "very kind of out there and confident and very proud of who they are" — folk music really helped. "'Beige' by Yoke Lore. That song definitely feels like a Calvin song."
On What Comes Next for the Film
Earlier this month, Variety reported that Visit Films had picked up the worldwide sales rights to Aliens Abducted My Parents, which was naturally exciting news for Van Wagoner, who also serves as one of the producers of the film. "Visit Films specializes in these film festival movies, and they go on to do very well, and they have their own tone." Indeed, the sales company's catalog includes other hit indie titles, such as The Fishbowl (which is also making a premiere at this year's Sundance), Jethica, and Driveways.
"I was excited to partner with them because of their experience with turning a festival into a distribution deal, and they were excited because [Aliens Abducted My Parents] was something different than what they've had," Van Wagoner added. "A lot of times, when we watch these festival movies, they're so fantastically written and so well acted, but the themes are so heavy. You come out of it like, 'That was a great movie, and I feel so sad.' With this movie, we want people to leave feeling like, 'What a great movie, and I feel so happy.' That's why it's a little different, and I think the partnership with Visit is a really good fit."
Aliens Abducted My Parents and Now I Feel Kinda Left Out is currently screening at Sundance. You can check out the festival's website for details and scheduling.