With an all-star cast that includes the likes of Nicolas Cage, Ron Perlman, Ernie Hudson, and Jackie Earle Haley, The Retirement Plan sees an estranged family come together in the Cayman Islands in order to keep a classified hard drive away from ruthless criminals. The result is a crime thriller that mixes together action, comedy, and drama into one fun and surprisingly symbolic cinematic ride. Canadian based film distributor turned writer-director Tim Brown (Buckley's Chance) put together the new movie, and MovieWeb recently sat down with the filmmaker to find out what it's like working with the illustrious Cage, the origins behind Brown's own unique career trajectory, and the conditions that come with working in such an exotic location during lockdown.
Nicolas Cage Takes His Persona to the Next Level
Cage has had quite the acting renaissance recently, being applauded for his roles in 2021's Pig, 2022's The Unbearable Weight of Massive Talent, and 2023's Sympathy for the Devil and the new film Dream Scenario. Brown dived right into working with the iconic Cage on The Retirement Plan. Even though Cage plays a melancholic beach bum (who is actually a retired killer trying to live out the rest of his life in peace), the motivated director says that the resourceful actor was there every step of the way and available whenever he needed him.
"[Cage] is a tremendous collaborator — there's actually very little to talk about with his character because we've already gone through it for hours and hours prior to [shooting]," explained Brown. "He fully trusts your vision, trusts your decisions." Brown also made a note that when he spoke to the crew about ego, arguing and things of that nature not being welcome on set, Cage fully agreed with the sentiment.
Related: Nicolas Cage's Favorite Movies, Ranked
In order to create this film to the best of their abilities while forming a balanced and professional relationship, Brown proudly admitted that Cage sometimes improvised with the script and that these sudden additions only made the dialogue pop. While recounting his reaction to Cage's eccentric choice of terms, like saying 'dapper dandy' and 'pray tell,' Brown was thrown for a loop at first.
He already has wacky hair, this big Hawaiian shirt — It all makes [Cage's character] kind of bizarre — but what great lines. That's the nuance that he brings, those little pieces always make it better.
It really is a unique sight to see Cage play an eccentric grandfather who has to slowly but surely re-immerse himself into his violent past to defend his family from these villains. Brown then dived even deeper into Cage's character design and the specific psychological trait that Cage himself was trying to pull from the past to bring into The Retirement Plan.
"He brought in a film called The Scarlet Pimpernel starring Leslie Howard. I watched the film and realized that it's a mask. All of [Cage's] nuance was based around that movie. The mask that he wears — [he's] peeling back the layers of the onion. Every day on set, we'd always be talking about how many layers are we in right now. Are we fully exposed? Or are we still disguising who we are? That was always [relevant]."
According to Brown, another example of Cage's ingenuity could be seen in 1987's Raising Arizona, where the actor tried to manifest the mannerisms of Woody Woodpecker.
A Character Connection That Really Stands Out
Moving on from Cage, one of the most endearing parts of The Retirement Plan is the dynamic between Ron Perlman's inquisitive mobster, Bobo, and young Thalia Campbell's Sarah. Coldly using the girl as leverage to get the hard drive back, the two quickly connect through a mutual interest in Shakespeare's Othello. Gearing up to talk about this on-screen relationship, Brown first goes through the fictional beginnings of the surprisingly intellectual gangster:
"When I created Bobo, my initial concept was Luca Brasi from The Godfather. But they are not known for their intelligence, so I thought, what if this guy was really smart? How would I make him smart? He understands Othello more than she does."
Related: The Best Nicolas Cage Comedies, Ranked
Bringing up Campbell, Brown does make note that she is a tremendous actor and not intimidated at all when paired up with a monstrous presence like Perlman:
I juxtaposed every angle of this. I made her young, I made him old. I made her small, I made him big — but when they find the literary connection, that relationship evolves into something a little more special . . . she ends up challenging him.
The young star definitely makes her presence known with her heartfelt portrayal of the girl who tries not to be afraid in the face of danger. When all hope seems to be lost, she takes back the reigns and controls situations the best she can.
Filming in the Cayman Islands During Lockdown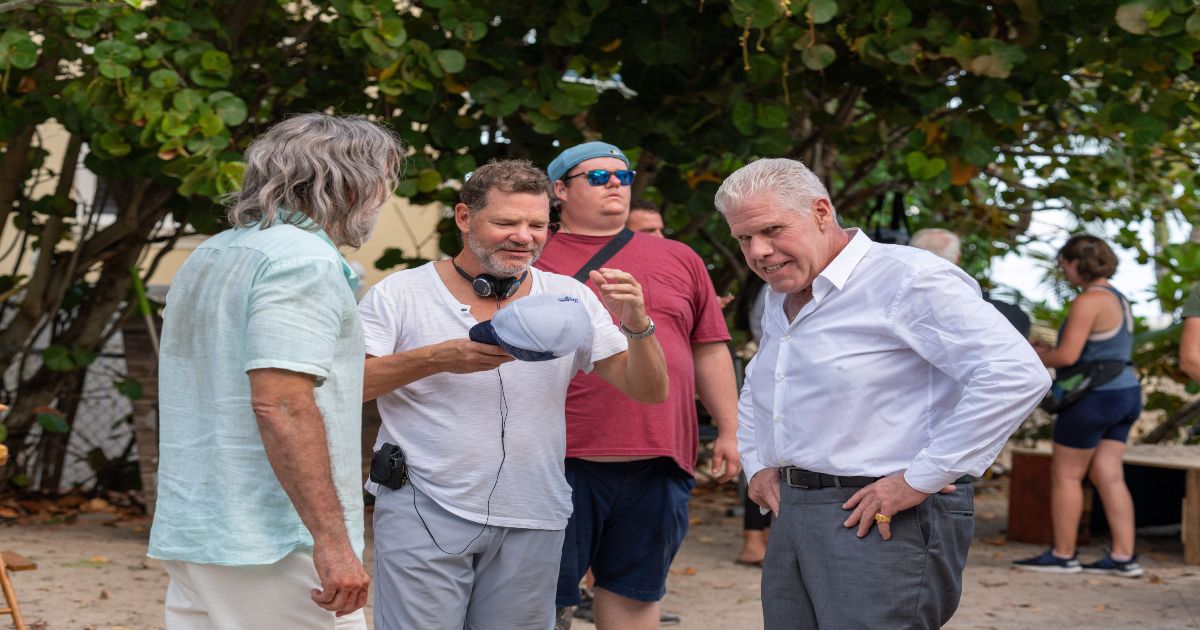 Filming in an exotic location is challenging enough with all the cast and crew traveling abroad with equipment, but all of that in tandem with a lockdown is a difficulty no one expects. The Retirement Plan was filmed in 2021 with isolation guidelines in place, and Brown described the pros and cons during this hectic time:
"Caymans hotels were in real trouble, and the only ones allowed on the island were [those] with a work permit or the people that lived there. I think the Westin had been shut down for at least six or seven months. We came in, and they said, we'll give you the fifth floor. Many times, we had the entire hotel. We were really lucky to get our hands on a lot of locations like this [which] added scope and scale to the film."
"It was a tremendous experience shooting there, the people there are fantastic, warm and welcoming. Every single cast member said how much they embraced that place." While he could have picked Jamaica, the Bahamas, Puerto Rico or some other tropical setting, the Cayman Islands was most logistical since the company he was working with had a slate of movies being prepared for that territory already.
Opening up about his focus toward connecting characters, Brown took a moment and looked at his own origins and how these memories crafted his own storytelling techniques. "I got into film in the early 90s selling VHS tapes through a company called Malofilm. René Malo was a pretty famous Canadian producer — Decline of the American Empire and Internal Affairs," explained Brown. And now he's here, releasing The Retirement Plan.
Every day that you're on set, every day that you're writing, every day that you're talking to an actor, there's something new that you are learning […] I think the day that that stops, it's no longer interesting.
The Retirement Plan premieres in theaters on September 15th and will be available on streaming and VOD shortly thereafter.