From executive producer Roland Emmerich (Independence Day, 2012) comes a unique new film that's laced with music by a little-known composer named Mozart. The Magic Flute follows a teen on two journeys: one into a prestigious boarding school to fulfill his aspirations as a singer, and another into a parallel world filled with fantasy and adventure. Tim (Jack Wolfe) has been dreaming his whole life about attending Mozart All Boys Music School, but already his first days there confront him with a hostile headmaster (F. Murray Abraham, The White Lotus), the stresses of a first love and serious doubts about the authenticity of his singing voice. When he discovers a mystical gateway in the school's library, he is pulled into the fantastic cosmos of Mozart's opera, where imagination has no limits and the Queen of the Night (Sabine Devieilhe) reigns.
We recently caught up with Wolfe and director Florian Sigl, who also co-wrote the film. They dished on working with Amadeus star F. Murray Abraham and other projects in the works.
Jack Wolfe on Singing with a Game of Thrones Villain
MW: Going back to square one, what was the magic flute that drew you to the project?
Jack Wolfe: I think, like a lot of people, I was just aware of the opera. And I knew that it meant a lot to a lot of people, it became this sort of brand, this recognizable name of this thing. Alongside Mozart, alongside opera, alongside this genre that sort of feels a little bit far away from a lot of people, including myself. And when it came along, I think what I was really intrigued by was, I knew that there'd be a lot of sort of fantasy elements to it. I knew that there'd be a different world. I knew that there'd be like monsters and things, because that's just sort of so engrained into that opera. And I really loved it. I really loved the challenge of taking on a genre that I was intimidated by. I thought that'd be really, really cool and very, very scary.
Related: 8 Musicals We're Excited to See in 2023
MW: Could you talk about shooting that first scene with co-star F. Murray Abraham, where you sing in front of the school? It was so powerful, and your director had great things to say.
Wolfe: Oh, that's very kind of say. Obviously, it doesn't feel like that from my perspective. What's been really, really wonderful about this film in particular, is that, you know, I came to this film with such sort of limited screen experience. It's very much the first sort of feature I've ever done, so [I was] very sort of intimidated and excited and scared. And all of these things are also coming just out of the COVID lockdown, so there are so many feelings going into it to contend with, as well as telling a story, trying to be authentic, you know, all of this stuff… Ultimately, I knew that this scene was coming up in the script where they wanted to sing a capella in front of the whole school. And firstly, just because I knew that sort of lip-syncing to a track of myself singing a capella would be really difficult, challenging. And at the same time, it was the first time I'd met Mr. Abraham. I hadn't even shaken his hand before we sort of went into shooting just because of timing. And it was super exciting. I was like, "Let's go for it. Let's just see if anything happens." And we went with it, and it sort of came out. And it meant something to me… and I didn't want to waste that I think. And then ultimately, you know, shooting with F. Murray Abraham was delightful. He's just wonderful, so much experience. And he was so willing to share that with us, so warm and a brilliant person to work with.
MW: Your co-star Iwan Rheon played such a scary character in Game of Thrones, but he's so likable in The Magic Flute. What was it like working with him?
Wolfe: I had known him previously from his first like theater job, Spring Awakening, which is this musical by Duncan Sheik and Steven Sater in London. And I traveled down to watch him in that, and I just loved that show so much. So I was a fan from then, and Misfits as well. So those are the things that he's done that have a place in my heart. So no, I wasn't afraid of any Ramsay. He's brilliant to work with. He was like my big brother.
MW: Are there any projects you're currently working on, that you'd like to share about?
Wolfe: Yes, I think we're just about to have the release of Shadow and Bone season 2, which is super exciting. I play a character called Wylan Hendriks. So I just joined now to what's an already established universe, and I'm really excited for that to be released as well.
Florian Sigl on Working with F. Murray Abraham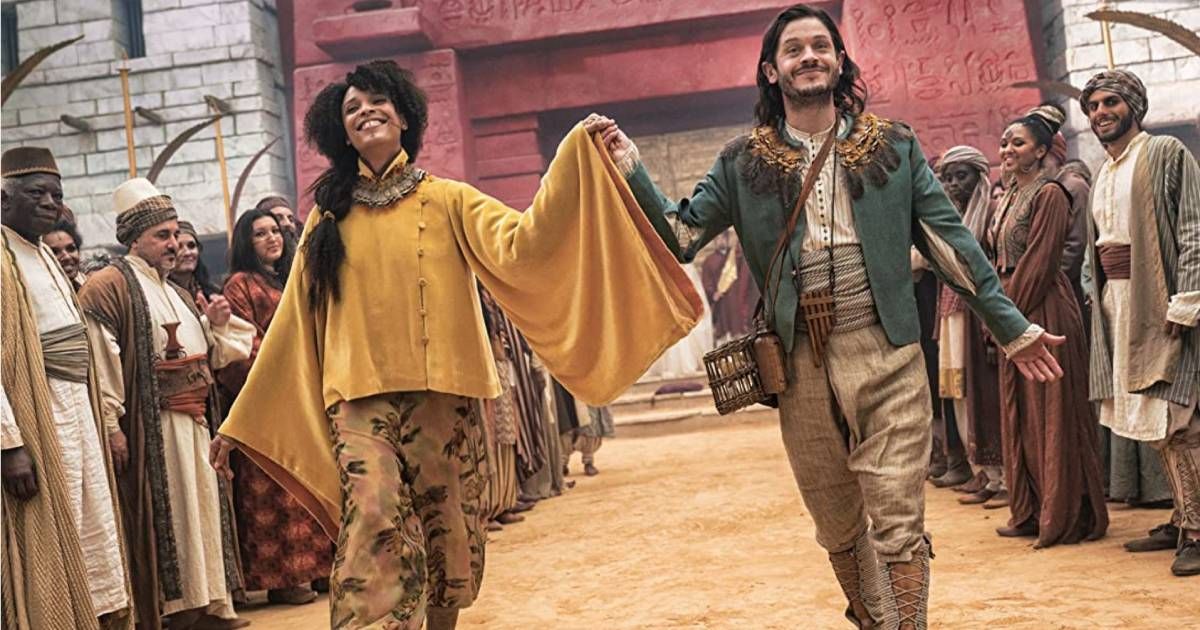 MW: As co-writer and director, could you talk about how this project all started?
Florian Sigl: My first career was as a classical musician. I studied violin and bassoon and wanted to become a conductor, and then kind of forgot about that, and you know, changed into the movie business and started shooting commercials and stuff. So, I always wanted to do a big movie, but especially in Europe, to make the step from commercials to movies isn't that easy, because it's like two totally different industries. And so I first started writing… and luckily met the producers of The Magic Flute and wasn't aware how serious they were about doing that. And because my love of classic music, I thought, "OK, that's my chance, I'll write a two-pager." But I'm aware that most people actually have no clue about classical music… And when I was young, I was heavily influenced by three things Spielberg, Star Wars, and Amadeus. And each of the things created a moment of enlightenment within me, and Amadeus created that on the classic music side, and I always had that wish in me to create something that maybe someday also inspires other kids or other people.
So I thought that's my opportunity. I wrote the two-pager, and somehow that was so convincing that they flew me into LA and, you know, started that whole development process. And still, it was another four-and-a-half years, almost five. But that's how it all started. And it was, at some point, one of those famous moments where you get an email from the office of Mr. Roland Emmerich… And then, you realize, "OK, it's real."
Related: Shadow and Bone: Season 2 Trailer Breakdown
MW: What was it like working with F. Murray Abraham?
Sigl: Unbelievable. In a way, it was a huge honor knowing which movies he's worked on, which people he's worked with. It's an amazing joy to work with him because he's a fantastic actor, in terms of he's a great human being, and he's very gentle, is very friendly, super professional, and is a really, really good actor in terms of technical aspect. So as a director, it's really fantastic working with him because he's like a perfectly tuned instrument in a way and respected me really a lot for, you know, it's my first big movie. And still, it was like, I was able to approach him in the same eye level, and that was really great.
MW: Was there a particular scene that you enjoyed shooting the most, or something that happened on set that was particularly exciting?
Sigl: One scene was the day where we shot the Queen of the Night [character]. That was just because we use the music on-set to know what's happening, what rhythms and stuff like that, but also because of [actress] Sabine Devieilhe's presence, because she was hanging on cables on like 20 feet high, and it was really impressive… And then actually, the first day with F. Murray Abraham, because that was the scene where [Jack Wolfe as] Tim Walker sings for the first time in the school. So we had quite a lot of extras standing there. And Jack insisted on singing it live… It was F. Murray Abraham's first day on set… and we had all these Austrian boys dressed up as extras. And the great thing was, we actually managed to create exactly the atmosphere you have in that moment because they were all scared of Murray [laughs]… That was a really great moment as well.
The Magic Flute comes to us from Shout! Studios.