From Sideways and Nebraska to The Descendants and even his previous film Downsizing, you can trace a fascination with American livelihood across all of Alexander Payne's movies. He has a knack for imbuing the sharpest (and, at times, darkest) of humor in his characters' suffering, and The Holdovers is no different. Hilarious and heartfelt, it might be premature, though no less certain, to say that Payne has crafted one of the best movies of the year that is also destined to become a holiday classic. It made its American premiere just last month at the Telluride Film Festival, and at its international premiere at the Toronto International Film Festival, it's already proven to be ahead of the pack.
Reuniting with Paul Giamatti — their first collaboration since Sideways and second overall — The Holdovers takes place during the 1970 holiday season in a northeastern boarding school called Barton Academy. Giamatti is one of the school's tenured teachers, Paul Hunham, who happens to be a Barton alumnus and whose resolve for tradition, structure, and the importance of prioritizing education has made him the most disliked faculty member of the students. Unluckily for a handful of them who aren't able to go home for the holidays — they're called "holdovers" — Paul has been assigned to supervise them for the two-week holiday break.
One of those students is Angus (Dominic Sessa in his debut role), a whip-smart but troubled teenager who seems to be the only one able to go head-to-head with Paul in terms of intellect. After the other holdover students find themselves actually able to vacation for the holiday break, Angus is left alone with his teacher. Keeping them company is the school's head chef, Mary (Da'Vine Joy Randolph), who is grieving the loss of her only son, also a former Barton student. Though the trio would rather be anywhere but together, their holiday adventure fosters life-changing friendships between them.
Nostalgia with a Spin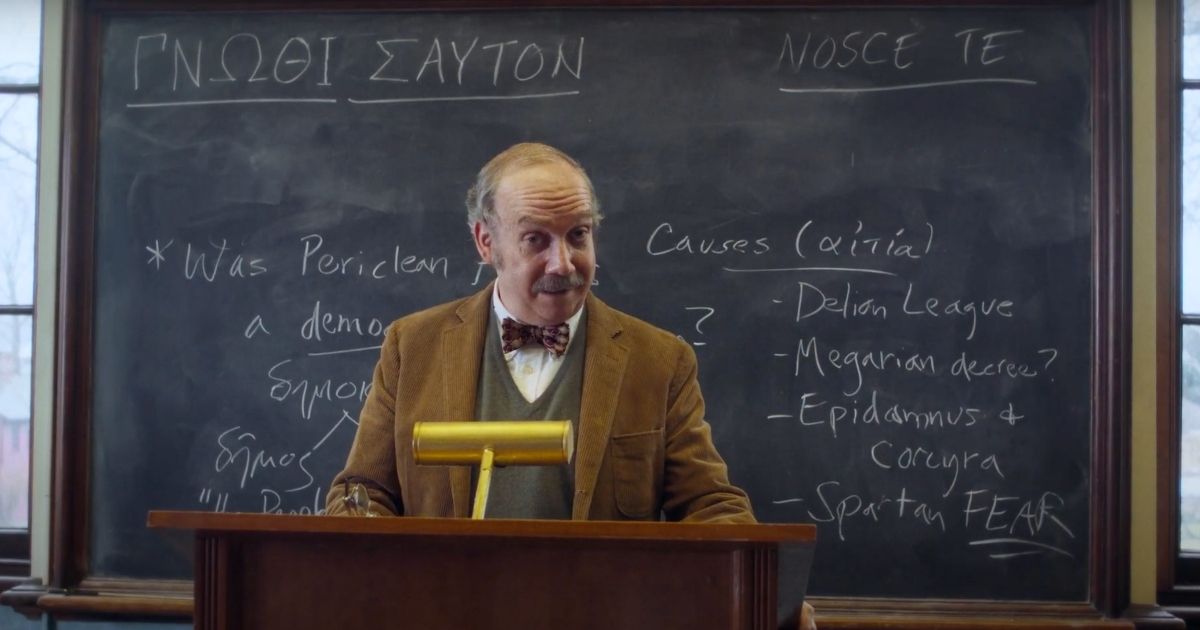 The Holdovers hones in on cinematic nostalgia even before the story begins, its opening credits sequence made to look like you've just switched on your TV and popped in a VHS tape, grainy fuzz and all. From there, with an impeccable score from Mark Orton that brings a modern vibe to 70s sounds, we dive right into Barton Academy, all the boys in various states of school uniform dress running around as they prepare for holiday vacation. The liveliness of the students set against the old-fashioned wooden foundations of the institution itself brings to mind boarding school movies of the 80s and 90s, like Dead Poets Society and School Ties.
In this regard, the design team for The Holdovers — production designer Ryan Warren Smith and costume designer Wendy Chuck — deserve utmost praise for their transportive work. There's a tactility to the film, almost as if we can breathe in the chalk dust or feel the floorboards creak beneath our feet. It immediately takes us to the past (for many, to our own school days in our youth), free of the glass and steel that pervade many modern institutions now. Once we leave the school and travel to Boston (Angus' Christmas wish from Paul), and we're met with a sea of jewel and earth tones, tweed and bell-bottoms, and the soft haze from smoking indoors, it's a visual time travel experience like no other.
Related: His Three Daughters Review: A Moving Family Drama Driven by Amazing Actress [TIFF 2023]
A Pitch-Perfect Ensemble Cast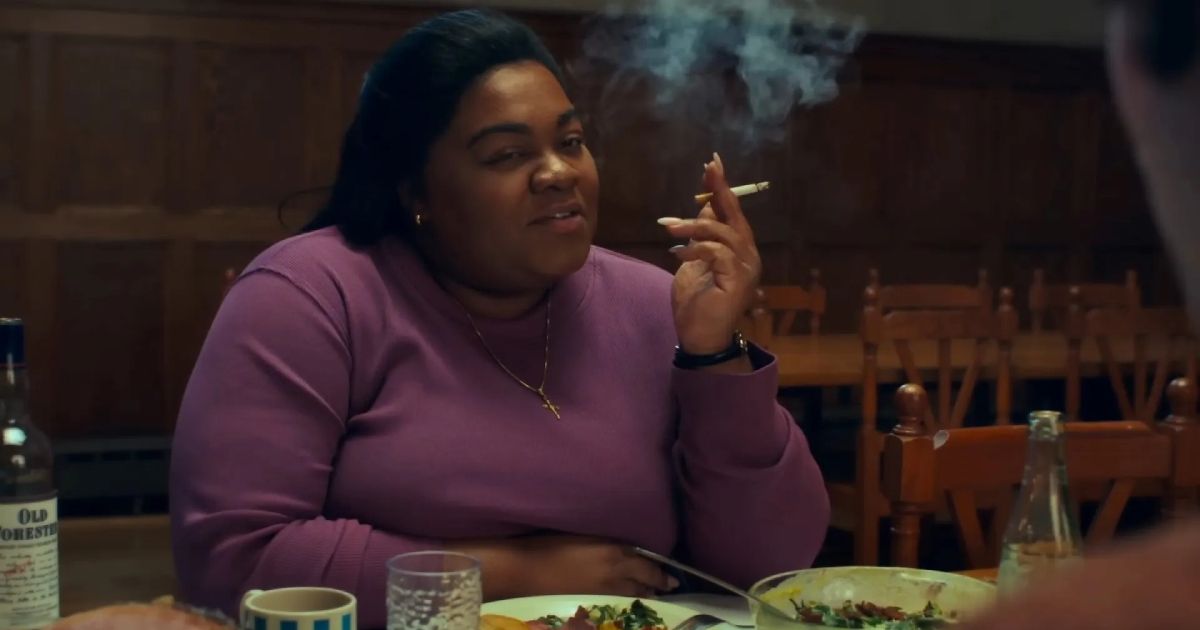 Of course, The Holdovers isn't only interested in nostalgia for the sake of it. With enviable talent, screenwriter David Hemingson creates new characters within this familiar setting, each of whom offer fresh perspectives and even fresher dynamics than expected. Indeed, Paul, Angus, and Mary transcend the curmudgeon-y history teacher, the rebellious rich kid, and the working-class mother in grief they may start as, and become an unlikely cinematic family we never knew we were missing. What's more, Hemingson's screenplay never teeters into sanguine territory, allowing instead the actors to silently communicate its feel-good message.
Related: TIFF 2023: Most Exciting Movies Premiering at the Festival This Year
Indeed, Giamatti, Sessa, and Randolph, with a lovely supporting turn from Carrie Preston as Barton's school administrator Lydia, are the perfect ensemble cast, each voice in tune with the others. As we saw in Sideways, Giamatti and Payne are a movie match made in heaven, and, as Paul, Giamatti strikes the perfect balance between acerbic and tender. Meanwhile, Sessa makes a formidable debut as Angus, standing on his own against Giamatti, his prime scene partner. The pair's chemistry is present and ineffable: they move from teacher and student to something akin to father and son, though not quite. Nonetheless, here, knowing is far less important than feeling what the two have.
When it comes to performances in The Holdovers, however, Randolph deserves to be in everyone's conversations this awards season. Mary goes on an emotional journey that is separate from Paul and Angus, but she's the perfect bridge between the two. She understands Paul's gripe with the students, especially Angus, but she also sees why the boy is acting out and his need for guidance. Randolph is joy to watch in every scene she is in, and when she's not on-screen, we can't wait to see her again.
After its international premiere at TIFF 2023, The Holdovers will release in select theaters on October 27 before a wider release on November 10. For more information about the film or the festival, visit the TIFF website.