Suddenly, the Ted Lasso theme song is downright prophetic. In it, Marcus Mumford and Tom Howe croon: "Yeah, it might be all that you get/Yeah, I guess this might well be it." While there's no "official" word that season three of Apple TV+'s award-winning hit is its last, creator/star Jason Sudeikis has noted to Entertainment Tonight that, "the idea was to do three years" with the show and the creative team have told the story they needed to tell. Even Brett Goldstein, who plays the crusty Roy Kent, noted that season three would be the series' final bow, telling the Sunday Times last June that, "We are writing it like that. It was planned as three [seasons]."
Judging by the first four episodes offered to critics—season three officially drops March 15—the end looks ever more probable. But anything can happen.
Sudeikis has already picked up a handful of Emmys for playing the optimistic American football coach hired to manage a British soccer team—with no soccer coaching experience to boot. The robust cast includes Hannah Waddingham (Sex Education), Brett Goldstein (Thor: Love and Thunder), Juno Temple (The Offer), Brendan Hunt (Bless This Mess), Nick Mohammed (Intelligence), Jeremy Swift (Doctors), Phil Dunster (The Devil's Hour), Toheeb Jimoh (The Feed), and a robust posse of other standouts.
Any way you kick it, season three finds Ted and the gang waxing a bit more existential as a variety of characters seem to be either in a major transition or quickly heading toward one. Ah, but there is hope. It's hard not to walk away from this round of Ted Lasso without feeling the creators are setting up a spin-off.
Keeley Jones at Your Service?
How fun would it be to have an entirely new show that revolves around upbeat PR gal Keeley Jones? Surely breakout star Juno Temple—always delights as Keeley—could headline a series with ease. The actor was one of the best things in Paramount+'s The Offer. This season, we find Keeley at the helm of a PR firm, representing AFC Richmond and a gaggle of other clients. Cue: new characters. But Keeley's doe-eyed excitement for her new job often outshines the fact that she, like Ted before her, is a fish out of water in her new, and much bigger, creative environment.
The new season, overall, scores all the necessary goals. Even if those goals feel familiar emotionally. Optimism, underdog determination, defusing people's frenzy—and hate—with genuine kindness all factor into Ted's journey and, well, that of most characters, in fact. Seems Ted has made an impact even though he waxes existential about it more than ever before.
Related: John Wick 4 Review: A Long and Loving Embrace of the Action Genre
We catch Ted sending his son back to the states as the season begins. The extended visit in London gave father and son great time to bond, but all too often, Ted wonders why he's in London and if it's really making a difference. His panic attacks, previously tempered in therapy sessions with Sharon—Sarah Niles in fine form—have re-emerged, posing a significant threat.
Meanwhile, Nathan Shelley (Nick Mohammed), who jumped the AFC Richmond ship last season to coach West Ham United, the opposing team led by Rebecca's ex, Rupert (Anthony Head), rages on in a battle for his soul. It gives Ted and Team Richmond something to combat. Again. And Head knows how to deliver the best eerie vibes. He's often seen mysteriously appearing, like Darth Vader, attempting to train a new evil recruit. Will Nathan go to the "light?"
All this plays out to winning ends throughout the first four episodes of the season with plenty of surprises, but there are some new cast additions worth noting and that shifts the entire Ted Lasso universe.
Bigger Team, More Players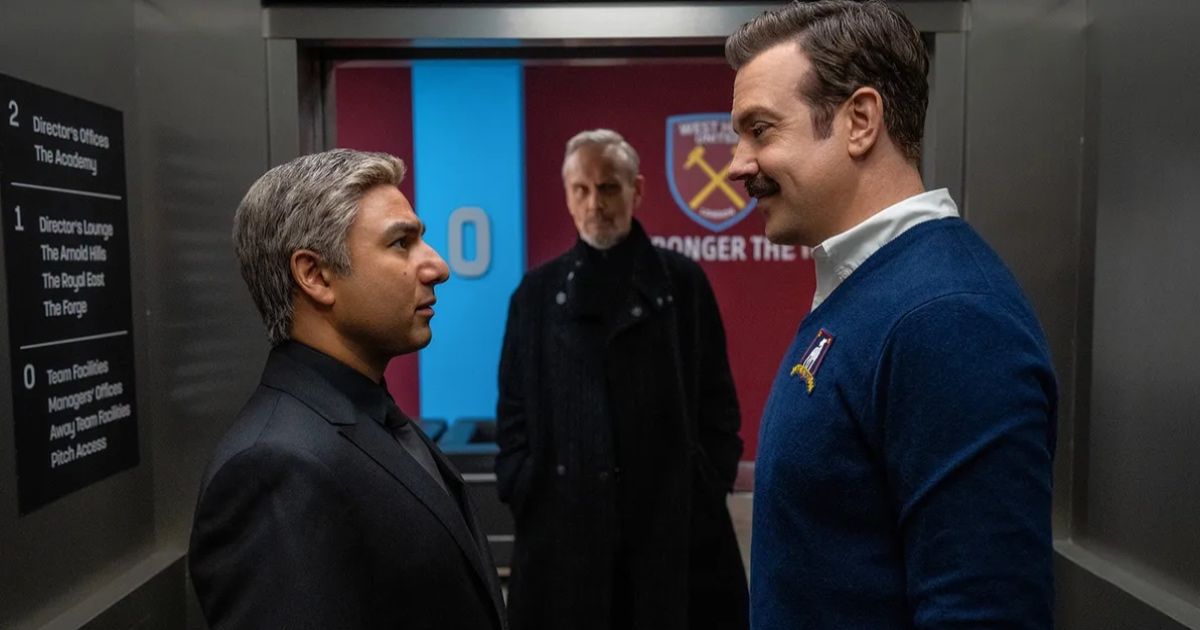 Look for Girls' Becky Ann Baker in season three—she plays Ted's mom. It will be interesting to watch this play out as viewers get to see how Ted was informed throughout his early life. There's also Jodi Balfour (For All Mankind) playing your not-so-average venture capitalist. You can see where the show is headed—who are all these new characters, and will we get to know them better beyond season three?
Not to be left out is a powerful new teammate for AFC Richmond. Best to be surprised by that, but it's thoroughly fun to see how the ripple effects play out in the locker room, and with hunky Jaimie Tartt (Phil Dunster sporting a new 'do), who must come to terms with his own legacy. And… remember Ted's fave reporter, Trent Crimm (James Lance)? The man was fired from The Independent when we last saw him. Now, he's… ah, better save that tidbit. Best to dive in and experience it yourself.
Related: Exclusive: Mireille Enos on Lucky Hank and What She Learned From Co-Star Bob Odenkirk
Overall, the main thrust of the 12-episode third season finds most of the main characters facing a major transition. The newly promoted AFC Richmond battles ridicule as media predictions peg them as last in the Premier League. Remember: Nate's the "wonder kid." That puts a lot of pressure on Roy Kent (Goldstein in fine form wresting his characters' demons this go around), who must step up as assistant coach, alongside Coach Beard. If you loved Brendan Hunt's portrayal of Beard before, this season, the writers offer him great creative beats. Meanwhile, Rebecca—now, Hannah Waddingham would be great in a spin-off of some sort—desperately wants to defeat Rupert.
Best of all, the writing in season three is in fine form throughout the episodes offered to press. True, some of those episodes feel a little bloated. But with every passing scene, it's undeniable that Sudeikis et al have created a rare television series that manages to evoke authentic emotions, deliver stellar comedy, and capture the human condition. Does it always kick the ball into the net? No. But when we all look back at Ted Lasso, surely, we'll realize that this has been one of the best series to illuminate our screens in a 21st century going through its own identity crisis. Surely, that's worthy of a cheer.
Catch Ted Lasso on Apple TV+ on March 15.