Keep a Kleenex handy—Dear Edward has arrived. Not since This Is Us has there been a series that plays so repetitively on the heartstrings. That's a good thing. Apple TV+'s new outing comes from Jason Katims, the genius behind Friday Night Lights and Parenthood. Like those two shows, and with shades of This Is Us, Katims effectively captures the depth and emotion of Ann Napolitano's powerful best-selling novel about grief, our interconnectivity, and human suffering.
It also introduces audiences to an endearing newcomer in Colin O'Brien, taking on the titular role as Edward Adler, a 12-year-old who boards L.A. Flight 2977 from New York to Los Angeles with his parents and older brother Jordan (Maxwell Jenkins). Before reaching its destination, the plane crashes. Everybody on board dies—except Edward. Labeled the "miracle boy," Edward heads to his Aunt Lacey's (Taylor Schilling of Orange is the New Black) in L.A. and begins the long process of recovery.
That recovery isn't so much physically related as it is psychologically, and that's where Katims finds enough creative juice to create a 10-episode first season that is both deeply moving and incredibly soul-stirring. But does the show have enough power to send it into another season?
Dear Apple TV+: Keep Dear Edward Around
In any big series, there are pros and cons to having such a talented ensemble cast. Dear Edward has that in spades—Connie Britton (Friday Night Lights, The White Lotus), Amy Forsyth, Anna Uzele, Audrey Corsa, Brittany S. Hall, Carter Hudson, Dario Ladani Sanchez, Douglas M. Griffin, Eva Ariel Binder (Grey's Anatomy), Idris DeBrand, Ivan Shaw, Jenna Qureshi, and Khloe Bruno, all share screen time here.
With 10 episodes, Katims has the challenging job of effectively balancing significant plot points and star load—truthfully, eight episodes would have done the trick and made this otherwise exceptional show a little easier to digest. As is, there are moments when it feels as if Dear Edward should "get on with it," as it were, rather than overstay its welcome in the land of grief.
Related: Exclusive: Baby Ruby Director Bess Wohl and Star Noémie Merlant Discuss Their Mind-Bending Thriller
Still, grief and Dear Edward go hand in hand. That's one of the main draws to the series—how people dive in, avoid, and/or move through tragedy and grief. As such, early on, Edward is on the fence about moving in with his aunt and uncle (Hudson), and when he does, he can't sleep. Sure, he's dealing with losing his family—he and his brother were truly close—but the fact that Aunt Lacey has suffered numerous miscarriages and "his" bedroom was the intended nursery for Lacey's own child, things feel a bit off. Edward finds solace with a new friend, however off-putting she can be—in next-door neighbor Shay (Binder). She, too, has her own grief to deal with. Shay's father is absent, and she's attempting to come into her own.
Eventually, mail comes pouring in. Aunt Lacey receives hundreds of Dear Edward letters—hence the title of the series—all from people who are either fascinated by his survival or from those who lost their loved ones on the flight. Lacey keeps the letters hidden from Edward. No sense in triggering the boy even more. A good move, and the show's writers—and, in turn, O'Brien—do a fine job of capturing Edward's journey through uncharted emotional waters. Once an exceptional pianist, the kid has turned inward, has trouble coping in school, and can't seem to find his groove. Yet.
So, for a series about a young boy attempting to rebuild his life, why are there so many other characters?
Where Everybody Fits in Dear Edward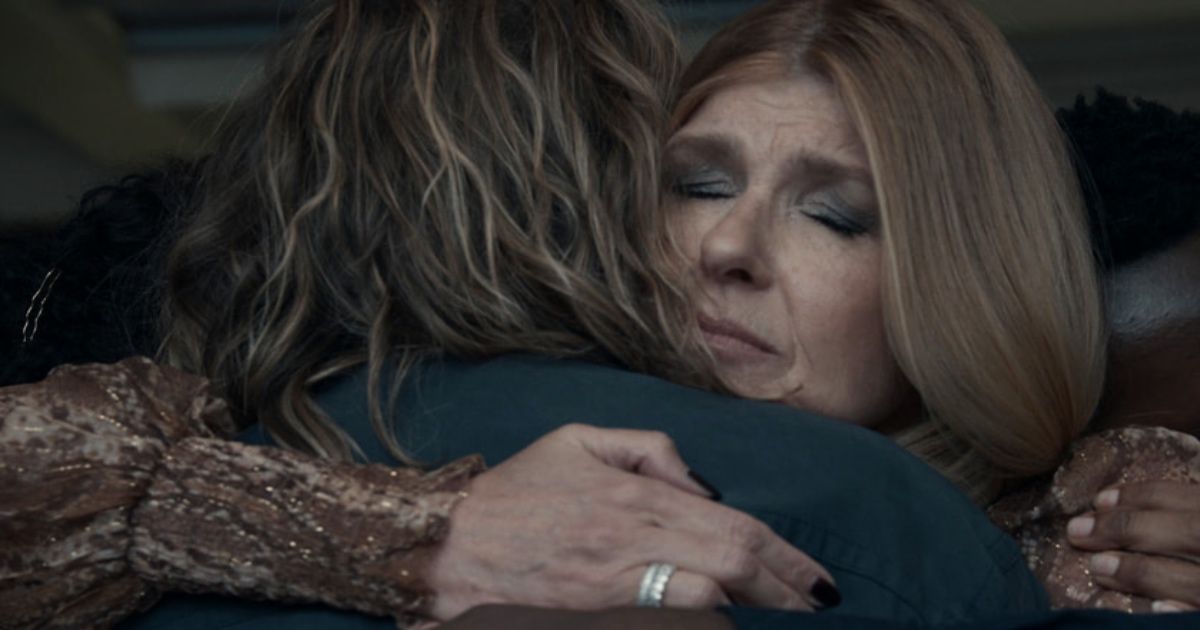 Most of the other main characters in Dear Edward are family members who have lost somebody they loved on Flight 2977. Some critics may argue that may not be the most inventive plot device and detracts from, well, Boy Eddie, but somehow it works here, giving Katims et al a kind of holographic template of grief to play with; a landing pad where these characters are somehow linked together.
Enter: Connie Britton. The Emmy nominee is in fine form here, chewing the scenery with vigor playing Dee Dee, a widowed, well, "real housewife." Upon learning of her husband's death in the crash, secrets from his life emerge. Suddenly, Dee Dee heads to L.A. to uncover the truth, however shattering it is. Still, it gives Britton plenty to nosh on creatively. Truthfully, it's nice to see her play a somewhat less introspective character here.
Related: Fremont Review: An Exquisite Meditation on the Sometimes-Difficult Process of Moving Forward
Dee Dee and other characters intersect with Schilling's Lacey as some family members attempt to find solace in a group therapy setting. Internal battles ensue for all. Anna Uzele's (FBI, City on a Hill), Adriana, stands out, playing an unlikely politician whose politico aunt died in the crash—Adriana gets caught in a love triangle, too, so there's that. Idris Debrand (Kat And The Band) is exceptional in the show and my sense is that there's an entire show that can be built around his character. Others, like Hudson's John—Lacey's husband—are given material to buoy the overall thread of grief, especially from that "outsider" perspective.
Mostly though, this is O'Brien's, Schilling's, and Britton's ride. The trio turn in masterful performances. Aside from being perhaps two episodes too long, the series more than holds your interest. It could be one of the surprise hits of the season and another creative feather in Apple TV+'s cap.
Best news: the source material offers plenty for these creative folks to work with, mentally and emotionally. Overall, Katims adds even more nuance to Napolitano's novel and the final scene of the season should offer a surprise jolt to spark a second round. No doubt fans will demand it.
Dear Edward streams on Apple TV+ beginning February 3.