Everybody is Kung Fu fighting over at Netflix as the streaming service is about to drop the second season of Kung Fu Panda: The Dragon Knight. The season has Master Po (Jack Black) traveling the globe on the hunt for a collection of four powerful weapons before a mysterious pair of weasels get their hands on them. Joining him is a no-nonsense English knight named Wandering Blade (Rita Ora), the slippery Rukhmini (Rahnuma Panthaky), and Po's adopted father Mr. Oping (James Hong).
The highlight of season two, according to Executive Producer Peter Hastings, is taking Po out of his element, and out of China. "Well, at the end of the last season, it was very clear that they needed to go chasing after these weapons, and the first place they are going is India," he said. "Travel beyond China is kind of something we always wanted to do, and it's been really fun doing that in terms of storyline, and in terms of the actors you've been able to hire, and in terms of the production design, all that kind of stuff. And Po going somewhere as the underdog is always a very fun position for him."
Far Away Lands
As the season is set in a different country than the rest of the franchise, the production made sure that the setting is as accurate as possible. "Everywhere we go, including China, we have a cultural consulting team," said Hastings. "We're constantly running all of our design stuff by them. Of course, the internet provides the artists with a tremendous amount of reference material. We then consult about everything, down to the shapes of the foods, or if particular samosas were in south or north India. So, we're really keeping everything as accurate as we can, for fun and out of respect. It's really fun for the designers."
Unlike most other projects that Hastings has worked on, the Kung Fu Panda projects, including The Dragon Knight, are part of a much larger franchise, which is something he is very cognizant of. "We're always respectful of all the material that's come before," he said. "We do get notes from the studio like, "Please don't use that animal because they're going to be using that somewhere else. Now that the fourth Kung Fu Panda movie has been announced, there are things that we have to make sure fits in the universe. There's a term called a 'bubble episode,' which is like an episode that doesn't necessarily propel the story, but it's self-contained. It's almost like we have a bubble series. It's a whole adventure that happened to the side of the progress of the movies."
Related: Dreamworks Animation Unveils New Logo Featuring Familiar Faces
"It's about not interfering with the feature world," Hastings continued. "I previously did another Kung Fu Panda series called Legends of Awesomeness, which was between the first and second movies, and that was a lot more of making sure that things hooked up from the front to the back between the two films. We've been a little kind of freer on this one. Plus, with the exception of Poe and Mr. Ping, it's kind of an all-new cast, so we have freedom in that as well."
What's in a Name?
While voice actor Mick Wingert has been taking on the role of Master Po for the last few Kung Fu Panda projects, for The Dragon Knight, they reached out to original voice actor, Jack Black, who gladly came back. "Jack returning had a lot to do with the pandemic because like other people, he wasn't very busy, and usually he's just too busy to do something like that," said Hastings. "The producer of the Kung Fu Panda movies is working at Netflix, and she suggested maybe we can get Jack to come in. Mick is fantastic. He plays that voice like it's an instrument. But, Jack is the instrument. They're both great, but Jack has been phenomenal and super fun to work with. And he's totally into it."
Related: Jack Black's Best Non-Comedic Roles, Ranked
The Kung Fu Panda franchise as a whole has included some big-name voice talents. Including Black, Hong, Dustin Hoffman, Angelina Jolie, Seth Rogan, Gary Oldman, Bryan Cranston, and J.K. Simmons, among others. While some may consider that to be stunt casting, for Hastings, it's a bit more nuanced than that. "I think it's what's what's appropriate for the project," he said. "Obviously, in features, they're much more interested in movie stars, because it's a marketing thing in addition to getting good performance. I mean, if you have, Samuel Jackson, you're going to get a Sam Jackson performance The community of voice actors like Rob Paulsen and Billy West are so good at what they do and they are so professional. I barely have to direct those guys, because they just get it right away. But it honestly ends up being more of a marketing thing than a talent kind of thing. That's where those guys get bumped. For me, it's what's going to be the best performance. I've worked in features and I don't think that people really care that much when they watch the movie. They just like the sound and the texture of the voice. The other huge difference is that movie stars have a physical presence. Once you are doing animation, that doesn't matter so much. I think voice actors are almost like singers. They're judged on the quality of their voices and how good of an actor they are. So, I understand that gripe from regular voice actors. It's totally legit."
"We're also really staying true to the nationalities and of the places where it's set," Hastings continued. "We're hiring people from Central America or Latino descent or Indian descent. I haven't actually worked with the Rob Paulsons or the Billy Wests on this show because we're all over the world and we're staying true to these places. That's been really fun."
Make'm Laugh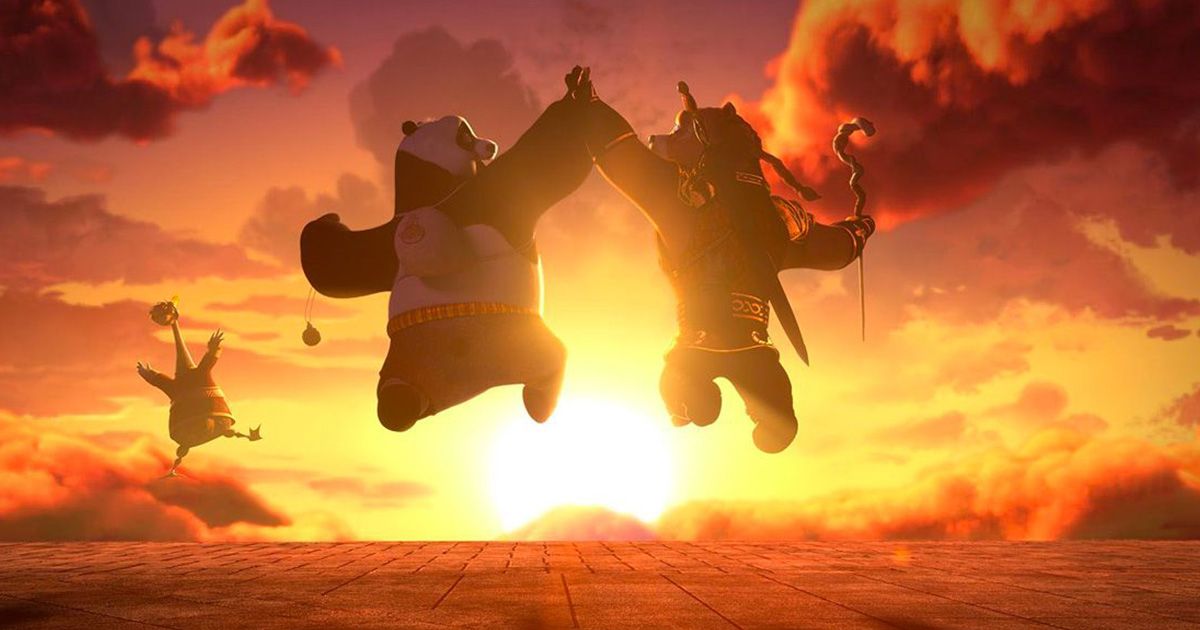 Like Kung Fu Panda, a lot of Hastings' work has appealed to both kids and adults alike, which he credits to simply wanting to entertain himself. "When we did shows like Tiny Toons, Animaniacs, and Pinky and the Brain, there were a bunch of us that were comedic performers, so we were into making ourselves laugh, said Hastings. "With those shows, we had a lot of freedom because Spielberg was producing them, and if Steven liked it, it was cool and nobody complained. But my goal has been, 'This is not for kids. It's not for adults, it's for people.' How can you do comedy that works for all ages? It's difficult to do. It comes down to making a show that I would want to watch without cringing or being bored to death."
Hastings is optimistic about the future of Kung Fu Panda: The Dragon Knight. "We're hoping to bring out a very strong season three because we're building a more and more epic story," he said. "This series plays out more and more dramatically as we go along. We've set up a pretty strong lead into what could be season three, so we're, we definitely don't cap it. We just want to keep rolling with the show, and it's been really fun."
Kung Fu Panda: The Dragon Knight streams on Netflix on January 12, 2023.