Ever gone scuba diving? Or maybe just snorkeling? There's a beautiful world beneath the sea level, and if Mother Nature doesn't happen to strike with a natural disaster, it could be worth exploring with the right training and mental composure. That's the premise of The Dive, which started as a hit Swedish movie by Joachim Hedén that has since evolved to an English-language, Malta-set adaptation starring Sophie Lowe (Beautiful Kate) and Louisa Krause (The Girlfriend Experience).
In the new thriller from co-writer/director Maximilian Erlenwein, Lowe and Krause play sisters Drew and May, who venture out on a deep-sea diving trip gone terribly wrong. Thanks to a landslide, one of them gets stuck way below the surface while the other battles a depleting level of oxygen as she seeks help. Time is running out, to say the least…
We recently caught up with Erlenwein, who dished about his real-life love for the water and making a thriller about his passionate hobby without making it "anti-diving" at the end of the day. It's clear from our interview that he was passionate about making The Dive feel authentic without too many added special effects, and it certainly shows in the end result.
Coming From a 'Love for the Ocean'
First came Joachim Hedén's 2020 movie Breaking Surface, which paved the way for this new English-language reimagining known as The Dive. Hedén gets a screenplay credit on The Dive, and co-writer/director Erlenwein spoke highly of the Swedish director on the collaboration front. "He was super nice," Erlenwein told MovieWeb. he continued:
"Shooting an underwater movie is really special, and you need a lot of experience to do it. So I asked him about all the things you can step into and all the faults and mistakes you do. And he really helped me out. We still made all the mistakes. But it was very helpful that he had the experience prior to me."
In terms of filmmaking risks, recreating an existing project and making it your own presents a unique set of challenges. Said Erlenwein regarding the process, "When I was approached with the project, I said, 'No, I'm not doing a remake. Why would I do a remake?' But then I read the screenplay, and yeah, it was about diving, and I was a passionate diver myself for many years. And I thought, 'Wow, this is such an opportunity. I cannot not do it… What can I bring to the table? How can I make this my own?' And yeah, it was fun."
I came up with new ideas, and I changed the characters and changed the ending and changed everything a little bit. And so it came from my love for diving and love for the ocean.
The first thing that catches your eye in The Dive is the breathtaking visuals as sisters May and Drew drive along the coast of Malta. Your first thought will be: Why haven't I visited this island before? Despite the tense story of survival that ultimately kicks into high gear, there's no denying the beauty of this overseas destination. "We had to find a location where we could shoot the location on land and underwater, so we started scouting. And then very soon, we came to Malta because Malta has all the advantages," said Erlenwein.
"You have these really nice landscapes, actually not on Malta, but it's the neighbor island, it's called Gozo, and it's a very small island with less hotels and stuff. So we shot this there. And then you have very professional film crews, a whole industry there, and you have a lot of underwater shooting experience. And the underwater world is really, really amazing. We found those big locations on the water, not like the typical cliché of diving, the Finding Nemo fish. It was actually the landscapes on the water we were looking for."
Related: Exclusive: The Guard Brothers on Their New Period Thriller Dead Shot
The Challenges of Acting Underwater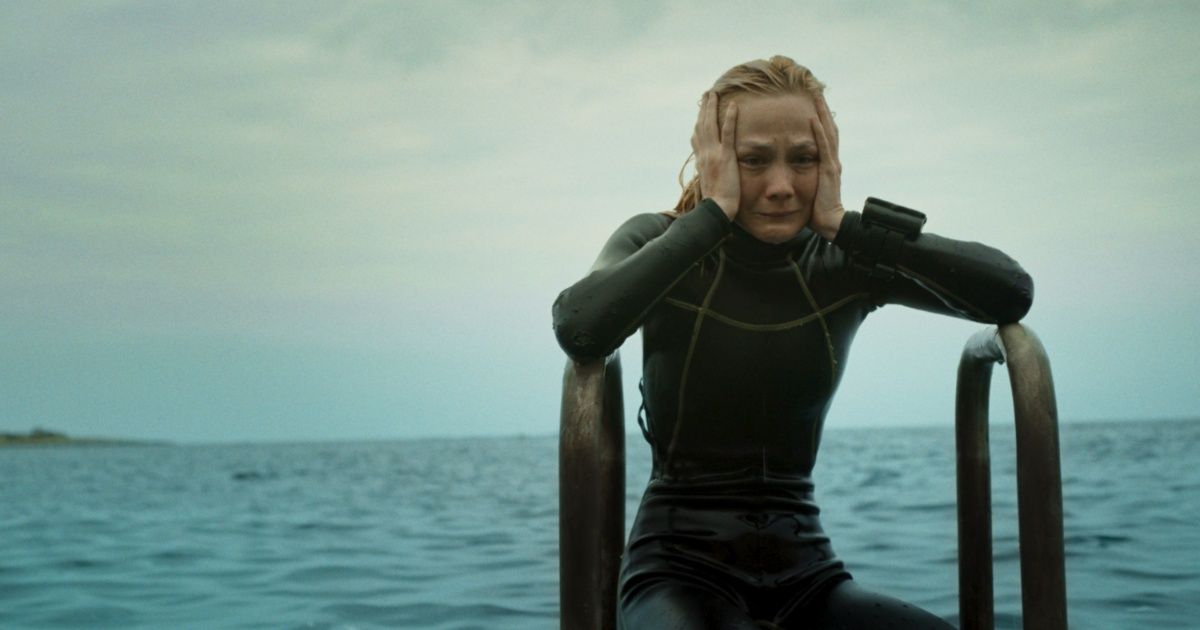 After the breathtaking visuals across the film's opening sequence, then comes the world beneath the surface. You don't have to be a certified scuba diver to appreciate what The Dive captures underwater as the sisters explore the surroundings. Said Erlenwein regarding the authenticity of his submerged footage:
The one thing I said in the beginning: 'I only do this film if we shoot everything for real underwater.' So there's almost no CGI in it, just the landslide. That's the only thing. But everything else is really underwater.
"And of course, it's very challenging. I mean, filmmaking is difficult enough, but underwater is ridiculous, continued Erlenwein. "The hardest thing is to communicate, because all the communication fails. I had this, we called it the 'god speaker.' So I had the speaker on the water and just shouted into the abyss, and I hoped that someone gets it. And then, you've got all the currents and the weather. It's like shooting in nature, like a documentary… You just sit there and you have to wait for the best conditions, and you have to be very zen about it in a way because you can't force it."
Related: Terror in the Water: 10 Underappreciated Aquatic Horror and Water Thriller Movies
And hats off to actresses Sophie Lowe and Louisa Krause for their committed turns. Good acting is challenging enough, but imagine doing it 30 meters below sea level and hooked up to giant oxygen tanks? "They really became sisters," said Erlenwein about his leading ladies. "They really became best friends. I was absolutely lucky because first, we started looking for actresses who could actually dive, and there was no chance… So we started looking for actresses who are crazy enough to do this."
"It was clear that we wanted to shoot really underwater, and they had to learn it from scratch. They didn't do any diving before, and it's kind of tricky because many people think they can do it, and they want to do it. And they do it a few days or even a few weeks, but then there's a psychological thing that kicks in and you just stop. You have one bad experience, one panic situation in the water, and then you just can't do it anymore. And I was always a little bit anxious that they were going to stop the process and actually quit."
That particular predicament — an actor throwing in the towel before production begins — actually happened to Joachim Hedén while trying to bring Breaking Surface to life. "The director of the original said to me, 'You really have to be careful,' because one of his actresses quit," Erlenwein told us. "So we started slow with the training at the beginning, just so that they feel confident and that they have fun. And then they developed fun for diving, and they laughed, and they still dive. And yeah, I can't emphasize enough how difficult it is for them to act underwater."
Looking ahead, Erlenwein remains busy directing the second season of Netflix's The Empress, which shoots until February, and then post-production begins. "I would love to do an English-language film again," he told us. But in the meantime, from RLJE Films, The Dive will be available in theaters and on demand Friday, Aug. 25.