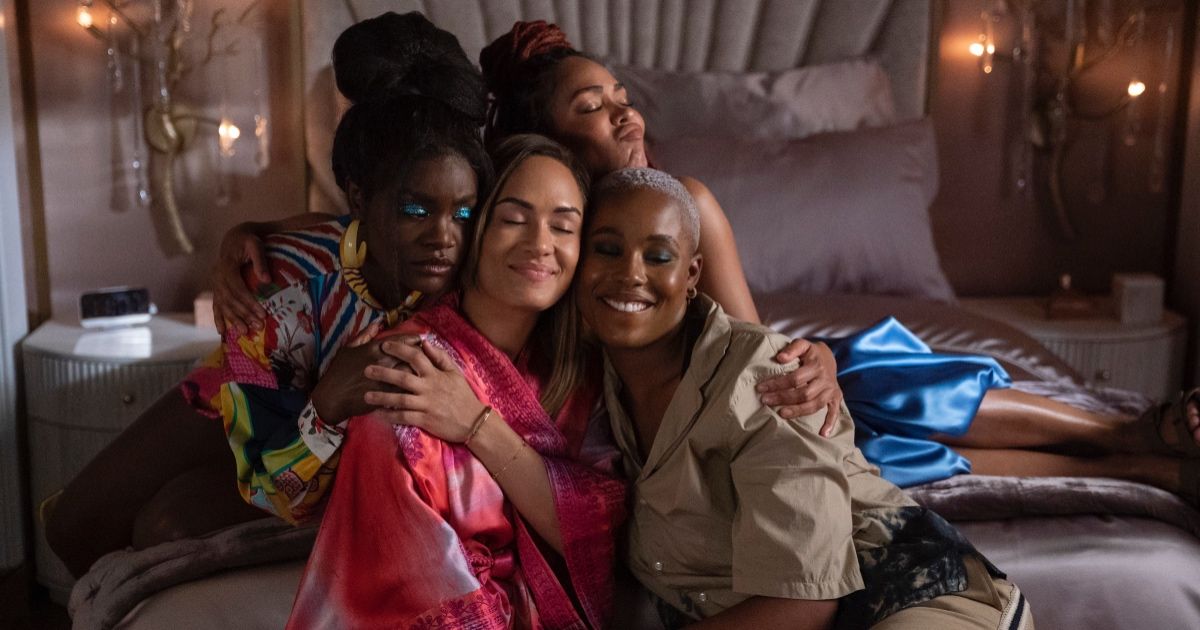 The girls are back. Season two of Prime Video's guilty pleasure Harlem drops February 3 and surprisingly, it picks up exactly where things left off at the end of that dramatic first season cliffhanger. Refresh your memory here: Meagan Good's (Day Shift) Camille mustered up enough strength not only to quit her professor job at Columbia University, but also maybe-kinda-sorta-yeah-hopefully win back her ex-love Ian (Tyler Lepley)—on the eve of his wedding no less. The two share an intimate kiss. Meanwhile, Ian's fiancée Mira (Rana Roy) happens to spot them. Ouch.
You have to hand it to a show chronicling four vibrant women (Good, Jerrie Johnson, Grace Byers, Shoniqua Shandai) who delve into self-discovery, love, and all sorts of messy emotions in the way that this one does. (The show hovers high above And Just Like That… for instance.) These ladies keep it real. That's exactly what creator Tracy Oliver (Girl's Trip, First Wives Club) envisioned for the series about women of color moving through life's challenges and hoping to succeed in their careers.
"In season two, the characters are still figuring it out. We're all ultimately trying to find our own happiness," Oliver said. She shared more about the upcoming season in the clip below.
Things Heat Up Even More in Season Two
"Without giving anything away, I think what's most at stake in season two are the risks these characters take," explained Grace Byers, who plays frequent dater and business owner Quinn in Harlem. (On a side note: Jasmine Guy delivers a great turn as Quinn's mother in the series.) "I think that each of the characters really go for it. And that means something different for each of them. But there are less safety nets for everybody. It's just more leaping and trying, and sometimes falling, and having to pick themselves back up. Those kinds of stakes make it interesting to watch and make it very relatable."
To be sure, one thing Harlem does very well is show how "messy" being human can be, and the risks people must take.
"Ultimately, everything we do is some form of risk," noted Shoniqua Shandai, who plays Angie in the series—we love her as a singer struggling who's camped out on Quinn's couch. "I love how these women are really pushing the boundaries on the status quos of what it is to be a woman and the expectations of that. But also, they're pushing the boundaries of what they always expected for themselves in that capacity. I think this season will be very surprising for viewers."
Related: Fremont Review: An Exquisite Meditation on the Sometimes-Difficult Process of Moving Forward
Byers quickly added why she felt the show stands out in the ever-crowded streaming universe for many reasons. It all has to do with showing how—here's that word again—"messy" life can be.
"We live in a world that carefully curates things to be consumed," Byers said. "The specialness of the show is that it feels very human and messy. The series shows like… there it is—me and all my mistakes and all my falling glory. That really makes people feel seen. It gives them a breath; some relief. It says, 'Okay, that happens to me, too. I thought I was the only one.
"That representation and ability for people to be seen is what makes people come together," she added. "And I think it's also what makes people feel more empowered to then share their own stories."
Breaking Down the Upcoming Season
No doubt Oliver and company had a lot to contend with creatively this season—especially with that Camille and Ian thing. Other things to watch out for: Look for Oliver et al to continue the journey of these four stylish and ambitious best girlfriends in Harlem, the Mecca of Black culture in America in new ways. Expect Tye (Jerrie Johnson) to feel the heat and have to make a bold decision. Meanwhile, Angie's (Shandai) career takes a promising turn. And Quinn (Byers) truly goes on a journey of self-discovery.
About that… when asked what most surprised her in crafting season two, ultimately, she pointed out Quinn's story arc.
Related: Exclusive: Ryan Phillippe Says He Wanted to Star in The Locksmith Because He Loves Redemption Stories
"Quinn was such a positive person in season one; so optimistic. I would say that's kind of like how I am, too—really optimistic," Oliver said. "Then, during the pandemic, I felt as if it was getting the best of me. It felt tougher and tougher for me to create and to come from a happy place and be positive and encouraging.
"We were like, should we delve into depression and mental health stuff [in the series]," she went on, "because it's in the zeitgeist right now. A lot of us are going through it. And people who are normally strong and 'put together'… we're starting to crumble. And so, to me, this season, Quinn stood out—and Grace's performance. As a character getting to have that darkness and try to pull herself out of that darker place… that was an interesting pivot for her character, and I think viewers will be surprised by it."
Season two of Harlem consists of eight episodes, with two episodes premiering every week on Prime Video, starting February 3.