Do we ever tire of dark comedies? From Triangle of Sadness and Jo Jo Rabbit to The Menu and Fargo, these absurd tales spark the imagination and give us a glimpse of humanity and how flawed humans can be. Enter: The Drop. The hilarious new destination wedding comedy directed by Sarah Adina Smith (Birds of Paradise, Hanna) and written by Smith and Joshua Leonard (The Blair Witch Project) dares to ask: What happens to you and your friends when one of your friends accidentally drops your baby?
Breathe. The child in question winds up being just fine, but the incident certainly puts an emotional wrinkle in the wedding festivities—the ripple effect of said "drop" affects everybody. As the wedding guests ruminate on the "the drop" and what it signifies, if anything, Smith and Leonard sprinkle their story with equal doses of humorous dialogue and moments of awkward silence that wind up downright hilarious.
This stellar homage to Force Majeure stars Anna Konkle (Pen15), Jermaine Fowler (Coming 2 America) Jillian Bell (Brittany Runs a Marathon), Utkarsh Ambudkar (Ghosts), Robin Thede (A Black Lady Sketch Show), Aparna Nancherla (Crashing), Jennifer Lafleur (Nope), and Elisha Henig. Leonard also stars. MovieWeb caught up with several cast members, who candidly reveal more.
Getting Involved in The Drop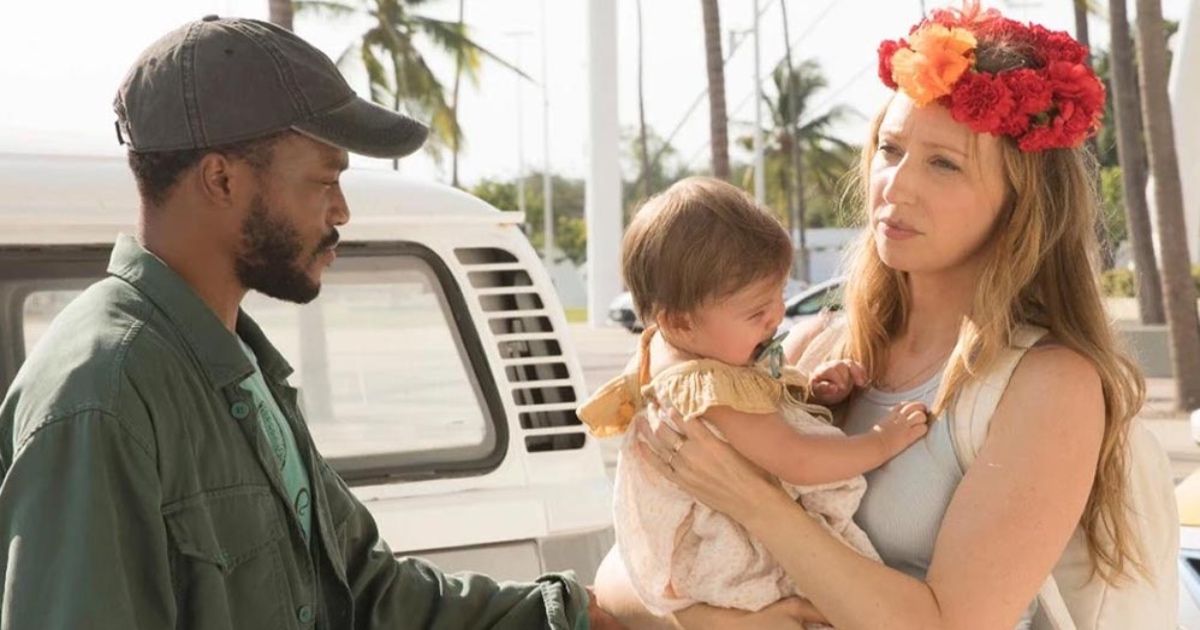 Surely, dropping a baby is no laughing matter. In real life, that is. Here, in the hands of Smith and Leonard, the joke isn't really "the drop," it's what happens after the accident. The filmmakers spin a wickedly absurd story about friendships and relationships, and the expectations people have. What are the ripple effects when, as the film posits, "a woman supposedly violates the central tenet of womanhood?"
For Pen15's Anna Konkle—she plays Lex, "the dropper" here—everything came down to the uproarious premise. "I got the script very last minute and the rest of the cast had been hired," she shared. "I got the offer a week and a half before flying to Mexico [for the shoot]—with a three-month-old. So, I was three months postpartum, and I think even though that sounds psychotic, I was like, 'I love the script, let's do this, let's drop a baby.'
"It just felt like with what I was currently grappling with—coming from doing some comedy and motherhood being new and so relevant in pregnancy and birth—that I wondered, 'is this funny? Can this R rated?'" she added.
Related: Exclusive: Jillian Bell and Joshua Leonard Discuss Hulu's The Drop, Possibly the Best Wedding Disaster Film of the Season
In a bit of serendipity, her costar, Lafleur, was also a new mom—daughter Alma was part of the production, playing young Ani in the film. "There's such a saccharin vibe around motherhood in the media, and so much stuff we're not supposed to talk about," Konkle went on. "I thought, 'How could I turn this down, when that's what I'm grappling with right now—my own feelings of inadequacy as a parent?' I realized this can be funny."
Fowler, who's cast as Mani, Lex's hubby in the film, said the all-star cast was one of the main reasons he wanted to be a part of the project. "I remember a particular vacation me and my partner had in Hawaii, which went to hell. And that's why I laughed so hard when I read the script," he noted. "They told us that we'd be going to Mexico, and it'd be like a vacation, and it was pretty crazy. It was nothing like a vacation, but we felt the camaraderie; everyone bonded, which made the chemistry much stronger. Before we started shooting, Sarah had the cast come into a kind of yoga circle to share what our fears were. And that helped a lot."
Leonard previously told MovieWeb that a lot of the dialogue was improvised in The Drop, which Konkle also appreciated. "I loved it. One of the neat things Sarah explores is the relationship between Lex and Mani and motherhood… of Lex being a woman and going like, 'You are supposed to want to have a baby,' and beginning the film with her dropping someone else's baby, and it sort of throws her into a tailspin of being honest with herself in a way that maybe she hasn't been. Between the motherhood trajectory and the relationship trajectory there, I felt it was a really exciting, relevant thing for the film to grapple with."
What The Drop Says About Friendships
Jennifer Lafleur plays Peggy opposite wife-to-be Mia (Aparna) in The Drop. She previously worked with Smith and Leonard and was one of the first cast members approached for the project. The twist? She, herself, was very pregnant at the time the idea came across her radar.
"So, they wrote the character with me in mind in hopes that I would let them use my own baby to be dropped in the film," she shared, chuckling. Lafleur's baby Alma was cast as young Ani in the film. "I was immediately down to do this because I'll do anything Sarah directs—always and forever. But the film immediately jabbed into that parental fear of, 'How do I keep harm from ever coming to my baby? How do I keep my baby safe forever?' It felt like a fun thing to do—to stare right down the barrel of the gun and go for it."
Related: The Drop Review: Intimacy, Relationships, and Family Planning Run Through a Comedic Grinder
Aparna said she was immediately intrigued by a movie about a baby being dropped. "Obviously, just the premise alone… you're curious about where it's going. And then the fact that it's a comedy, I was just hooked by what this director was trying to do. The more I read about my character, it was just so unlike any kind of character I've played before—both in her own journey and her whole vibe of being a liberal, and then kind of verging into right-wing views. It felt like a unique experience to get to tackle."
When asked what she felt The Drop subtlety reveals about friendships, relationships, and even motherhood itself, the star shared: "I do not have kids, but I would say there's so many expectations on mothers in our society, and so little support with helping mothers just cope and exist, in general."
"It's funny that this movie explores the worst thing a mother could do because I do feel like women are implicated for doing the smallest things wrong with their baby," she added. "There's this polarized view on how to parent, in general, and what you're doing right or wrong. It's a very fraught, ever-evolving topic."
One Cast Member's Bizarre Twist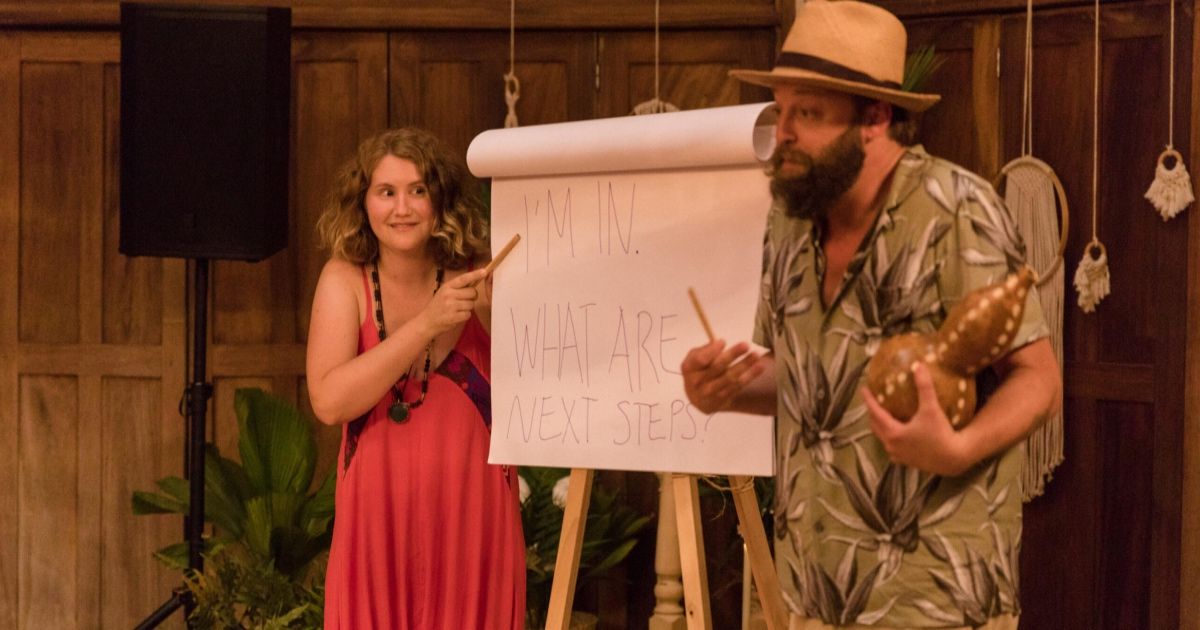 For Lafleur, the entire shoot on location in Mexico was memorable. For starters, she was a new mom. She also had to care for her infant during the shoot.
"I strive to be as good of a parent as I possibly can at all times," Lafleur said, admitting that "by signing on to do this movie, I felt like I was cursing myself—that somebody was going to drop my baby during the filming." She laughed. "You know… how can you make a movie about this, and it doesn't actually come to fruition?"
Oddly enough, on the very last day of filming in Mexico, something unusual happened. "Everybody in the movie had gotten food poisoning, and we had real terrible diarrhea for many, many days," Lafleur shared. "We were on IV medication, and we had to shut down. Then we had to make up all this time, and we were shooting long days. And it's over 100 degrees with high humidity in the jungle of Mexico."
No doubt, she was exhausted and dehydrated from being sick. "I was walking, holding my baby, and walking to the van to go to our last day of filming," Lafleur went on, "and as I walked up the steps, I just felt consciousness slipping away. 'Oh my gosh,' I thought. 'I'm going to pass out.' But as I was going down, I realized what was happening, and I just kind of wrapped my body around my baby. I got pretty banged and scraped up, but the baby was fine. And I was like, 'this was my worst fear!'"
When asked how she hoped the dark comedy will sit with audiences, Lafleur said: "The Drop is a beautiful examination of not just parenthood, or relationships or friendships, but how all those things fit together, and how people can reckon with who they were in college versus who they are now. And how those friendships and relationships may change and how we evolve throughout time.
"I like movies that are just about humans being human," she went on, "and all the good stuff and all the bad stuff. This movie captures that well, but in a very funny and entertaining way, which makes it the best kind of movie."
The Drop from Duplass Brothers Productions, Everything Is Everything, and Perception Media, lands on Hulu on January 13.