Knowing that there are neo-Nazis out in the real world like the character of Travis Leach in Prime Video's Hunters series is one thing but portraying such a character on screen is another. Greg Austin so wickedly morphed into treacherous Travis in Hunters' first season and on the eve of the series' second and final season, he told MovieWeb that he was absolutely "surprised" at what goes down when the show picks up again on January 13.
"The stakes have definitely risen in season two," Austin shared. "Seeing the conversations season one provoked and how the series is possibly even more timely post-pandemic, I hope the show provides a foundation upon which people can continually analyze our march towards the fascism that seems to be happening globally."
Created and executive produced by David Weil—Jordan Peele (Nope, Get Out) also serves as an executive producer—Hunters revolves around a band of steadfast Nazi hunters. The series stars Al Pacino as the mysterious Nazi hunter Meyer Offerman who, it was revealed at the end of season one, was actually "the Wolf," an ominous Nazi doctor who changed his identity and apparently reformed. Offerman died at the end of the first season, but this is Hollywood, so Pacino reprises the role in a unique story arc.
The other season one twist: Adolf Hitler is still alive and living in South America with beloved Eva Braun, played by—yet another twist—Lena Olin, whom we all knew as "The Colonel." Season two brings Jennifer Jason Leigh (Fargo, Atypical) into the mix—her character offers yet another big surprise for the show—alongside Austin and returning stars Logan Lerman, Jerrika Hinton, Lena Olin, Josh Radnor (How I Met Your Mother), Tiffany Boone, Carol Kane, Louis Ozawa, and Kate Mulvany.
Austin's Travis was brought in by the FBI at the end of last season. How he copes with that and continuing his own destructive mission will be interesting to unravel in upcoming episodes. Of working alongside Weil, Austin said: "David has been a wonderful creator and showrunner. He's eternally generous with his time and his thought. The series persists because of the entirely his vision, and it's been exciting to work with him. He's a wonderful force that has bound us all together on set."
The rest of the Hunters cast breaks down what's at stake for their characters and the show, in general, as it takes its final bow.
Josh Radnor on What Lies Ahead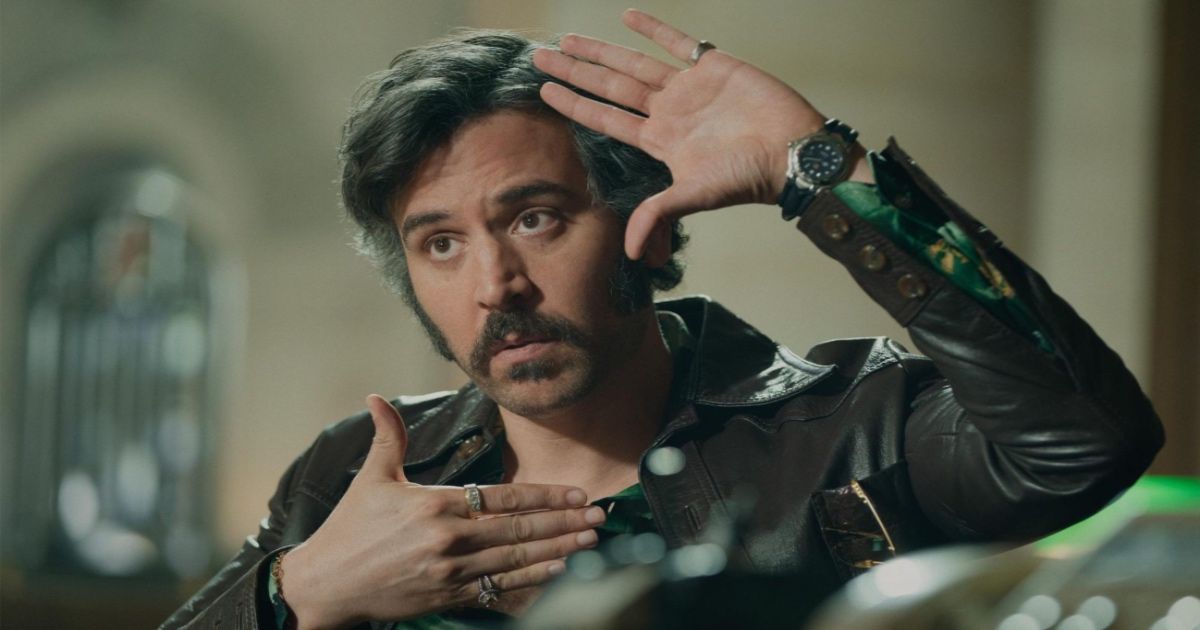 Several years have passed since the big reveals at the end of the first season of Hunters. When an accident derails the team in Europe, suddenly they must band back together and hunt down Adolf Hitler himself, who's in hiding in South America. Josh Radnor hopes audiences walk away from the series realizing that it was, "a great ride to go on and unpredictable and made them think."
He added: "We've been talking about the first season and the idea of hunting Nazis might have seemed a little fantastical. It feels less fantastical these days. So, I hope the series feels both topical, but also diverting. It's got that weird thing where it's like, kind of this world, but it's really not this world. It's an allegory."
Radnor's character, Lonny Flash, a beleaguered movie star/master of disguise, has a gaggle of challenges to overcome in season two. For starters, his entire career is at stake. "In season one, Lonny was sober, battling a lot of drug and alcohol addiction. At the beginning of season two, the show jumps forward two years, so, it looks like some of these demons have caught up with him," said the How I Met Your Mother alum. "Lonny's sobriety is really imperiled. Plus, he's in love with one of the Hunters (Roxy) and she broke his heart. He's at a low point when we find him again, but that gives him a lot of places to grow as the season goes on."
Related: Exclusive: Hunters Creator David Weil and Star Logan Lerman Unpack the Wildly Explosive Final Season
Radnor also called season two "surprising," noting that Hunters is a hard show to stay ahead of. "David Weil is so smart with narrative twists and turns, and I don't think it's the kind of show where you're going to know what's going to happen," he added.
When asked what kind of conversations he hopes this final season inspires, Radnor is candid: "Well, I think on some level, you could say 1946 isn't so different than 1979 isn't so different than 2023. Some of that is tragic. But there are improvements, even if they're gradual and feel like we're just repeating the same mistakes. There's enough collective memory around the horrors of the Holocaust, and there's still deep commitment and resistance to letting anything like that happen again. So, when this virus of anti-semitism flares up, there's enough of a chorus of sane people with a conscience who will say, 'Enough! We've been here before, so stop.'"
Kate Mulvany on Sister Harriet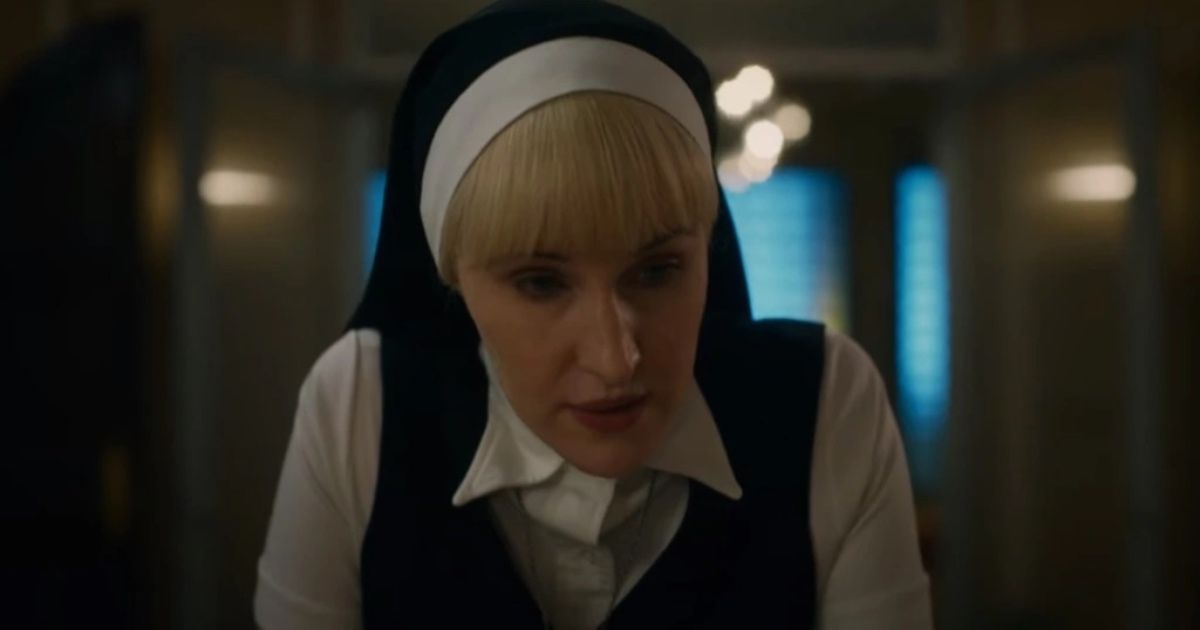 Mulvany calls season two "unexpected." She immediately points out that there's been a softening to Sister Harriet when we find her in season two. "She's still a badass, still hard-nosed, and still quite violent," she clarified. "And she has a mission in her mind, but at the same time, she's softened a little. Her conscience has been pricked between seasons, so she's lost and searching. In season two, we get more of an answer to her backstory."
Related: There's Something Wrong with the Children Review: An Effective Supernatural Thriller
Embodying the character, however, proved to be challenging and Mulvany worked diligently to give Sister Harriet emotional layers. "It's all there in David's writing," she pointed out. "The wonderful thing about David Weil is he allows you to pepper a character with your own questions and your own methods of interrogation. The toughest thing for me, I guess, was finding the link between the caramel-hearted Sister Harriet we meet this season, and the woman who will kill bad guys without even a second thought."
Louis Ozawa and Tiffany Boone on Season Two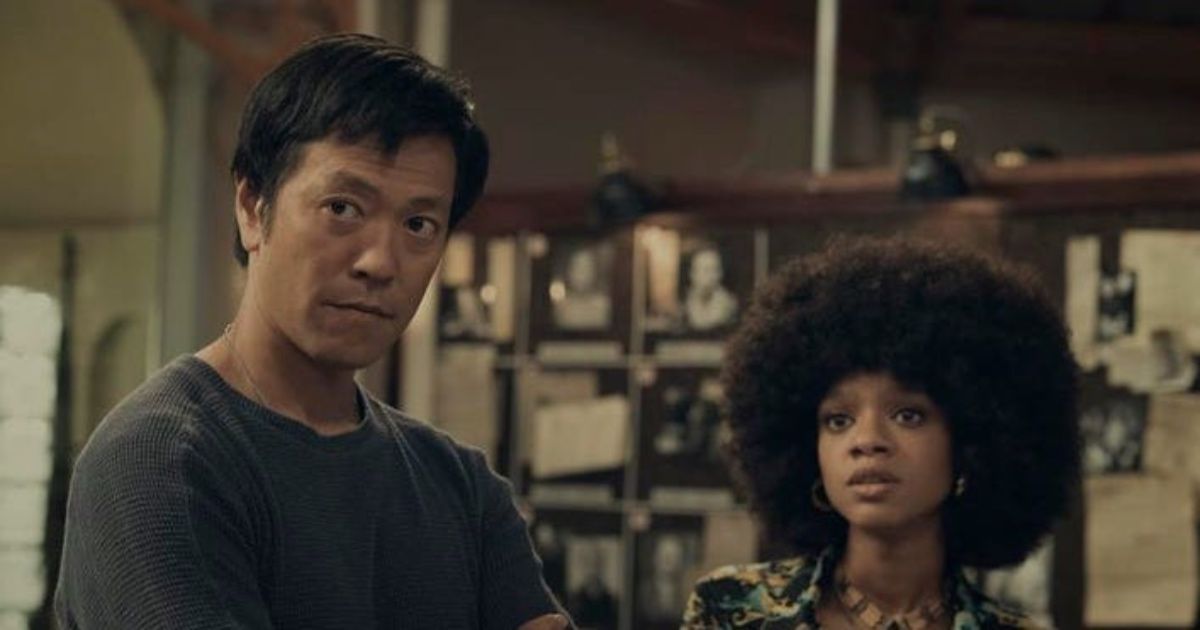 "It's a bit of a cliffhanger at the end of season one," Ozawa beamed when asked about the upcoming season. His character, Joe, was kidnaped only to be brought face to face with none other than Adolf Hitler himself. Ozawa shared that Joe makes a massive transformation in the final episodes. "But throughout that transformation, I think there's still this unease," he added. "In season one, we saw Joe's PTSD coming to the surface. In season two, he's been brainwashed, so to speak, and we're seeing moments where the true Joe comes out. There isn't that much joy in Joe's life. He's really in search of having a bit of freedom out of his mind."
Meanwhile, Boone, who plays Nazi hunter Roxy in the series, strongly feels Hunters ends on a strong note. "Coming into the first season, we thought, 'Oh, the topic so relevant to what's going on right now in the world, politically and socially,' and now, somehow, we're back at it. It's even more relevant in the second season," she shared. "I think it's a conversation that's already happening in the world. I hope that with what we're trying to do in season two, audiences have some level of hope that we can fight the evil in this world—that we can fight the hate.
"Maybe not the way that we do as Hunters, but that justice can be served and that we can bring down the bad guys," she quickly added. "And, if we all work together, we can bring more love into the world and support each other. Again, I think it's a conversation that's already happening. It's just worth throwing our hat into the ring to further the conversation."
Season two of Hunters hits Prime Video on January 13.