Nine-year-old Cáit (Catherine Clinch) spends the summer away from her dysfunctional family in rural Ireland.
The Quiet Girl washes over you like a gentle breeze that lingers with both promise and sadness. An unwanted child finding her true place among the kindness of strangers fills the heart. Based on the novella by Claire Keegan, the forlorn protagonist is an afterthought to a lousy father and overburdened mother. Their impoverished lives cluttered by a growing brood of children and general discontent. The decision to send her away, born of pure necessity, allows a wondrous transformation. Love, tenderness, and the warmth of human contact frees a beautiful butterfly from her cocoon.
Set in 1981 rural Ireland, nine-year-old Cáit (Catherine Clinch) sits meekly at the dinner table before school. Her pregnant Mammy (Kate Nic Chonaonaigh) has been busy with chores. Her drunken, smoking lout of a father, Da (Michael Patric), forgets to make their lunches. Cáit goes to school hungry. She struggles to read in front of her class while eying another girl's thermos of milk.
Da picks her up from school. He collects a stranger (Carolyn Bracken) along the way. Cáit listens as the woman talks to her exasperated parents. She shivers when Da says, "They can keep her as long as they like." The following day has a nervous Cáit driven three hours to Waterford County. She will spend the summer with Eibhlín (Carrie Crowley) and Seán (Andrew Bennett) Cinnsealach, Mammy's distant cousins.
Da pulls up to a stately house on a lush farm. Eibhlín beckons the meek girl to step out of the car. Seán looks at Da with distaste. He knows what they think of him. Da exits rudely after a hurried dinner. Forgetting to leave Cáit's belongings. Eibhlín stares at her dirty legs and soiled dress. As Eibhlín tenderly bathes Cáit and brushes her long hair, a bond begins to form between the disposable girl and a grieving couple with an aching void in their lives.
A Mesmerizing Character Study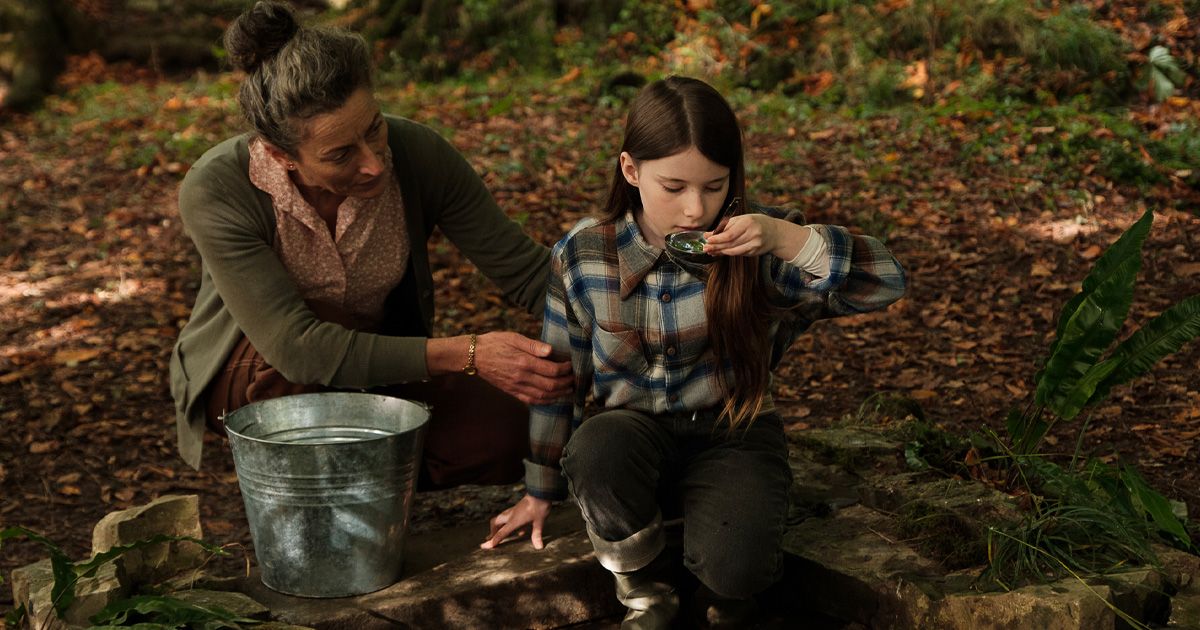 The Quiet Girl mesmerizes as a thoughtful character study. Cáit's silence and reserved personality was forged by her dysfunctional family. She and her siblings live in fear of their awful father. Mammy ignores Cáit because she doesn't have the latitude for proper attention. Her worthless husband offers nothing but trouble. Shipping Cáit to her wealthy relatives means one less mouth to feed while preparing for another baby. It's a cold calculus that's not lost on Cáit. Eibhlín and Seán earn her trust by giving a damn. A heartbreaking scene has Eibhlín telling Cáit not to be afraid. There are no secrets in her house. Cáit can be herself without repercussions.
Related: Avatar: The Way of Water Review: James Cameron Returns Triumphantly to Pandora
Director/writer Colm Bairéad, sublime in his feature debut, never forces any part of the narrative. The Quiet Girl unfurls like a sail embarking on a great adventure. Cáit learns to express her feelings in constructive ways. She blooms, especially helping Seán run the dairy farm. He becomes the father figure Cáit desperately needs. Bairéad does a fantastic job evolving this critical relationship. I almost broke into tears the first time Cáit smiles.
The Best Family Film of the Year
The Quiet Girl is the best family film of the year. Children need care regardless of financial circumstance. Poverty is no excuse for abusive parenting. I was infuriated by Da's pathetic behavior. The ending isn't a fairy tale. Adults and children alike will learn from a meaningful story told with a realistic delivery.
The Quiet Girl, also known as Cailín Ciúin, has Gaelic dialogue with English subtitles. It is a production of Inscéal, Fís Éireann / Screen Ireland, TG4, and Broadcasting Authority of Ireland. The Quiet Girl is currently in limited theatrical release from Super.