It says a lot about the machinations of culture that there was so much anticipation for That '90s Show, considering that the previous That '70s Show spin-off, That '80s Show, was a single-season flop. That's because the 2020s are a great time for nostalgia, especially '90s nostalgia. The demographic who grew up loving That '70s Show likely had no nostalgia for the '80s, leading to the failure of That '80s Show. Now, however, the '90s kids who watched That '70s Show or who binged it when it hit streaming platforms are the perfect nostalgic target for That '90s Show.
Debuting 25 years after the original series (and set 15 years after we last saw this world), the new Netflix show mainly follows the kids of That '70s Show's stoners. Leia Forman takes on the role of her father, Eric, switching the protagonist's gender and pursuits. Leia's love interest is Jay Kelso, son of Ashton Kutcher's character, who seems to be taking on the role of Donna in the show's proceedings. There's also a romantic interest for Leia with Kelso's other son, Nate, while Hyde has his stand-in with the show's Gwen, and Fez has his stand-in with Ozzie.
That '90s Show's creator, Greg Mettler, actually wrote for the original series, before working on such shows as Man with a Plan, The Muppets, and the underrated Cougar Town. Mettler spoke with MovieWeb about the development and production of That '90s Show, and the tricky task of bringing back that great cast.
How Greg Mettler Developed That '90s Show
"The pieces started falling together on the last episode of That '70s Show, which has my name on it, but was written by our entire staff," explained Mettler. "But back then, Eric and Donna kind of reunite and I thought, well, I believe that they are meant to be. So, they're together now, and they have a kid. Who should this kid be? Well, as a writer, you want to write something that you're experiencing, and at the time I had an 18-year-old daughter. I thought, what if they have a 15-year-old daughter? Hey, that's kind of cool." Mettler continued:
Now we have a female protagonist going through a story, as opposed to That '70s show, which was Eric. So that's sort of different. Then I think the very next idea that I had on that very thing was, "Oh my God, they could name her Leia." And then once I had that squared away, that sort of opened up to references to the old show, but made the new show its own thing. And we just sort of went from there.
Related: Exclusive: Don Stark Is Stoked to Be in That '90s Show But Misses One Original Cast Member
Eric was, of course, a huge Star Wars nerd, so it makes sense to name his progeny after Princess Leia. That's hardly the only reference to That '70s Show, with Mettler's Netflix series exploring a fascinating avenue of nostalgia for nostalgia; it's practically nostalgia². There are Easter eggs and ties to the cultural landscape of That '70s Show, which now exist in a series that hearkens back to the '90s, with all its grunge, riot grrrl, and slacker culture.
Bringing That '70s Show Into the '90s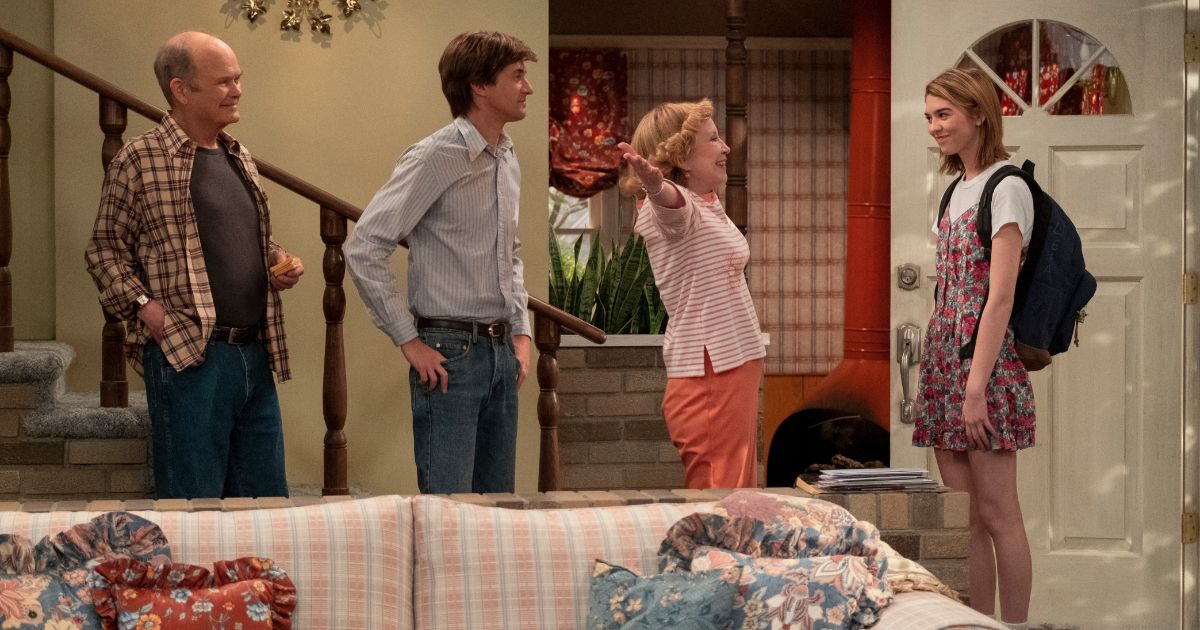 Mettler is keenly aware of the way his show utilizes '90s nostalgia within the context of That '70s Show, like a Russian nesting doll of nostalgia. "The timeline, and 15 years later, sounded just about right to us. But there's also something about the '90s right now that feels very nostalgic," said Mettler. "It doesn't feel like the 2010s, because there was a line in our pitch that was something like — the '90s were this magical time, somewhere between disco and 9/11, when people were still looking up at the world, and not down at their phones."
"Something about that really triggered some emotional feeling for us as we developed it," continued Mettler, "because we knew we wanted to catch some of that same tone of, like, kids hanging out, making their own fun, not being able to sit and swipe through their TikTok. It just felt right. And of course, '90s stuff is kind of in the zeitgeist right now. The clothing is a little similar. So, we just thought, okay, this feels just about right."
On the Return of Legacy Cast Members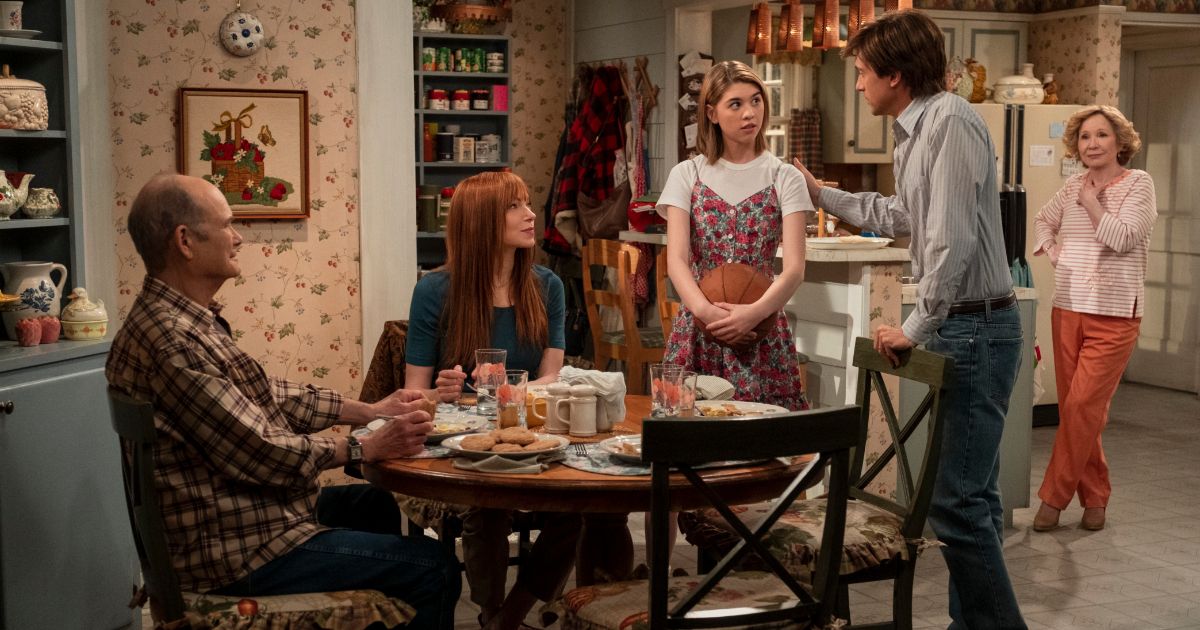 Despite the series focusing on a new generation of young adults and new actors to the franchise, That '90s Show was surprisingly successful in bringing back just about everybody. Kurtwood Smith and Debra Jo Rupp are back as Red and Kitty Forman, which is a true joy to see; Topher Grace is back as Eric, Laura Prepon is back as Donna, Wilmen Valderrama returns as Fez, the hilarious Don Stark reprises the role of Bob Pinciotti, the legendary Tommy Chong returns as Leo, and even That '70s Show's biggest stars, Ashton Kutcher and Mila Kunis, are back as Kelso and Jackie, respectively. It's an impressive list, and the show was even smarter by not bringing back Danny Masterson as Hyde (who may actually be imprisoned by the time of a second season, due to sexual assault allegations).
Related: That '70s Show: The Best Episodes of the Series, Ranked
This kind of assemblage, with no chance of replacing the iconic original actors, was never going to be easy. "There's always scheduling. People are busy, people have lives, careers, and families and some people that live in New York," explained Mettler. "Once people saw the material, and they knew that there was creative continuity with me and the Turners [co-creators of That '70s Show with Mark Brazill], everyone was very easily excited to support the show, because That '70s Show was where they got their start. So, there's a lot of goodwill and a lot of emotions about that. Outside the logistics, it was very organic that people would come back."
Watch for That '90s Show to Evolve with the Times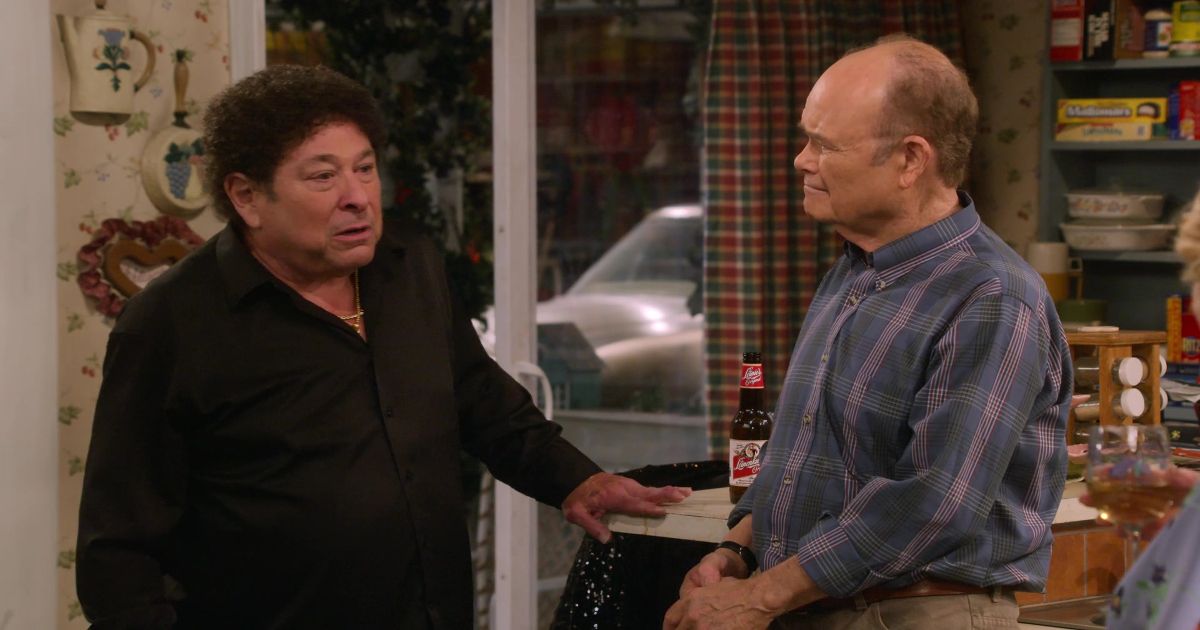 Considering the series' success, it only makes sense that Mettler has ideas for the future — "There's sort of a little template that I have in my head of the direction of where I would like the series to go." With such difficult scheduling, could That '90s Show continue into future seasons with the same cast? "There are a few things that it all depends on," added Mettler. "We want to keep on including legacy cast members, but we also want to develop the new characters. You know, we want to develop new things and new experiences across new technology and music, and be challenged by new things that are happening socially."
Ironically, Mettler may need cultural and social progressions to keep making this show about nostalgia. It will be interesting to see how it maintains its tone while also moving forward with the cultural, technological, and social evolutions that Mettler discusses. Nonetheless, fans will surely be hanging out, down the street with the new show in future seasons, regardless of if they're doing "the same old things [they] did last week."
Produced by The Carsey-Werner Company and Ratamacue, all episodes of That '90s Show are streaming on Netflix.