Ever worked as an assistant in the entertainment industry? Maddie Hasson's character in the new film Taurus may be just the character for you. I found myself relating to her character Ilana on multiple levels as she navigates working for a high-maintenance rockstar played to perfection by Machine Gun Kelly. Musician biopics remain a red-hot subgenre of cinema, and Taurus is a great new addition to the subgenre, even if the central character is "fictitious." It's now in theaters after having made the rounds in film festivals earlier this year. Machine Gun Kelly plays Cole (which sounds a lot like Kelly's real first name, Colson), a rising but troubled musician who searches for the inspiration to record his next song, pushing himself deep into the void. It's a work of fiction that explores real-world troubles tied to fame, addiction, the artistic process, and the music industry.
We recently caught up with Hasson, who also starred in the underrated Malignant as well as Mr. Mercedes, which is getting its own spin-off.
Starring Alongside a Real-Life Rockstar
MW: What was it like working with Machine Gun Kelly?
Maddie Hasson: It was good. It was very interesting to work with someone who has that level of fame. I've never worked with someone who lives in that reality. It was interesting to watch it as sort of a spectator. He's also very, very dedicated and prepared and took it really seriously, which I appreciated. So it was lovely.
MW: Are you a fan of his music in real life?
Maddie Hasson: Before I did the movie, I was like, "I should listen to this album he just did." I listened to Tickets to My Downfall. I loved it, I thought it was really fun. It was very, like, Linkin Park, Blink-182. I enjoyed it.
MW: I found your character as Cole's assistant very relatable. How did you prepare for a role like this?
Maddie Hasson: I don't know that I had to do that much preparation because I really understand the reluctant caretaker role and also becoming very consumed in someone else's turmoil. I really understand that. I think it makes it a lot easier to not look at your own stuff, not that I have experience with that. But yeah, I didn't have to do a lot of prep work.
Related: Taurus Review: Machine Gun Kelly Spirals Out of Control
MW: I loved the scene where you and Colson [in character] are yelling at each other at his interview. It felt so realistic.
Maddie Hasson: Yeah, [Machine Gun Kelly's] real assistant was on set, and she was cheering me on. She was like, "Yes! Get him!" [laughs]
MW: What was your favorite scene to shoot?
Maddie Hasson: I really enjoyed [that argument] scene in particular. I love yelling. I've been told you're not supposed to yell, in real life, many times. So I've stopped doing it, and you know, I miss it. So I enjoyed that. [laughs]
Projects With James Wan, Brendan Gleeson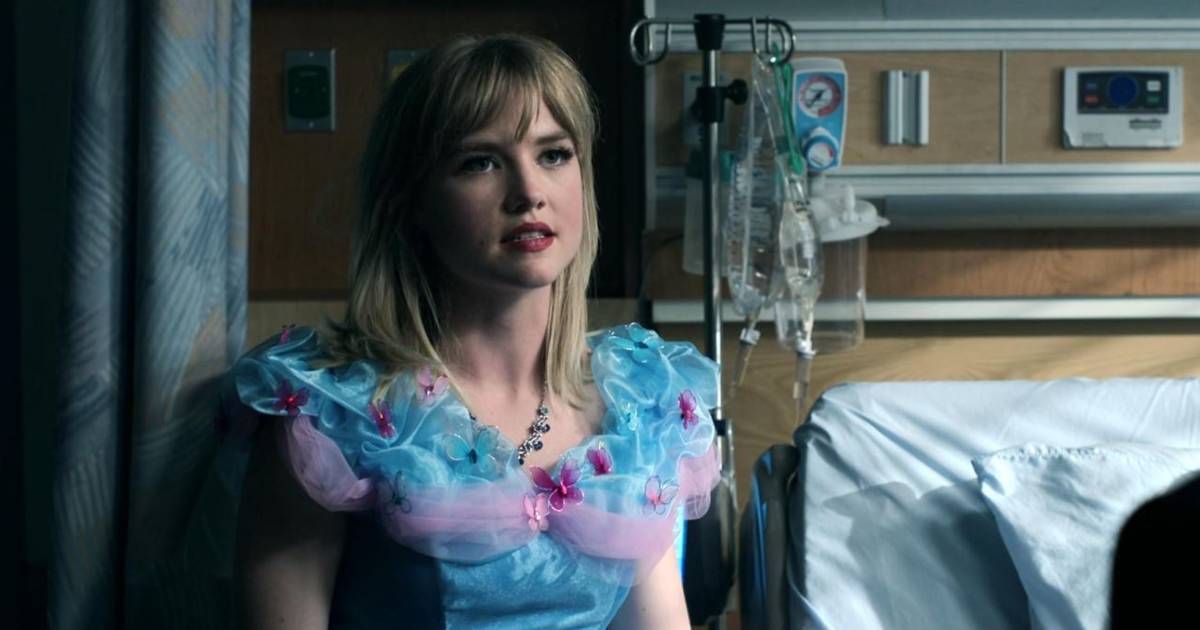 MW: What was it like working with James Wan on Malignant?
Maddie Hasson: It was cool working with him. The lighting setups and the shots were really elaborate. It was my first time working on a film with that [kind of] budget. And [Wan] is really particular about, like, exactly where you have to stand and exactly how it has to look. And we would spend sometimes a day and a half on just one scene because he was like, "We didn't get the lightning in the right place." It's cool to work with someone who is kind of like an expert in his field now. It was cool to watch his process.
MW: Are there any projects you're currently working on that you'd like to share about?
Maddie Hasson: I'm in this movie called Elevation. I don't know when it's coming out, but it's an action-y movie, post-apocalyptic.
MW: Having starred in Mr. Mercedes, are you a Stephen King fan in real life?
Maddie Hasson: I wasn't like a huge fan, but I do obviously know a lot of his stories. I love [the star of the series] Brendan Gleeson. He's such a sweetie, too. He's a lovely, lovely, man. I can't wait to see [The Banshees of Inisherin].
Taurus is available now from RLJE Films.