With a mysterious backstory linking a timid taxicab driver (played by Joel Kinnaman) and his psychotic, red-haired passenger (who is brought to life by none other than Nicolas Cage), the blurred neon lights as well as the sprawling desert of Las Vegas help to bring the madness to life in Sympathy for the Devil.
Directed by Yuval Adler and written by Luke Paradise, the upcoming film (which will premiere at the Fantasia Film Festival, where Cage is receiving a special award) is super suspenseful and downright psychologically terrifying at times. Most interestingly, at least from a production standpoint, is that more than half of this film was shot inside a car that was on a LED volume sound stage.
Consisting of many monitor panels that form an entire wall's length and height of fully customizable video content (which can manually be curved to and fro to fit any needs), cinematographer Steve Holleran (Missing, Creed II) had the chance to harness this state-of-the-art technology for this full-fledged theatrical film.
The cinematographer was either constantly experimenting on how to perfectly align an LED volume sound stage with car plates in order to perfect believability for the audience, conveying a visual difference between character motivations by exploiting different colors on-screen, or sacrificing his own bodily health for the sake of this movie's completion. Holleran sat down with MovieWeb recently to discuss not only these specific aspects but numerous other behind-the-scenes stories regarding this new thriller.
A Virtual Environment Helped To Drive The Story
First, Holleran went into detail about what it took to capture the low-lit nighttime scenes that play out behind and around our two male leads:
We had to get a car that's about the same size and height as the actual picture car in the movie, and we had to rig it with a three hundred and sixty degree array of cameras on the roof. It has to be very precise, literally down to the millimeter distance between the cameras.
"We went out and captured every single second of footage of the city that they drive through," continued Holleran. Explaining that even though this part of pre-production actually felt like a whole separate production, the cinematographer was nonetheless glad that the driving scenes with the actors were done in a safe space, the filming crew was safe from the burning triple-digit temperatures of Las Vegas and also that the private environment allowed for a calm environment where creativity could thrive.
Creating Tension with the Right Angles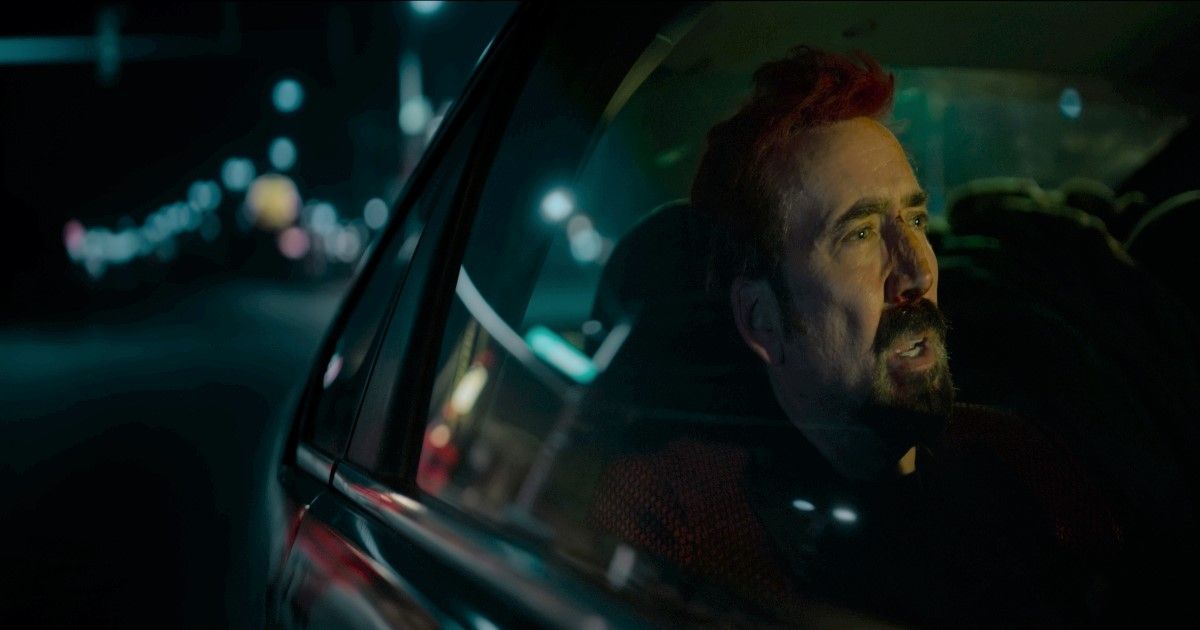 Creating a dark and nail-biting isolation for the two main characters proved to be an endeavor in itself for Holleran and his team. The cinematographer behind Sympathy for the Devil explained how the unique production of the movie ultimately required the driving sequences shown on the digital LED volume to always line up perfectly with set pieces. A nearly perfect semblance seemed to be a priority, as Holleran explained:
[Looking] at all the different sections of the route that they were going to take in the film, we saw what the light was like. Measuring the color, seeing how the neons moved, seeing what the highways looked like, then bringing that inspiration back and mapping it into the LED lighting technology gave the car a sense of movement.
While this innovative approach to cinematography is surely something to be excited about, there were always much broader checks and balances that Holleran always kept in the back of his mind as a cinematographer as well. "I think if you can walk that fine line and get something that looks real but also artistic — we're creating aggressive angles where you might put a character on the far end of the frame and put the camera right outside the car [which] breaks down the fuselage of the vehicle. We were able to do that on the volume by being smart with how we shot our plates and what frame and focal lengths we chose."
Seeing a juxtaposition of Nicolas Cage's antagonist from the opposite side of the glass in the back rear window talking casually to the protagonist in the driver's seat while carrying a subliminal hostile vibe the whole times provides the audience with a setup that they are just not going to look away from. Related: Film History: The Dutch Angle, Explained
A Production Cursed By the Devil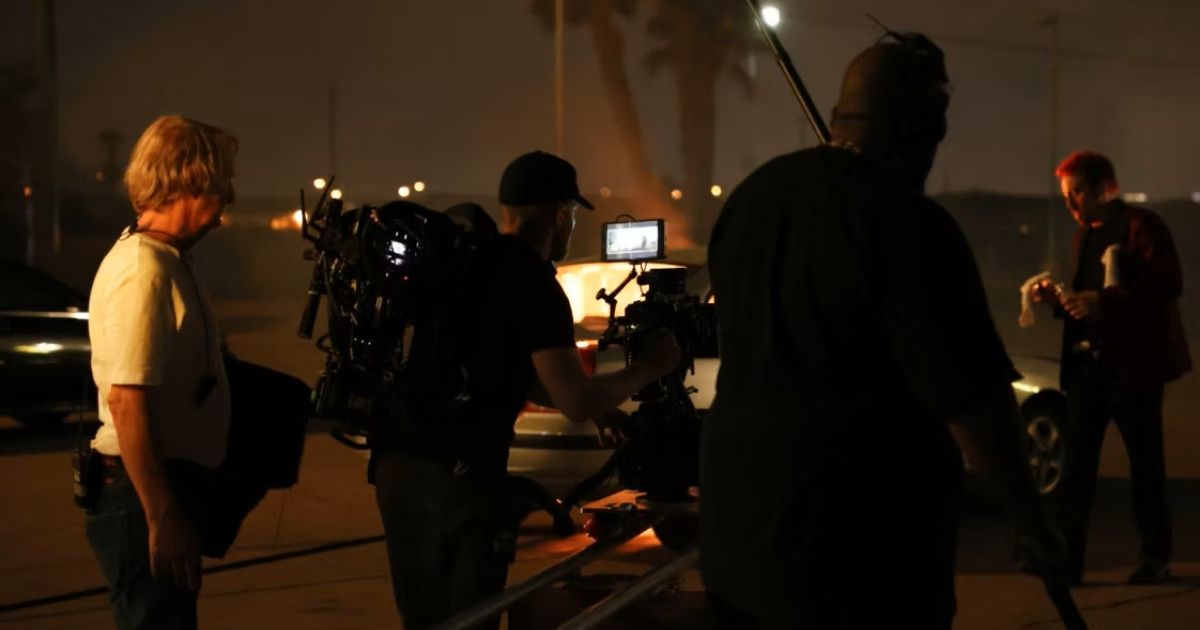 Holleran then turned to some of the more, well, cursed events that took place during the filming of Sympathy for the Devil which eerily held true to a certain thematic element found in the title. Be it the sudden onset of monstrous rainstorms in the desert or the cinematographer himself striving to get a shot that shattered his collarbone, it seemed as though the devil himself had a hand in this movie.
"By 8pm when we started our first shot, monsoons would arrive like clockwork," explained Holleran.
"It would rain torrentially for four hours. This sucked half of our shooting time away. This makes it really hard to do a bootstrap movie like this […] There was also a set accident toward the end of our exterior shooting. It was a down and dirty kind of shot where we needed an angle of the road flashing by. I had to run down a hill with a camera and I fell at the bottom and I shattered my collarbone on set. Going into the last week of the movie on the LED volume, I was actually waiting to have surgery."
Related: Greatest Cinematographers of All Time
Filming Nicolas Cage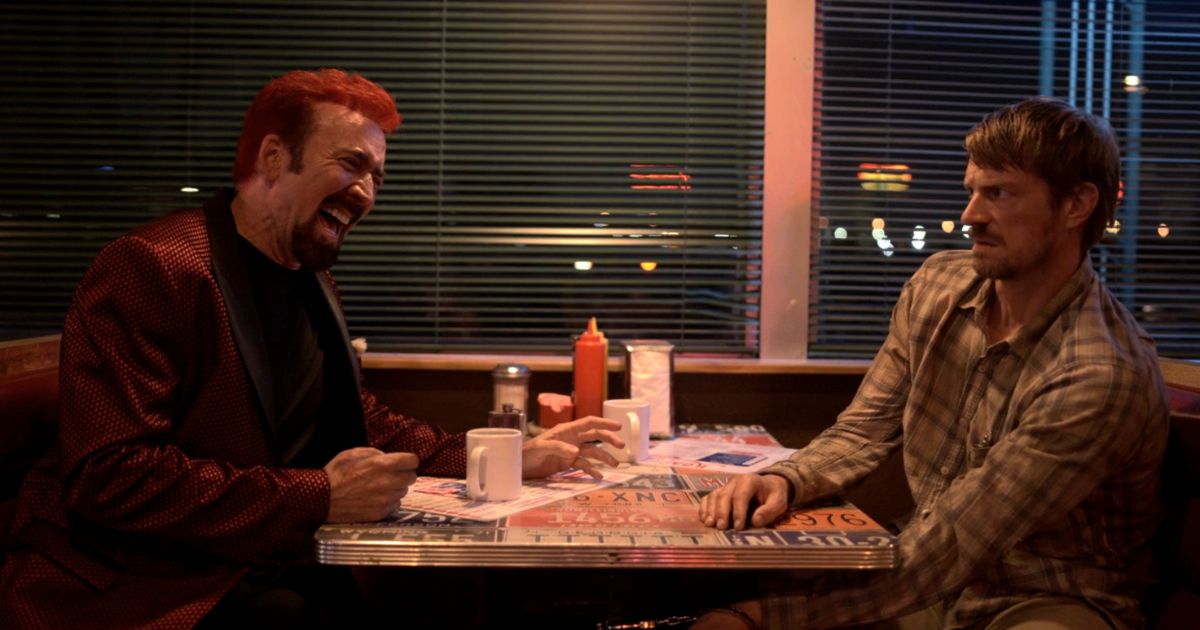 Nicolas Cage's portrayal of a mysterious and psychotic commuter quickly pulls this movie into some very outrageous places. Entertained, amused, or downright paralyzed by his eccentric behavior in the role, Holleran was not only gripped by his legacy but his literal presence when it came to a particular scene:
"He's someone who has brought some of the most unforgettable performances to the screen for 30, 40 years. It was the first day of the diner [scene] and I was shooting an angle on him, where Joel would be. You could just feel the energy when a magic moment is happening on a film set, and it was pretty clear at that moment that he was bringing something special to the character."
The cinematographer also notes that the Renfield and Pig actor was a constant professional on set. To mix and mash all these different personas together in a visually stimulating way, Holleran insisted on using all sorts of different colors instead of the usual scheme typically found in a gritty and mysterious thriller. He employed a bold rainbow palette to amplify the coming chaos. "Las Vegas as a city at night has a lot of color, right? It's got great neons — purples, pinks, blues, greens and reds [that all] decay a little over time. We also brought these in to stand for good and evil, and sometimes we would turn these colors on their heads."
Holleran turns cinematography itself on its head in Sympathy for the Devil, which will be released in theaters on July 28th, 2023 from RLJE Films.