Welcome to the Wide Shot, a newsletter about the business of entertainment. Sign up here to get it in your inbox.
Programming note: Thank you for coming along on our Sundance Film Festival newsletter journey. We're going back to our regularly scheduled Tuesday dispatches tomorrow, just in time for Oscar nominations.
Also, today marks the launch of an L.A. Times special project in the lead-up to the 40th edition of the Sundance Film Festival in 2024, following the lives and careers of seven independent filmmakers from this year's festival class. Meet our filmmakers at the link below.
The Independents: We're following a year in the life of 7 Sundance filmmakers
Today's forecast
What to expect at the fest for Monday, Jan. 23:
As I write this, I'm patting myself on the back for managing to consume a proper meal (with vegetables!) at the WME lounge after a night of gate-crashing after-parties on Main Street and surviving solely on hors d'oeuvres.
The dealmaking ice has broken in a big way, with Netflix buying the rights to sexy corporate thriller "Fair Play" for a reported $20 million.
The well received feature debut from writer-director Chloe Domont attracted substantial interest from distributors after its premiere on Friday. "Fair Play," from MRC and Rian Johnson and Ram Bergman's T-Street, stars Phoebe Dynevor ("Bridgerton") and Alden Ehrenreich ("Solo: A Star Wars Story") as a couple at a cutthroat New York hedge fund whose relationship starts to become unraveled by jealousy.
When we began this newsletter series, we predicted that the excitement of returning to Park City in person would overshadow anxieties about the state of the indie film business, and that has largely held true.
And Netflix is not sitting out the market. Earlier in the fest, the streamer picked up Daina Reid's midnight selection "Run Rabbit Run."
Other titles have found homes already. CNN Films sold Lisa Cortés' documentary "Little Richard: I Am Everything" to repeat customer Magnolia Pictures (which previously released CNN titles including "RBG"). Magnolia picked up the trans sex worker documentary "Kokomo City" after an all-nighter.
But big titles are still on the market and attracting substantial interest, including:
"Eileen," a twisted drama with black humor (think "evil 'Carol'") and strong performances from Thomasin McKenzie, Anne Hathaway and a scene-stealing Marin Ireland;
John Carney's "Flora and Son," squarely in the power-of-music wheelhouse he established in "Once" and "Sing Street."
Molly Gordon and Nick Lieberman's "Theater Camp," which has the advantage of the coveted "feel-good comedy" tag and a cute real-life backstory.
"Magazine Dreams," a provocative bodybuilder drama featuring a standout Jonathan Majors performance.
It's reassuring to see a Sundance lineup with some legitimately entertaining pictures mixed in with the more tragic and trauma-focused docs and features. But to determine which are commercial and which aren't is to think in relative terms. How many will become hits with audiences many months from now is the big mystery. It's also part of the fun. —Ryan Faughnder
Newsletter
Inside the business of entertainment
The Wide Shot brings you news, analysis and insights on everything from streaming wars to production — and what it all means for the future.
You may occasionally receive promotional content from the Los Angeles Times.
The queue
The movies worth standing in line for:
Rachel Lambert's endearing Sundance flick, "Sometimes I Think About Dying," considers the most perfunctory of social interactions — greeting a co-worker, talking about pie, holding the door for a stranger — just as life-sustaining as the relationships we form with other people. Starring Daisy Ridley as a quiet woman who decides to risk upsetting the contentment of her office job when a charming new employee joins the company, Lambert's film mines those all-too-familiar cubicle conversations for genuine connection and humor thanks in no small part to a murderer's row of some of the brightest up-and-coming comedians, including Dave Merheje, Meg Stalter and Parvesh Cheena. (Available online 8 a.m. MT Tuesday through Jan. 29) —David Viramontes
The story of a woman and her son trying to survive and stay together in mid-1990s New York, where every day is a struggle against poverty, prejudice and encroaching gentrification, might sound like a minefield of hardscrabble coming-of-age clichés. But A.V. Rockwell's absorbing debut feature, "A Thousand and One," has more than its share of surprises; it also has a fine principal cast led by Teyana Taylor as a mother who, for all her frustration and fury, has the strength to keep her eyes on a prize no one else can see. (Available online 8 a.m. MT Tuesday through Jan. 29) —Justin Chang
READ MORE: As 'Cat Person' ruins a viral sensation, 'Eileen' makes a stir of its own
Working lunch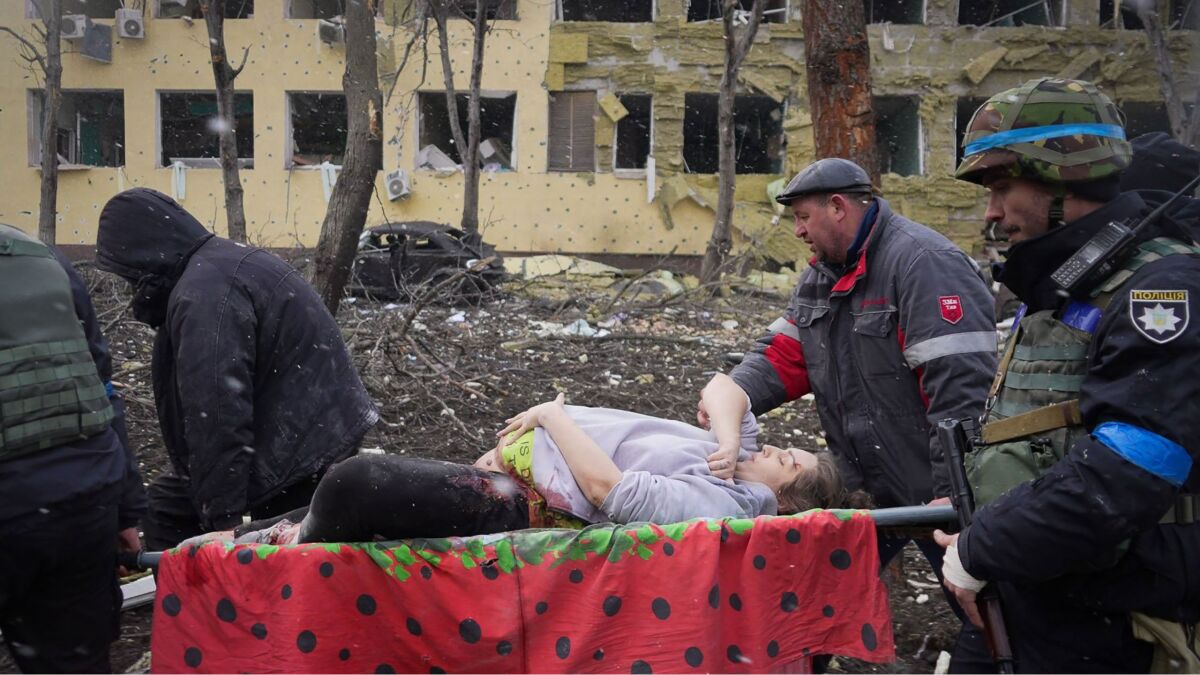 A near-apocalyptic diary of life under siege, "20 Days in Mariupol" finds filmmaker and Associated Press videographer Mstyslav Chernov and his colleagues, photographer Evgeniy Maloletka and field producer Vasilisa Stepanenko, confronting the horror of war — and chronicling it.
At the start of the Russian invasion of Ukraine early last year, the Kharkiv native, a veteran of conflicts in Iraq, Afghanistan and Syria, set out to create a record of the attack on his homeland, only to find himself drawn into what he described to The Times as "the swift spiraling into the darkness" of the surrounded city on the Sea of Azov, first through Russia's indiscriminate bombings, then the collapse of the electricity grid and healthcare system, and finally looting, exodus and (ongoing) occupation. The result, at once haunting and riveting, is populated with panicked women, crying children, grief-stricken men, frustrated doctors and rueful journalists, all endeavoring to maintain their humanity, and to save others', in the face of incalculable loss — all framed by Chernov's poetically matter-of-fact narration and excerpts from the cable news programs on which his damning footage appeared.
I sat down with Chernov on Sunday in the L.A. Times Studio in Park City to discuss the film, which screens on Wednesday at 3 p.m. MT at the Prospector Square Theatre and Thursday at 3:15 p.m. MT at the Library Center Theatre. A production of Frontline and the Associated Press, the film is planning a theatrical release and, one hopes, an Oscar campaign; no television air date has been set. At the interview, Chernov wore a simple black jacket with a press badge sewn on the left arm, as if to underscore his voiceover in the film: "This is a historical war," he indelibly concludes. "To not document it is impossible." —Matt Brennan
I wanted to start with the voiceover narration. Take me through the process: when you decided that it needed it, when you wrote it, how you wrote it, how you recorded it. Because I think it adds a layer of self-reflection different from the kinds of journalistic dispatches we're used to.
It goes far, far beyond Mariupol. I've been doing news for nine years already. I'm a conflict journalist and my main job for AP is to shoot news dispatches, and that's what I wanted to do in Mariupol. I went there and I shot video news dispatches and I sent them when it was possible — not every day, but as often as possible. These are short-format news, quick turnaround. … It made a very strong impact on me as a human seeing all these conflicts, knowing that there was a war, an invasion of my country. And I always wanted to go deeper, to be able to ask questions, not only to tell what's happening, but be able to question, Why? What does it mean?
The second reason why this film took this form is because, when our team broke out of Mariupol with all this 30 hours of footage, considering that only around 40 minutes was published before that, I understood that I really wanted to tell a bigger story which will show the scale and also intensity of the suffering of residents. But at the same time, I wanted the audience to see the dynamic of this fall, the swift spiraling into the darkness. I started to search for the appropriate device for that. This was not the first choice, but it seemed to be the one which would help to connect all of the pieces of the puzzle, all of the small stories.
It did feel like in certain moments you were reflecting on struggling with the divide between "My job here is to document, but someone right in front of me is suffering." Were you feeling that in the moment as well, and is that something that you wanted to come through in the narration?
Of course I felt that conflict, which is not really a conflict when you look deeper. We could drop the camera and help doctors to carry the gurney. Or when we slept in the hospital for a few days and there were not enough doctors, we would just carry food to different floors of the hospital. These are very natural things to do.
I remember a small editorial argument I used to have in Iraq when I was shooting refugees in Mosul, and I'm filming and you could see me at some point reaching my hands and helping the refugee into the truck. And I remember there was a conversation [whether] that should make it in the news report or not. I think I made this decision for myself a long time ago: Whenever I see someone needs help, and there is no one else to help them, I would just help. And if a person is getting necessary help, then I would just keep filming.
I wanted to ask about the use of the original footage as it aired on news networks in Europe and the United States. As a viewer, I read it as both a record of what images were coming out at the time, but also possibly as a concern that it didn't have the impact in real time that you hoped it would. It's very striking to see an image as you shot it raw in your film against talking head narration on MSNBC and I'm wondering what your thought process was in making that choice.
When we were in Mariupol those 20 days, I had almost no idea, because I just had no possibility to understand the impact. I had hoped that it would get to a wider audience and, of course, I was told by editors that it is so widely published. But whether it was having an impact on anything or not, I did not know. And I think we will not know; still there has some time to pass. … Some civilians and doctors who left after the siege was over, many of them told me that either relatives found their beloved ones because they saw them in the footage. The mayor's office of the city, which is in exile right now, sent us a letter that because of our footage at that time we helped them to convince politicians to fight for opening up the green corridor. So I do hope that it made a difference and saved lives. However, even if it didn't, it will still remain as a record, or as a warning. So whenever someone wants to see how the full-scale invasion started, whenever someone needs to understand what happened to Mariupol, go back in time, see the film.
Making the film, the impact is one of the discoveries. But how do you show the ripples of information and the effects on the media space around the world? So then we decided to show the raw footage, and then to show how it looks in the news. … This person came to me and said, "Now I know what happened in Mariupol and the horrors that you went through. But also, I will never watch news footage in the same way again, because it gives me a perspective what's happening behind the camera."
I was struck by how different the feeling is when you have to stay in it longer than 90 seconds. Because it is completely different when a scene that's as tense as something like when the tanks arrive goes on for minutes and minutes and minutes — which in the film, I'm sure, is even shorter than it went on in real life.
I have been able to shoot maybe one percent of everything that was happening. It's just a tiny fraction. And that is partially why I feel so guilty. All those shots I've seen with my eyes but did not shoot for some reason, because I did not have my camera on. The Mariupol Drama Theater bombing happened the day after we left. We'd been to that shelter. We knew hundreds of people were there. So we knew immediately if that shelter got bombed, it's a terrible tragedy.
Then again, when you build a film, you're leaving scenes because they don't fit into the arc. They just distract. There is this scene which I really wanted to be there in another hospital where there were people without kidneys on dialysis and the hospital was running on generators. And the chief of the ward told me, "I don't know what we're going to do. There are 20 people here. And the generator is running out of fuel. As soon as this shuts down in two days, all of these people are going to be dead. And they were. I couldn't fit all the children who have died, but also because it would be too heavy and probably would push the audience away.
Was that conscious when you were in the edit, about constructing a narrative that would also bring in people who maybe had not been following your work closely?
All I needed to do was edit to convey what was really happening. That is the challenge, because when you lay out everything that was filmed, you suddenly feel that the real tension is lost. It's like there's a huge explosion near you, but your microphone can record only certain frequencies of it. Same as images. … If I was shooting this now, I would shoot it differently. I would shoot more.
Is there a next story you want to report, a project you want to work on, based on what you're seeing happening now or has happened since you left Mariupol?
Making the film has impacted how I now film and send news packages. My shots became longer and I stick to people for longer and my questions are different now. My questions are more about feelings than about events. This film has changed me as a news reporter. Of course there are so many stories. I really want to do more about Mariupol. I wish I could come back someday and do a second film. … Right now I will come back to news gathering. I will come back to my daily job sending news dispatches from the front lines.
Happy hour
If things had worked out differently, Planned Parenthood would be spending this year's Sundance celebrating the 50th anniversary of the Roe vs. Wade decision. So with this being the first Sundance since the U.S. Supreme Court overturned Roe in June, the nonprofit's Monday morning panel, "Sex & Stigma: How Creatives Leverage Their Art for Activism" (The Box at The Ray, 11:30 a.m. MT) feels particularly well timed and relevant. "Under G-d's" Paula Eiselt, "Judy Blume Forever" producer Marcella Steingart and "The Janes" director Tia Lessin join Caren Spruch, Planned Parenthood's national director of arts and entertainment, for a discussion of the role of TV and film in influencing the public's understanding of sex and politics. The panel promises to explore the continuing need to use art to "eliminate stigma around sex, sexual health, and sexual expression." —Ryan Faughnder
Photo booth
Ben Whishaw, star of Sundance selection "Passages" from filmmaker Ira Sachs, was just one of the familiar faces to drop in at the L.A. Times Studio on Sunday. Be sure to check out our full gallery of writers, directors, actors and more from the 2023 Sundance Film Festival.