A grieving girl traverses fantastical dreams and nightmares with a mischievous "outlaw" in search of magic pearls. Slumberland gets style points for creativity and eye-popping visual effects, but runs way too long with a melodramatic narrative. Blockbuster director Francis Lawrence (I Am Legend, The Hunger Games franchise) doesn't disappoint with scope and grandeur. The film looks amazing. The problem is that its overambitious. Slumberland pours on excess in moments that required subtlety. The bells and whistles cloud substance while thematically wavering. The swings between joy and sadness needed a measured approach. A shorter edit would have been just as entertaining and more impactful.
Eleven-year-old Nemo (Marlow Barkley) lives with her father, Peter (Kyle Chandler), in a picturesque lighthouse. He teaches her its operations while regaling with wild tales of adventure at bedtime. Peter, and his freewheeling partner Flip (Jason Momoa), discovered something extraordinary at the bottom of the sea, a bed of pearls that can grant wishes. They were guarded by a tentacled monster made of black smoke, nightmares incarnate.
Nemo's heartbroken after her beloved father vanishes during a stormy rescue. She's sent to live with his estranged younger brother. Phillip (Chris O'Dowd) is a doorknob salesman with an utter lack of imagination. He has no idea how to raise a child. Nemo's sadness turns to hope during a fateful night's sleep. Pig, her stuffed animal, comes to life. They encounter the smelly, bombastic, and horned Flip rummaging through the lighthouse. He's looking for her father's map.
Slumberland Exists in Your Subconscious
Slumberland exists in your subconscious. The dream world allows you to explore endless possibilities. But there are serious dangers. Die in your dreams and wake up. Get killed in another's dream and be lost forever. Nemo is willing to take that risk to find the pearls. She's desperate to be with her father again. Flip reluctantly agrees to be her partner. They must scour Slumberland to find the Sea of Nightmares. If they can escape the clutches of the bell-bottomed, afro-wearing Agent Green (Weruche Opia). The Bureau of Subconscious Activity (BOSA) has been hunting Flip for decades.
Slumberland is adapted from an early 1900s comic strip with a boy as the protagonist. The feature updates to a female Nemo with an elaborate storyline. There's a lot going on here. Nemo's adrift without her father. Reality feels unbearable. Dreams allow a reunion with perilous costs. Nightmares feed on her fears of loneliness. She must learn to accept loss or succumb to despair. This is an important lesson for children to learn. The film takes forever to teach it, but sends a clear message in the final act.
Related: Exclusive: Kyle Chandler, Weruche Opia, & Chris O'Dowd Discuss Netflix's Slumberland
Jason Momoa in Slumberland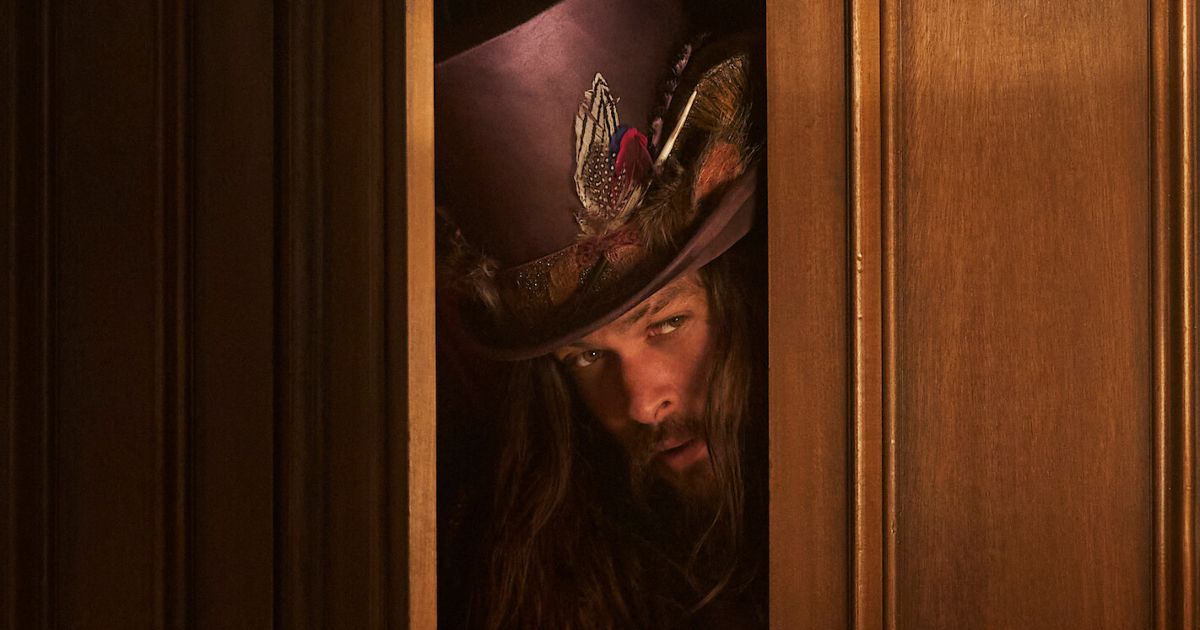 Momoa hams it up more than the CGI pig. Flip represents the avoidance of truth. His juvenile, life of the party antics masks an internal conflict. Flip forgot who he was in real life. He chose to continue living in dreams rather than face adult issues. The pearls would allow him to see his actual self. He finds a kindred spirit with the same goals in Nemo.
Slumberland works as a popcorn cinema spectacle. The plot gets labored but looks great every step of the way. Younger children will be mesmerized by Nemo and Flip's hijinks. The impressive production design shows the budget was well spent. Big action chases through exotic environments look pretty cool. They save the film when it gets too weepy.
Slumberland is a production of Chernin Entertainment. It is currently in limited theatrical release with a Netflix premiere on November 18th.