"Today is going to be the best day ever!" This line is said on more than one occasion by Reggie, the naive terrier in Strays that's voiced by the iconic Will Ferrell. Any why not? He's got an owner who loves him — or so he thinks. Actually, his abusive owner (played hilariously by Will Forte) wants nothing to do with Reggie. This sets off the events in director Josh Greenbaum's new R-rated, live-action, talking-animals movie from Universal. As Reggie ventures out into the real world, he meets some foul-mouthed furry friends along the way, voiced to comedic perfection by Jamie Foxx, Randall Park, and more.
We recently caught up with Greenbaum, who discussed this follow-up project to the equally funny Barb and Star Go to Vista Del Mar. He opened up about working with Hollywood heavyweights like Foxx, Ferrell, and countless others, as well as a new documentary of his in the works.
It's Not 'Not Another Dog Movie'
Hollywood directors get sent scripts and loglines all the time. Imagine receiving one that reads, "A sweet, naive dog named Reggie gets abandoned by his owner and then goes on a journey of revenge to bite his d*ck off." Would your interest be piqued? It seems that was the case for director Josh Greenbaum for Strays. "I immediately was like, 'What? Is this real?'" he told us, and elaborated:
"I'm a big fan of loud ideas, but then well executed. So, examples of that are like The 40-Year-Old Virgin. Before I saw that movie, I was like, 'OK, this is gonna be some sort of dumb story, sex comedy.' And then it was handled with such sort of honesty and emotion, that it still delivered the kind of jokes he wanted. And similarly, I remember thinking of Taika Waititi's JoJo Rabbit, a very loud idea on paper, but then so beautifully executed. So I'm a fan of that kind of thing."
Greenbaum continued regarding his approach to the unique script. "My expectation, to be honest, when I got that was, 'OK, I think it's going to be a spoof movie.' Before I read the script, I was like, 'It's probably going to be Not Another Dog Movie, and that's not quite my thing," explained Greenbaum.
So I think when I sort of discovered that there was totally emotional heart to this — that, in fact, it's not really a dog spoof movie, it's about being in a toxic relationship metaphorically, and how your friends help you through that, and how you find your own sense of self-worth after all that — that's something I could hold on to.
The Dogs That Talked So Strays Could Bark
And of course, some classic talking-animal films come to mind when experiencing Strays for the first time. Even the promotional trailers brought some kids' movies to the minds of countless millennials out there. Interestingly, however, Greenbaum noted that there were a number of films outside this subgenre that helped shape his vision for Strays.
"I kind of thought about Stand By Me," he said. "But I certainly looked at [past] films for like, 'Oh, what did they do?' And a little bit of, 'What did they do that I don't want to do?' Like Homeward Bound, I love the scope and the beauty. There's a lot of really beautiful stuff. But also, if you watch a lot of those talking-dog movies, there are a lot of singles because that just makes it easier in production. So I challenged myself and my team to say, 'Can we do moving masters and interesting blocking?'"
Related: Strays Review: A Canine Laugh Riot Cleverly Tackles Pet Abuse
Strays also pokes fun at these movies, which certainly helps to pile on the laughs throughout the heartfelt tale. "Of course, the narrating dog was a big one," said Greenbaum. "And when we got Josh Gad on board [to voice the character], it was very exciting, because it was like, 'Josh is either gonna be very upset that we've approached him or he'll totally get it.' And of course, he totally got it and jumped right in."
Added Greenbaum regarding another talking-animal film he revisited during the pre-production stages: "I did reference Babe, mostly because that was a film that was so well done, I mean, 30 years ago, especially in terms of the CG. But what I loved about it was it used very naturalistic animal performances. It didn't do the anthropomorphizing you usually see in some of these kids' CG animal movies." He continued:
And that was important to me because I think, for an adult audience, that kind of stuff can pull you out for me, if all of a sudden the dog raises his eyebrows… So I tried to lean on very kind of natural behaviors from the dogs. If they were confused, to have them tilt their head, things like that. So Babe was certainly a reference point.
Will Ferrell and Jamie Foxx's First Film Together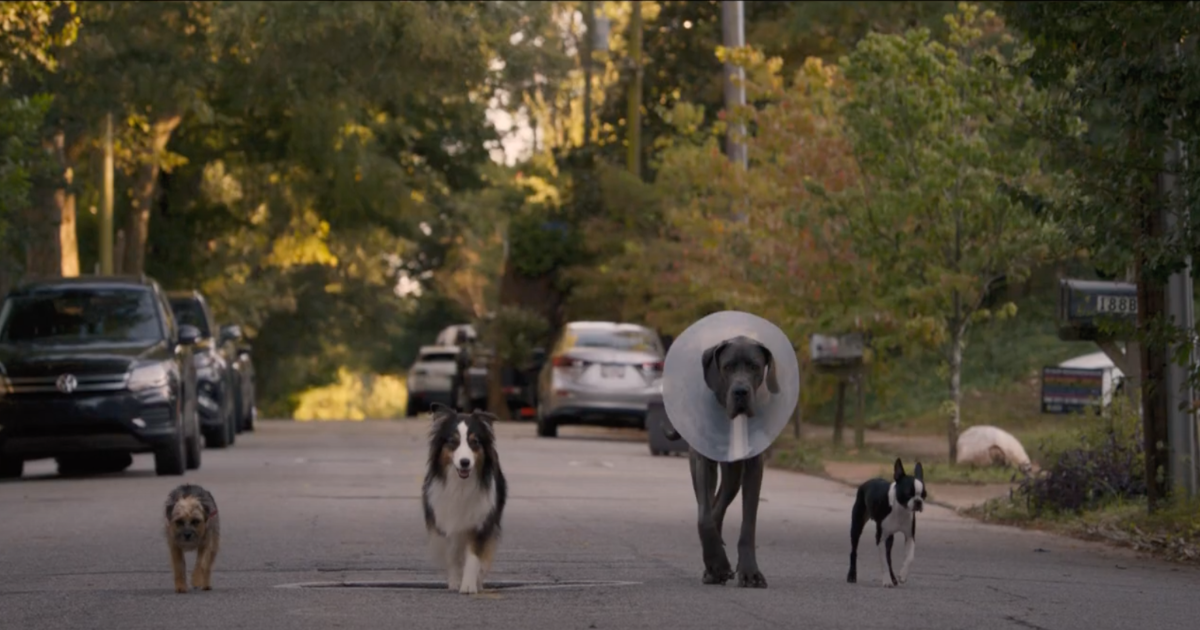 The end result, in effect, was a success on a technical level. Sometimes, 'no news is good news' when a film ambitiously goes for the gold in terms of VFX. "The greatest compliment, actually, is that I found that most people don't really talk about it," said Greenbaum when discussing the talking-animal component of this otherwise live-action film.
It hurts me, because I'm like, but it was so hard! But the fact that they don't think about it, when we were doing feedback screenings, it was all about characters and jokes. And that was a good testament to the performances we were able to capture.
It's hard to believe that comedic legends Will Ferrell and Jamie Foxx hadn't co-starred in a movie together before Strays. "I can remember the day I came home from my first recording session with Will and Jamie, and I just was beaming," Greenbaum told us. "My wife was like, 'You haven't stopped smiling for hours.' I was like, 'I know, these two guys are so good and so funny together.'"
Related: The Best Dog Movies of All Time
"Jamie Foxx is killer in comedy," said the director. "He started as a stand-up, and he was in In Living Color. He's such an unbelievable dramatic actor, you forget that. And watching the two of them spar, it was like watching a tennis match." Greenbaum also commented on the unique way in which he captured the voice acting work for Strays:
"One of the things I kind of insisted-slash-requested politely was like — I come from a live-action world — so I was like, 'I want you guys to act opposite each other.' It was sort of foreign to me that they would come in and deliver their lines by themselves to me. And so luckily, everybody agreed and was willing, did all their sessions together. I got sessions with all four of them, with Randall Park and Isla Fisher together. I absolutely encouraged them to improvise, but also do the cardinal sin of those sessions and step on each other's lines and overlap."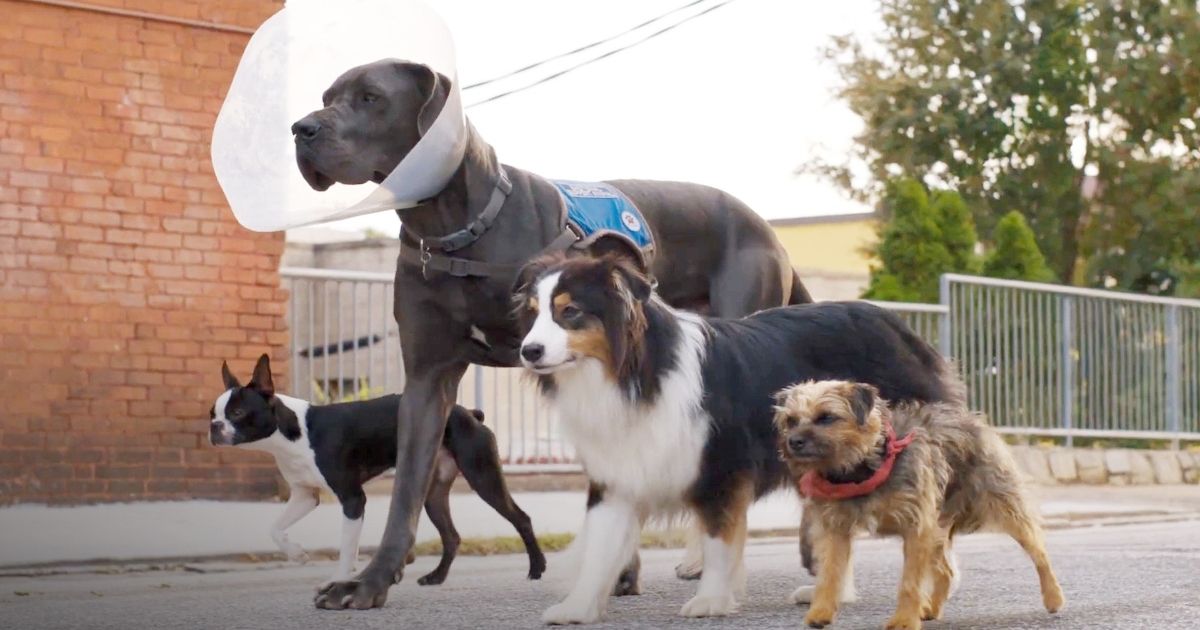 "And so it's really one of that organic, natural things, not simply to make it funnier, but to just make it feel more real, the way we all speak. I think that's why there was a good run there of Judd Apatow films […] You just get those little subtle, under-the-breath comments and jokes and mumbles."
Looking ahead, Greenbaum will continue to collaborate with Ferrell, as they have a new documentary in the works. "I started my relationship with [Will] on Barb and Star because he produced that. And actually, years before that, we almost got another project going," said Greenbaum. But until the documentary hits the masses, Strays is certainly worth a tune-in for some belly laughs and memorable talking-animal scenes galore.
From Universal Pictures, Strays hits theaters everywhere Friday.