Gender, identity, sexuality, and "life" finding a way to survive are a few of the ambitious yet wonderfully presented ideas that occupy Biosphere, the new film directed by Mel Eslyn (The One I Love, Room 104), who shares co-writing duties with one of its two stars, Mark Duplass (Creep, The Morning Show). Biosphere is part post-apocalyptic sci-fi romp, part buddy film. It is also one of the best films to hit the screen this year, a thought-provoking ride that's bound to spark conversation.
Meet Billy (Duplass) and Ray (Sterling K. Brown), two lifelong pals — "brothers from another mother," we're told — who happen to be the last two men on Earth. Their survival is credited to Ray, the shrewd scientist who designed the domed structure they've lived in after the planet ceased to sustain life.
The biosphere comes with perks — basic necessities and all that — but when fish in their fishpond begin dying, the duo faces an ominous future. Then again, maybe life will find a way. Expect plenty of plot twists here, folks. Sterling K. Brown and Mark Duplass shared more with MovieWeb in this exclusive video and interview below.
Sterling K. Brown On Expanding Perspectives
Sterling K. Brown, one of today's finest actors, apparently can do no wrong. The man shines in most everything he's appeared in — from his Emmy-winning turn in This Is Us to his incredible performance in the hilarious Honk for Jesus. Save Your Soul. Here, Brown plays Ray, Billy's oldest friend/former adviser and scientist. He's puzzled by the sudden appearance of a mysterious green dot outside the biosphere and equally perplexed by the dying fish population in the makeshift fishpond. Only male fishes have survived but now one of them is switching genders. Biological transformation may not be a big deal for two male fish, but what about two men?
That idea suddenly feels all too real for Ray's cohort, Billy, who's undergoing a major emotional (and possibly physical) transformation himself. Billy and Ray came from conservative upbringings, and Billy was a conservative politician and former president. Best to watch all that unfold on your own, but the events generate a major plot twist that steer this exceptional film into new territory, where the characters — basically two cisgender males — confront issues of gender, identity, and sexuality.
"I come from an environment in the Midwest in which there is rampant, run-of-the-mill homophobia," revealed Brown in the exclusive MovieWeb interview above. He continued:
Hopefully [I can] reach people who thought like that, or think like that, and identify with 'Sterling' from other things… [and they] can enter into this journey and be like, 'Oh, Sterling Brown is having some fun Randall [from This is Us] moment that makes me cry all the time… let's see what kind of jokes he's got to tell here.' Then with that spoonful of sugar, they hopefully see there's an expansion in perspective of what it means to be a human being and of what acceptance looks like.
"Hopefully you can leave the theater being wonderfully entertained," continued Brown, "and also be like, 'Oh, man, he just opened my eyes up to another way of being in the world.' That's my hope."
How Biosphere Was Created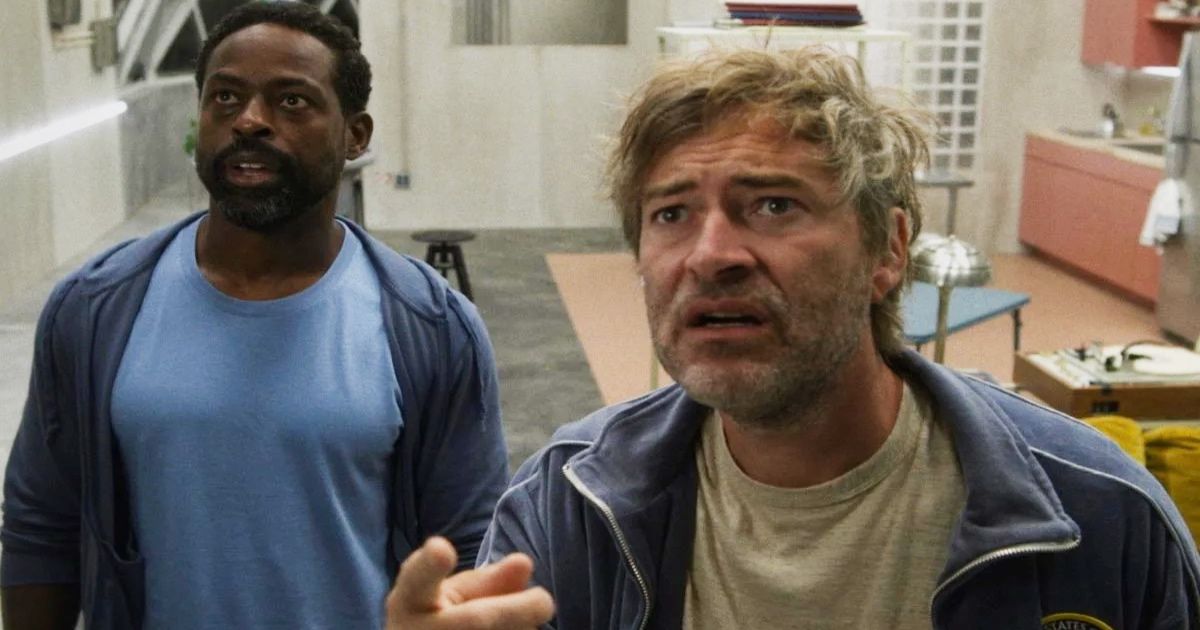 Part of the charm of Biosphere is that it finds two best friends who suddenly must take stock of themselves and their lifelong relationship. Billy and Ray have become acutely attuned to one another's rhythms. But how do two straight men shift everything they've been raised to believe and experience — about life and sexuality?
Mark Duplass said he turned to trans artist/producer Zackary Drucker to come on board as a creative partner and producer for the film. Drucker and Jay Duplass collaborated on Transparent. She also hosted Oscar campaign screenings of the groundbreaking film Tangerine, which was produced by Duplass Brothers Productions.
Related: Best Sci-Fi/Comedy Movies, Ranked
Duplass said that after starting to write Biosphere, it was, "at best, about these two guys that were living in a dome. They're dealing with some toxic behavior in the past, they're trying to figure out if they're going to be able to continue with humanity. "
Thus, initially, he brought Mel Eslyn to co-write the film with him, believing that as a queer woman, she would offer an interesting perspective. "There are no females inside here [the script and the biosphere], so what's going to happen?" Duplass went on. The indie genius continued:
The fishpond [concept] will work itself out. Then we thought, 'If there's a chance for life to survive here, I bet Zackary Drucker is going to have some things to say. We brought her in, and it was this constant process of each person with the baton, realizing they were coming up against the limits of either their creativity or their authority to speak on a subject confidently. And just reaching out into the wider community and saying, 'Can you help me with this?' And it continues to this day — literally, to just keep expanding.
The fabulist element of the movie deals with some deep truths, he added, "but in a light, really fun way.
I hope those click with people. Sometimes there's a movie you watch that sticks with you, and you don't really know why. You end up thinking, 'I really want to go watch that movie again.'
Related: Best Buddy Comedies of All Time, Ranked
On Working Together
In conversation, you'd think Duplass and Brown worked together for years. Like their characters in the movie, the MovieWeb clip reveals the breezy banter between them. Brown was candid when asked what he loved most about working with Duplass.
"Rarely do you get a chance to work with the writer as an actor," he said. "Mark's ability to share the space was really wonderful. There was never any sort of, 'they are trying to make me do something that I didn't want it to do.' They were incredibly collaborative and wanted my insight, thoughts, feelings, perspectives on everything that was transpiring within each scene.
"Most of the time, Mark, being self-deprecating, said, 'If you don't like it, just say what comes naturally in the moment or whatnot,'" he added. "Most times, what was on the page, felt really good. But there was also that thing of being given me the permission to… if something else comes up in that moment, to go ahead and explore that to its full extent."
"Man," Duplass chimed in, "you are so good with that. Sterling's a theater guy, too. He's a guy who shoots an hour-long TV drama, which means you got to get those lines, you got to move fast. So, having flexibility to come prepared, but also let it go, so we can chase the chemistry, was critical."
Interesting to note is how Brown came into Duplass' radar. "I had worked with Sarah Paulson on a movie called Blue Jay and [Sarah and Sterling] had worked so closely together. So, before we offered the role to Sterling, I called Paulson, and I was like, 'Do you think that he's going to like this? I know he's capable of it. Do you think he's going to have a good time?' She was just like, 'I know you. I spent a lot of time with you. I know him and I spent a lot of time with him. And this is like a match made in heaven.' So, once I got that, I was like, 'I know this is going to work.'"
Biosphere, from IFC, will be released in theaters and VOD on July 7.