"What the F—!" gasps Mr. Spock upon realizing that he's become human in Charades, the latest episode of Star Trek: Strange New Worlds. No doubt Episode 5 of season two will go down as one of the best, if not most memorable romps in Star Trek history, with the incomparable Ethan Peck turning in a standout performance. The Spock-centric comedic episode also manages to nudge along the fates of Nurse Chapel (Jess Bush) and T'Pring (Gia Sandhu), Spock's fiancé.
"When Chris Fisher, the producing director on the show, hired me, he gave me this spiel of what the episode was about," explained Jordan Canning (Schitt's Creek, Countdown), who directed the outing. "He's like, 'We don't have a script yet, but here's what it's about—Spock becomes fully human and needs to have an awkward dinner with his in-laws.' And the more I thought about it, and rewatched a lot of Star Trek, I was like, 'Wow, Spock, becoming human is something we've all sort of wanted to see. You've only gotten a little glimpse of it, but never in a way where you sit in with Spock being a human for 40 minutes. So, I instinctively knew that this is an important moment in Star Trek history and really needs to be treated with reverence."
The episode features a shuttle accident that leads to Spock's Vulcan DNA being removed by inter-dimensional aliens, making him fully human and completely unprepared to face his fiancé, T'Pring's, family during an important Vulcan ceremonial dinner. Meanwhile, Nurse Chapel and other crew members race to find a solution. Jordan Canning shared more about the breakthrough episode in this exclusive MovieWeb interview.
Things Get Cray-Cray for Spock Real Fast
Only a handful of Star Trek characters truly manage to capture our undivided attention and withstand Trek evolution. We never seem to tire of them and as such, creator Gene Roddenberry and his next-gen creative offspring—Bryan Fuller, Alex Kurtzman, Terry Matalas, Jonathan Frakes—fuel these characters with significant storylines. In Star Trek: The Next Generation, it was Data (Brent Spiner). In Star Trek: Voyager, it was Seven of Nine (Jeri Ryan). In Star Trek: Discovery, one can argue that it's a toss-up between Capt. Burnham (Sonequa Martin-Green) and Saru (Doug Jones).
Meanwhile, there's Spock, perhaps the most iconic characters in Star Trek. So, it's nice to see Ethan Peck take the baton handed down to him from the likes of Leonard Limoy and Zachary Quinto and take command of the role so perfectly. In Charades, the actor showcases his comedic chops. Director Jordan Canning does wonders with a solid script written by Kathryn Lyn and Henry Alonso Myers, balancing tension and comedy with ease. After the shuttle accident finds Spock becoming, well, an entirely brand new person, we're given a myriad versions of "human" Spock as our fave space fella grapples with his emotions. There's cranky teenage Spock, famished Spock, and even horny Spock.
"It was great fun being given an opportunity to really let Ethan shine. He has done such an amazing job with the character of Spock in this show, and he really approaches it with such care and such consideration," Canning explained. "He and I had a lot of conversations going into this talking about, 'How do we allow Spock to have these big swings, these sorts of unhinged moments of emotion, but always still be anchored in the real character.'
"Like, you don't want it to suddenly feel as if he's taken off a mask, and now that we don't recognize him," she added. "You always want to still feel that he's in there. Ethan does an amazing job of that. There are some real beautiful, subtle moments, even amidst the big moments where he's yelling and laughing and shoving bacon in his mouth. You really get to imagine what it's like for a Vulcan to sort of let loose. Playing with that was an amazing honor."
All Things Lead to That Kiss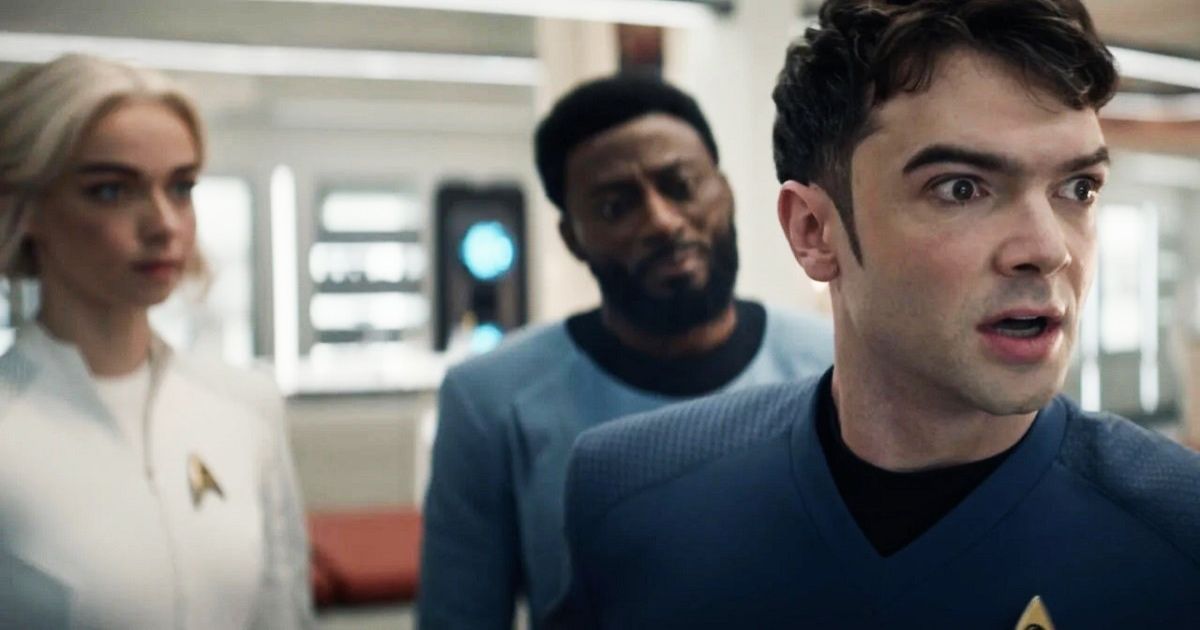 Phasers were set on "stun" when it finally happened. But we've been waiting for it for some time. Spock and Chapel already showed us they cared for each other but they—mostly Spock—have kept those emotions buried since last season. In this episode, not only do they deepen their friendship but take their relationship to a new level with… THAT. BIG. KISS. And right before the episode fades to black no less.
Everything before that is a thrill ride—from Spock being given fake Vulcan ears to hide the fact that he's turned human and stoic T'Pring pressuring Spock to be spot on for the Vulcan ceremony with her family to T'Pril's (T'Pring's mother played by Ellora Patnaik) dislike of Spock and Capt. Pike's (Anson Mount) awkward glances as a bystander to the frenetic situation. As Nurse Chapel and other crewmembers race to return to the inter-dimensional aliens in the hopes they can recalibrate Spock, it becomes clear that the writing and directing in this episode are among the best we've experienced on this show. Ultimately, everything leads up to Spock and T'Pring coming to a major turning point, and Spock and Chapel finally admitting their true feelings for one another.
"It's been a long, sort of, 'Will they, won't they? thing,'" Canning mused. "I have a real soft spot for that type of relationship—those long, drawn-out things with romantic tension, It's my favorite thing to watch and also to work in. So, those initial moments had been set up between Jess and Ethan, even in season one. They have beautiful chemistry and a connection, and you can feel that longing in their friendship. In this episode, knowing that it was leading to this great culmination of them connecting, I wanted to show them coming to terms with how they actually feel about one another."
She immediately points out the standout scene where Chapel confronts the inter-dimensional alien floating in front of her. "That's a great moment where she finally verbalizes what it is that she feels about Spock. But I don't think until that moment she was really able to kind of look at it. She's always pushed the feelings to the side," she added. "On one hand, she's kind of getting what she wished for—a Spock who is more accessible, more emotional, and more affectionate. But then realizing that that's not the Spock she loves. The Spock she loves is more complex. He's a mix of human and Vulcan. And now, getting him back to the way she wants—turning him back to a Vulcan—ultimately, she's letting go."
The Episode's High Points Explained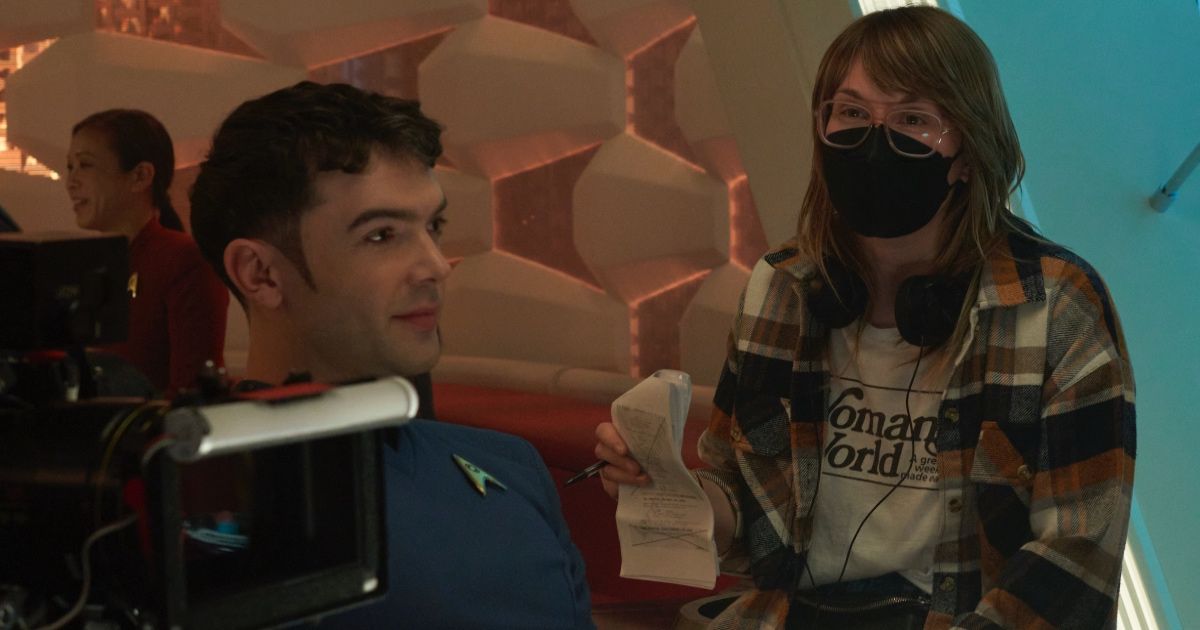 When asked what scenes she was most proud of in Charades, Jordan Canning struggles to find just one. She points out a short bathroom scene between Spock and Chapel and is quick to note Anson Mount's comedic timing. "Anson is amazing actor, but he's an amazing comedic actor, too," she said. "You get glimpses of that even throughout, even in more dramatic scenes. He can just do a lot with a little look or a little reaction."
She goes on to note that, performance wise, she's most proud the sequence with Chapel and Lieutenant Erica Ortegas (Melissa Navia), when they've entered inter-dimensional space and Chapel lays herself bare. "She's really emotional and just lays it all out on the table. She's so vulnerable in that scene, and Jess Bush did a beautiful job. I'm quite proud of that."
Of course, Spock and Chapel's kiss stands out at the end of the episode. "It was two of them and this nice sliding door moment," Canning said. "We've been following each of these characters individually moving towards each other. Finally, the two magnets meet, and that's what I wanted in that last moment. I wanted that kiss to be so epic and so satisfying. I mean, a 360-degree kiss. Come on. You can't go wrong with that."
Star Trek: Strange New Worlds streams on Paramount+.