Can the team behind Apple TV+ and Ted Lasso score another creative goal with Shrinking? That's the plan. The new comedy tracks befuddled, grieving therapist Jimmy (Jason Segel), who suddenly starts breaking rules, telling his clients exactly what's on his mind. Putting his training and ethics aside, Jimmy begins making daring changes to people's lives, starting with his own.
The show has a lot going for it and at first glance, costar Harrison Ford emerges as a significant, stand-out playing Jimmy's mentor Paul. Another highlight is Luke Tennie (Deadly Class, Players, CSI: Vegas), who plays Sean, a war vet hoping to get his life back on track. It may be too soon to tell, but this writer wouldn't be surprised if Tennie emerges as a fan favorite of the series.
"One of the goals of Shrinking is to show the process of grief. So frequently, grief feels like a montage until it's you," Lennie said. "So, I see Shrinking as the means to zoom in, and actually take a full look at the entire process of what grieving is."
Sean and Jimmy bond in the show, and the writers do a nice job of showcasing Sean's journey in a realistic and heartwarming way. Shrinking also stars Christa Miller (Head of the Class, Cougar Town, Scrubs), Jessica Williams (Love Life), Michael Urie (Younger), and Lukita Maxwell (Generation). Tennie shared more about how the series will land with viewers.
On His Character Sean
"One of the main things I love about playing Sean, and a similarity we share, is that we both want to improve," Tennie said of his character. "But we are very different. Sean struggles a lot with anger. I'll get mad sometimes too, but not mad like Sean. He tends to snap. I focus a lot of my time and energy on happiness and joy, and what that means to me and the people around me. Sean is lost. He can't focus on anything other than just surviving. But we have progress in common. He wants to fix it. He wants to improve. He wants to heal. That's my favorite quality of his."
Related: Exclusive: Sherry Cola on Her Scene-Stealing Turn in Randall Park's Shortcomings
Shrinking is the second collaboration between Apple TV+ and Segel, following his role in Apple's Original Film The Sky is Everywhere. The series marks yet another partnership for Apple, Bill Lawrence, Brett Goldstein, and Warner Bros. Television, alongside uber-hit Ted Lasso, and the upcoming drama series Bad Monkey. Meantime, Goldstein, whose gruff comedic bent stands out—currently stars and serves as writer and co-executive producer on Emmy winner Ted Lasso. Goldstein also nabbed consecutive wins in Outstanding Supporting Actor in a Comedy Series.
"Everybody grieves differently," Lennie pointed out about Shrinking's main throughline. "The show goes into what those differences are and what happens when one person is removed from the world. That person was different things to so many different people. They may have been a wife or a son or a mother to others. It's all different. Shrinking takes a snapshot of that whole process, and just delivers it in one warm, funny package."
Finding That Spark of Inspiration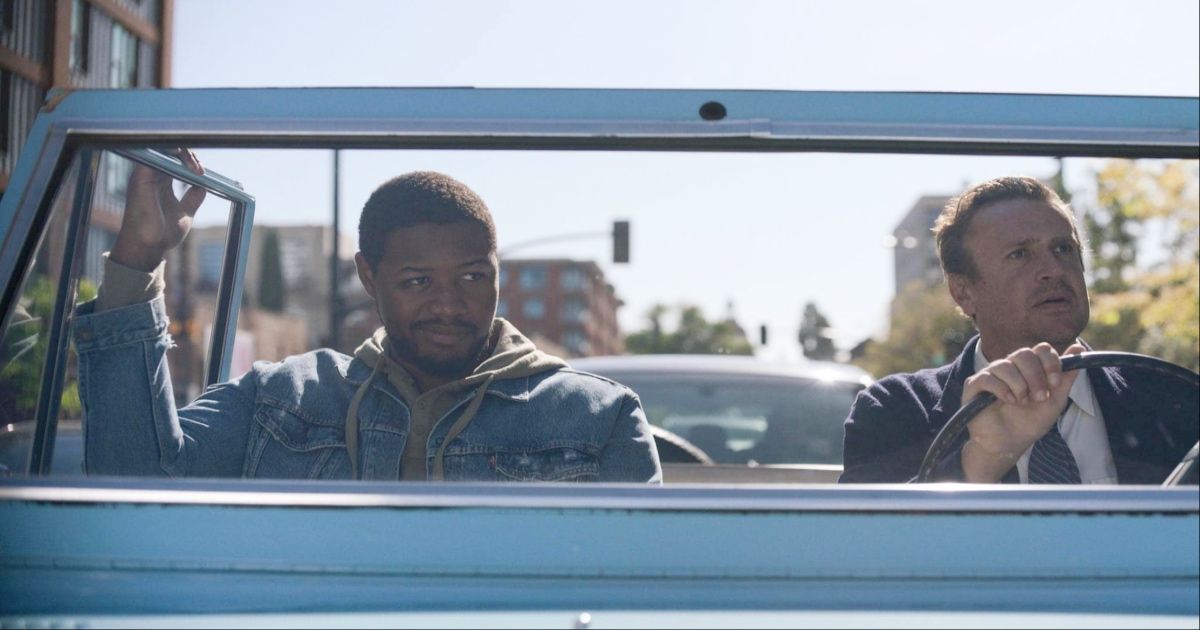 Like Ted Lasso, Shrinking is, at heart, an ensemble comedy. The show's writers and creators capture a unique snapshot of one man's life—Segel's Jimmy—during a significant life transition. The other characters' interweaving storylines fuel recurring themes: hoping, coping, thriving, and adjusting to life changes.
Tennie says viewers will be most inspired by the "little wins" the show reveals. "There's this one simple thing that Jimmy does in episode one, and it looks as if he can't do it, and when he does, it makes me so happy. But sometimes we forget about those little ones. Even if it's a small thing, if we did it, and it was part of achieving our goal, then we should celebrate. Jimmy soon teaches Sean that same thing—'Hey, man, be proud of yourself. Celebrate the win you got here.'"
Related: Poker Face Review: A Fun Nod to Classic Comforting Crime Shows
No doubt working alongside Segel and Ford was also memorable for Tennie. The two seasoned stars bring with them their own unique brand of comedic talents here, and Segal, in particular, was a strong ally for Tennie.
"Oh, man… Jason was great. He taught me so much," Tennie shared. "Jason taught me some small things, technically, about framing. When it comes to comedy, I was just watching him, and he'd always be checking his frame to make sure that the joke was done just right. It was magnetic to watch him make those decisions.
"Jason also taught me that if you come to work extremely prepared, then you have time to be a nice person to everybody," Tennie went on. "You know, you sometimes hear stories about actors off in the corner doing things away from everybody because they aren't prepared, well, Jason is prepared. But I got a long list of things in my notebook. Jason taught me a lot."
Shrinking is streaming on Apple TV+.