Shelby John (Jack Huston) kills the heroin dealers responsible for his fiancé's overdose. Also starring Robert De Niro and John Malkovich.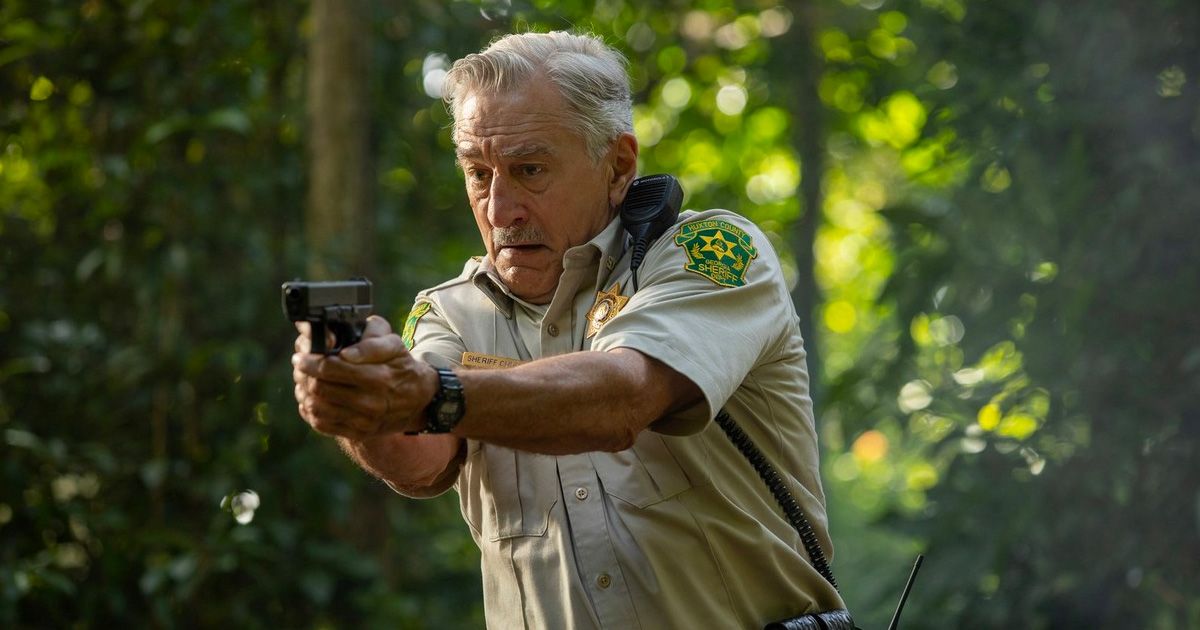 A former opioid addict goes on a bloody rampage after his beloved fiancé is killed by tainted heroin. Savage Salvation squanders the talents of a venerated Hollywood cast. Robert De Niro, Jack Huston, and John Malkovich stumble with Southern drawls as backwoods Georgia residents. They're unconvincing in a predictable narrative with a grating soundtrack. The music tried my patience more than the sluggish pacing. Savage Salvation does address the scourge of overdoses wreaking havoc across the country. It's the lone positive in a befuddling blend of sappy melodrama and violence.
Elvis (Swen Temmel), a cornrows and basketball jersey wearing drug dealer, screams as he's shot by the service end of a nail gun. Four weeks earlier, Sheriff Mike Church (De Niro) enters an all too familiar crime scene. A junkie lays dead on a couch with a needle sticking out of his arm. Mike notices a stamped bag of Fentanyl-laced smack nearby.
Shelby John (Huston) races home on his motorcycle. A strung-out Ruby Red (Willa Fitzgerald) dances while waiting for the fix. The couple shoot up and descend into a narcotic haze. A visit by cookie-selling Girl Scouts unnerves Ruby. She's tired of being an addict. Ruby announces to Shelby that she wants to get clean and rejoin her mother's (Dale Dickey) church.
The pair suffer from severe withdrawal symptoms. They writhe in pain, vomit, and clutch each other shaking. Shelby can't function at his warehouse job driving a forklift. Several agonizing days later signal a new beginning. Shelby wants to marry Ruby. He makes his intentions known to her religious family. Ruby's successful brother-in-law (John Malkovich) gives his support. Shelby's newfound happiness gets a reality check after accidentally running into Elvis. He warns the dealer to stay away from them. Their heroin days are over.
Related: Empire of Light Review: Sam Mendes' Superbly Acted but Flawed Homage to Cinema
Destructive Intimacy Doesn't Work
Savage Salvation lingers for too long in multiple scenes. This is particularly noticeable in Shelby and Ruby's private moments. They're constantly intertwined during drug use. Randall Emmett, a prolific producer (2 Guns, The Irishman) turned director (Midnight in the Switchgrass), fixates on heroin chic. Ruby spends nearly her entire screen time scantily clad and over-sexualized. Emmett's trying to recreate a couple's narcotic dependency a la the nineties classic Rush. He needed to focus more on the ugly and negative symptoms of addiction. His attempt at portraying destructive intimacy doesn't work.
I didn't buy any of the characters as realistic Southerners. The film needed a better dialect coach. De Niro doesn't sound like a rural lawman. This is an odd turn for one of Hollywood's greatest actors. It's unusual to see such a glaring and pervasive fault across the entire ensemble.
Savage Salvation might have been rescued by decent action scenes. Shelby inexplicably becomes an unstoppable killing machine. The second half of the film has him plowing through baddies with barely a scratch. There's no explanation for his lethal proficiency. I can buy that a good ole country boy can fire a gun with accuracy, but that doesn't make him Rambo.
Savage Salvation was formerly titled Wash Me in the River. It is a production of The Avenue Entertainment, BondIt Media Capital, Buffalo 8 Productions, and EFO Films. The film is currently available on demand and in limited theatrical release.