Tim Allen returns as Scott Calvin back in action as everyone's favorite Santa Clause. The Santa Clauses turned out to be much better than expected that avoids another Disney legacy sequel curse. The series contains some genuinely funny moments and a perfect amount of nostalgia. It's clearly a respectable and worthwhile entertainment just in time for the holiday season. Allen is simply brilliant along with the rest of the cast, while the cinematography and special effects are excellent.
Spoiler Warning
Chapter One: Good to Ho
Scott Calvin (Allen) is on the brink of his 65th birthday and realizing that he can't be Santa forever. He's starting to lose a step in his Santa duties, and more importantly, he's got a family who could benefit from a life in the normal world, especially two sons, one that grew up in Lakeside, Illinois and one that grew up at the Pole. With a lot of elves, children, and family to please, Scott sets out to find a suitable replacement Santa while preparing his family for a new adventure in a life south of the pole.
This year, Santa's list was extra short, and he decided to visit Sara (Casey Wilson), the soymilk enthusiast from the first Santa Clause film, for answers. Unfortunately, Sara is much older, binge-watching Judge Judy from her parents' couch, and forgetting about the magic of Christmas. That is, until Santa whips out her favorite childhood toy: a Polly Pocket. He wished Sara a Merry Christmas and tapped his nose to leave, but then his magic stopped working.
Santa couldn't go back up the chimney, and after jiggling the lock, just went out the front door. The magic reserves in the sleigh were dangerously low. Meanwhile, at the North Pole, Mrs. Claus (Elizabeth Mitchell) helped her son Cal (Austin Kane) with his VR headset. Her daughter, Sandra (Elizabeth Allen-Dick), wanted to spend time with a furry friend and noted her mother needed her own identity.
After returning to the North Pole, and dancing to a strange version of "Elves Just Want to Have Fun," Santa talked to his wife about his magic mishaps. He didn't want anyone to worry about the drop in holiday cheer, but at 65 years old, Mrs. Claus mentioned he could possibly retire. He decides to see a doctor, who says a loss in magic could result from children not believing in or needing Santa anymore. With less than a year until Christmas, Scott Calvin decided to get out of shape… quickly.
Even though he lost 10 more pounds, the doctor permitted him to fly on Christmas Eve. The Naughty and Nice check proved to be a problem, though. He couldn't label a child with ADHD as naughty. Also, even using the word naughty was problematic.
Head Elf Betty (Matilda Lawler) is worried about Santa faltering and brings that to Santa's favorite elf, Noel (Devin Bright). Could Santa losing his magic mean that all the elves disappear, too? They decided to keep a close eye on the situation. Before Santa could say "ho ho ho," it was Christmas Eve again.
A few more names were missing from the list, but Santa was ready for his first stop. On TV, there were problems with EverythingNow who, unfortunately, had shipping problems delivering everything now. After landing on another house, Santa confessed to Noel that the world's got him down. He grabbed his sack to go down another chimney when he was thrown from the roof and knocked unconscious, a chilling parallel to how Scott became Santa in the first place.
Related: Mickey: The Story of a Mouse Review: An Uplifting and Magical Tour Through Time
Chapter Two: The Secessus Clause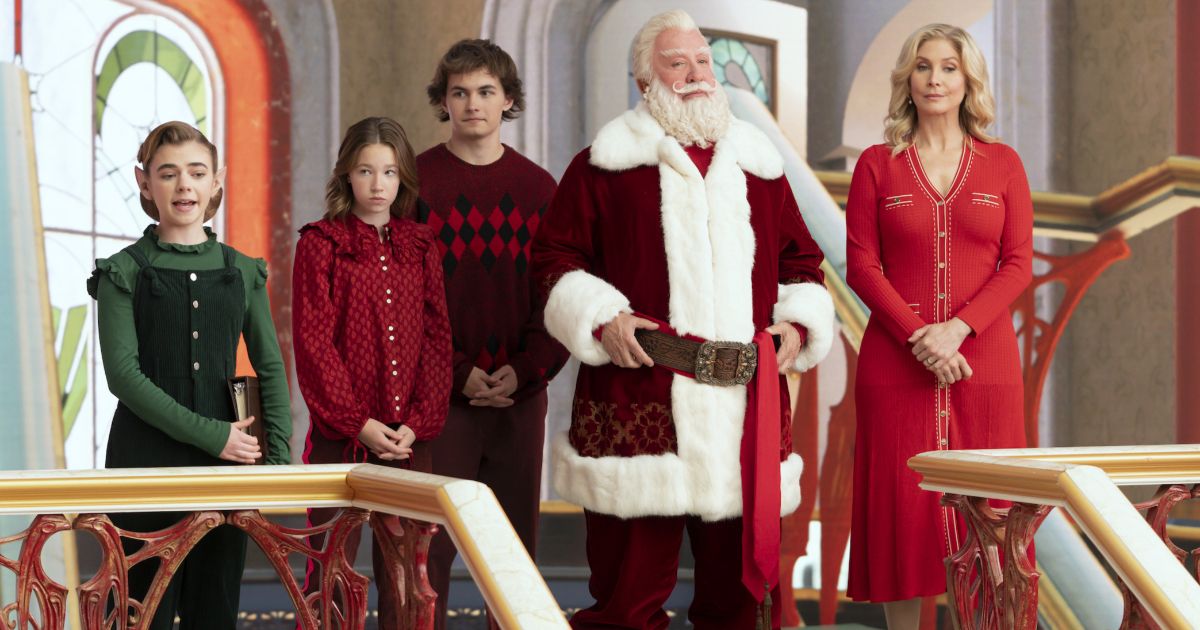 After Cal is awoken, he rushes to his mother's side. Scott finally returns to the North Pole trying to play off the accident, but everyone knows what is really happening. These elves are watching him like a hawk, so he can't avoid the conversation of "Did you almost die out there?"
After the near-death experience, Scott decides retirement needs to occur. Luckily, there's another clause. The Secessus Clause allows him to find a replacement if he ever decides to no longer uphold the mantle of being Santa. An easy out is finally on the table.
At first, Scott wants to keep it in the family. He travels to Florida to offer Charlie (Eric Lloyd) the position. Almost immediately, Charlie declines. He's happy with his life and knows that the North Pole is not conducive to raising children. Next on Scott's list is Cal.
After he shows the slightest bit of interest, he decides to take Cal for a sleigh driving lesson to see if he has the chops. He does not. He has no chops. He quickly jumps back into his VR world and leaves the Santa possibility behind.
All while this is happening, Simon (Kal Penn) is making a fool of himself in front of the board. He tries to come back from his abysmal Christmas delivery failure with drones. The drones have incredible comedic timing, as they promptly crash through the window and attack the board members. However, Simon's name is on everybody's lips as Cal suggests the creator of his VR equipment take on the role of Santa.
A change needs to be made, and fast, as Bernard's (David Krumholtz) spirit meter hasn't been this dim since the 14th century. The overall Christmas spirit is as bad as it was during the plague. Later, Sandra and Cal are caught sneaking into a restricted area. Scott is disappointed, but he starts to realize that they are just trying to get a peek into the real world.
Cal's VR hasn't even been playing video games, it has just been real life scenarios, like mowing a lawn. A wholesome, but yet a depressing moment. At that moment, Scott makes the official call. He's retiring. Carol lets her hair down; the elves are in a state of shock, and Simon is summoned to the North Pole.
New episodes of The Santa Clauses will premiere weekly exclusively on Disney+. The Santa Clauses is set as a limited miniseries that will consist a total of six episodes.