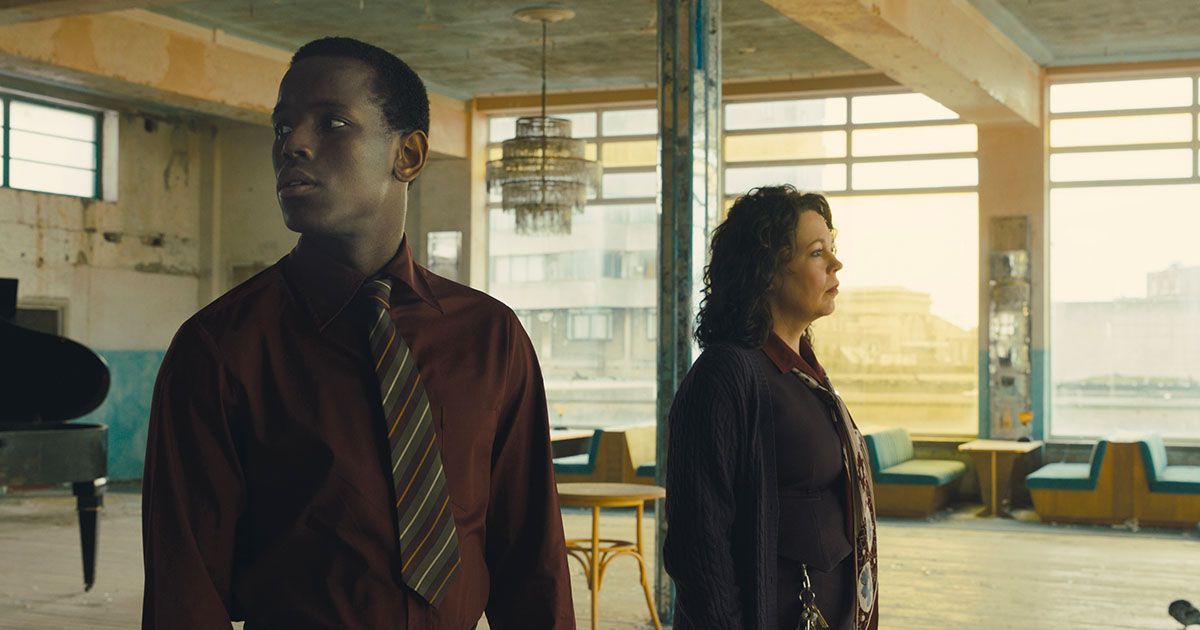 Oscar-winning filmmaker Sam Mendes' tribute to the majesty of cinema feels out of focus despite strong performances. Empire of Light takes place in the English coastal town of Margate in 1981, where a clinically depressed theater employee has a captivating and insightful interracial romance with a much younger man. The film addresses themes of loneliness, racial discrimination, sexual awakening, and the value of true friendships. What it doesn't deliver is a sense of awe and escapism. The story could have been set in a department store and still had the same emotional impact.
Olivia Colman stars as Hilary Small, the box office bookkeeper and concessions worker at the seaside Empire multiplex. Hilary lives in a small apartment's dreary solitude. Her only personal interactions come from longtime theater colleagues. Hilary services the physical needs of the married manager, Mr. Ellis (Colin Firth). Everyone knows what his office meetings with her are all about.
The Empire gets an infusion of energy when Mr. Ellis hires Stephen (Michael Ward). Black, handsome, and breathlessly cool in his ska style, the Empire women are quickly entranced. Hilary remains standoffish with Stephen as the punker Janine (Hannah Onslow) makes her move. An unexpected discovery thrusts Hilary and Stephen together. They complete each other in surprising ways. The pair's sudden closeness doesn't go unnoticed at the theater or in their small town.
Hilary, who struggles with self-expression and restrained desire, falls deeply in love with Stephen. He reciprocates her affections but can see Hilary's inner turmoil. Gangs of racist skinheads target the Caribbean immigrant community. The Empire becomes a lighting rod of conflict as their relationship's threatened by societal pressures.
Related: Lady Chatterley's Lover Review: A Smoldering Adaptation of the Classic Romance
Olivia Colman and Michael Ward Pursue Happiness
Colman and Ward have palpable chemistry. She is tremendous in her portrayal of an achingly lost woman who is desperate for human connection. Stephen's gentle soul allows her to be open. This ignites a scorching sexual compatibility that surprises. Hilary and Stephen, though decades apart in age, had both given up on their dreams. They find hope in a romance never thought possible. Mendes' (Skyfall, 1917) achieves the pursuit and realization of happiness. The primary characters stumble into each other's arms in wonder, then face the crushing reality of having it ripped apart.
Empire of Light has several significant flaws that cannot be overlooked. Hilary has never seen a movie at the theater she's worked at her entire adult life. Mendes wants the Empire to be a magical place that fulfills dreams through film. Hilary and Stephen's secret liaisons in the Empire's closed wing could have taken place in the back room of a Tesco supermarket.
The characters would have been entranced in any work setting. Also, while the Empire's projectionist (Toby Jones) serves as a mentor to Stephen and dear friend to Hilary, his expertise only comes into play with a somewhat forced third act. Mendes should have had Hilary with an inkling of cinematic interest. Her job would then make sense as a minor diversion from the mundane. Meeting Stephen at a job she felt slightly compelling, instead of just safe and familiar, might have been more pertinent to Mendes' fond remembrance of a treasured theater.
Empire of Light is produced by Neal Street Productions. It will be released theatrically on December 9th from Searchlight Pictures.