Heist films have never been more popular. Nor have the stakes have been higher to entertain audiences. It's 2022, so looking back, something like 2001's Ocean's Eleven, while still enjoyable, may appear somewhat tame as moviegoers head into the mid-2020s. The Pay Day is proof of that.
Set in a post-pandemic world, the new caper from director Sam Bradford follows a broke, frustrated IT technician (Kyla Frye in fine form) who is lured by a crime boss (Simon Callow of The Witcher and Four Weddings and a Funeral) to embark on a one-woman heist to steal valuable data worth millions on the black market. That's nerve-wracking enough. But when a suave con artist (Sam Benjamin of Justice League and Peaky Blinders) interrupts her mission and attempts to swipe the loot, it's every crook for themselves.
Benjamin and Frye share screenwriting and acting credits in a film produced by Praxima and Fryeday Entertainment. Ellen Thomas, Vincent Jerome, Marcus Onilude, Rae Lim, Farrel Jo Hegarty, Miles Mitchell, Kara-Dee Rai, and Jacob Anderton round out the cast.
Special Bonds On and Off-Screen
Benjamin, dashing as ever in The Pay Day, told MovieWeb that the genesis of his film began with his friendship with Frye. "Kyla and I met around 2010 on the London theater scene," he said. "We were both rehearsing the show, and really bonded talking about '90s crime-caper-comedy movies, involving a little bit of hustle. After a while, we started thinking what it would be like if we did something like that. Nobody was really making anything like that as far as we could see. We thought… let's see what happens if we make something ourselves."
The writing process proved to be interesting. Mostly, because the duo originally wrote the concept as a short film in 2015, called Double Cross. It was a one-setting film, shot in a hotel room, and it revolved around two characters.
Related: Exclusive: Bones and All Director on His Cannibal Romance Film Starring Timothée Chalamet
"That was the precursor to the characters we play in The Pay Day," Benjamin added. "Fast forward, and we got some interest in it and began pitching it as a bigger project. Around 2020, we started writing the film, and it was a year in the making, redrafting, and doing different versions of the script."
A sharp, tightly written heist film emerged. While the duo didn't have a massive budget to work with, they thoroughly mapped out the tale and committed "to the moment" during the shoot.
"Obviously, a lot of films like this are shot out of sequence," Benjamin noted, "so, you have to jump to the third act of the movie when the characters are getting into a bit of a physical fight. You might do that first before the scene where the characters get to know each other. So, it's just a case of coming into the scene and committing to it—and forgetting about the rest. You can deal with the other scenes when you come to it."
On Working With the Cast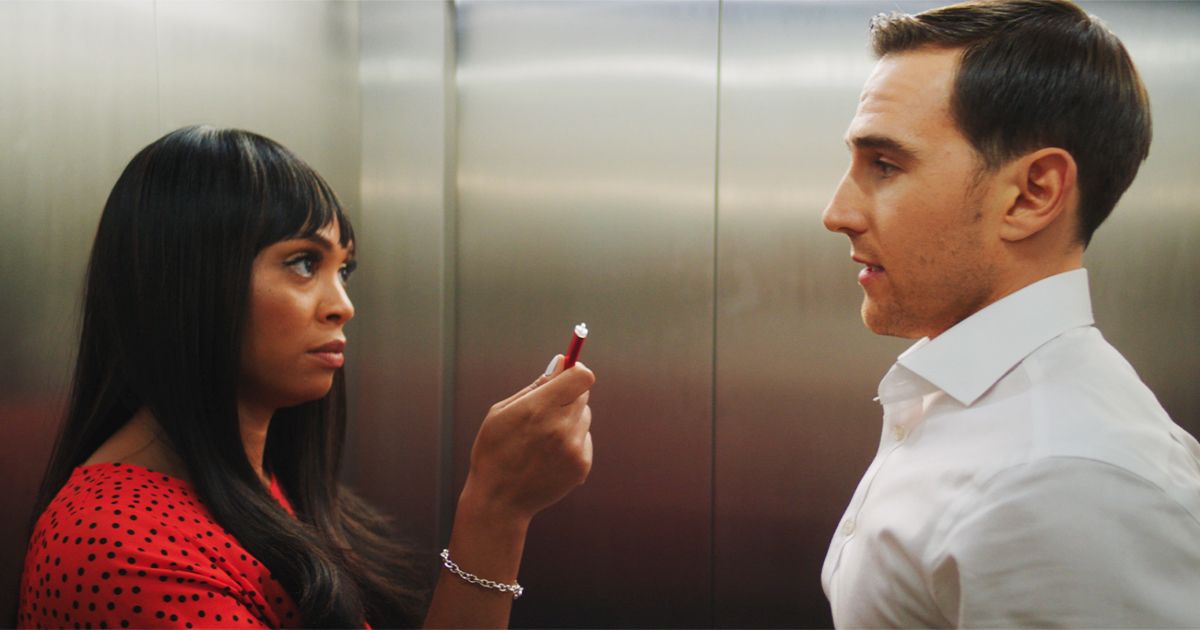 While most of Benjamin's scenes are with Frye, he was jazzed to have the incomparable Simon Callow on board the project, noting that Callow is "such a heavy weight and has been around the block. This is an award-winning British, Shakespearean actor and his involvement gave the film some gravitas. And I got a real kick out of him saying words I've written. And Kyla was an absolute dream. There are certain films where if the two actors are with each other for a lot of the film, if they have a good relationship, friendship, or chemistry in real life, it often comes across on screen. We had total trust in each other. And we knew that we were both safe to try whatever we wanted to try."
But how did the actors handle the fight choreography—things get a bit intense between the characters of Jennifer (Frye) and George (Benjamin) later in the film. For that, the duo was in capable hands with a skilled fight choreographer.
Related: Exclusive: Milo Gibson and Annet Mahendru Keep it All in the Family in Manifest West
"Sam Bradford is a great visual director in terms of instructing his actors exactly on what he wants and where he needs you to be," Benjamin said. "You just trust in him. Sometimes things you might do feels a bit odd in terms of physical movement, but you just know that he's on it. I've had experiences in other action films, which is quite helpful, because you have a sense of what's required, but it was the whole team effort here."
The final stretch of The Pay Day is wildly fun and action-packed. Frye and Benjamin are in top form during those confrontational scenes, giving the film a spirited boost. A wicked romp it is.
"I hope The Pay Day makes people smile," Benjamin mused. "I want people to watch it with their friend or their partner and go, 'Oh, that was a lot and there are some laughs in there. The film has some steamy, fun, sexiness in there, and some adventure and suspense.'"
Ultimately, he believes the film will entertain. "There are also a few messages in there about the working-class British—that defiance when things aren't going your way," he added. "So, if it inspires people to… I don't want to say, 'not take it anymore,' but more so, to follow their dreams and if there's a little thing in your life that seems a bit daunting or risky. maybe give it a crack—not necessarily illegal stuff of course."
The Pay Day, a Vertical Entertainment release, is playing in select theaters and available on TVOD.