A wealthy gamber (Russell Crowe) invites his childhood friends to a high-stakes poker game. Also starring Liam Hemsworth, RZA, and Elsa Pataky.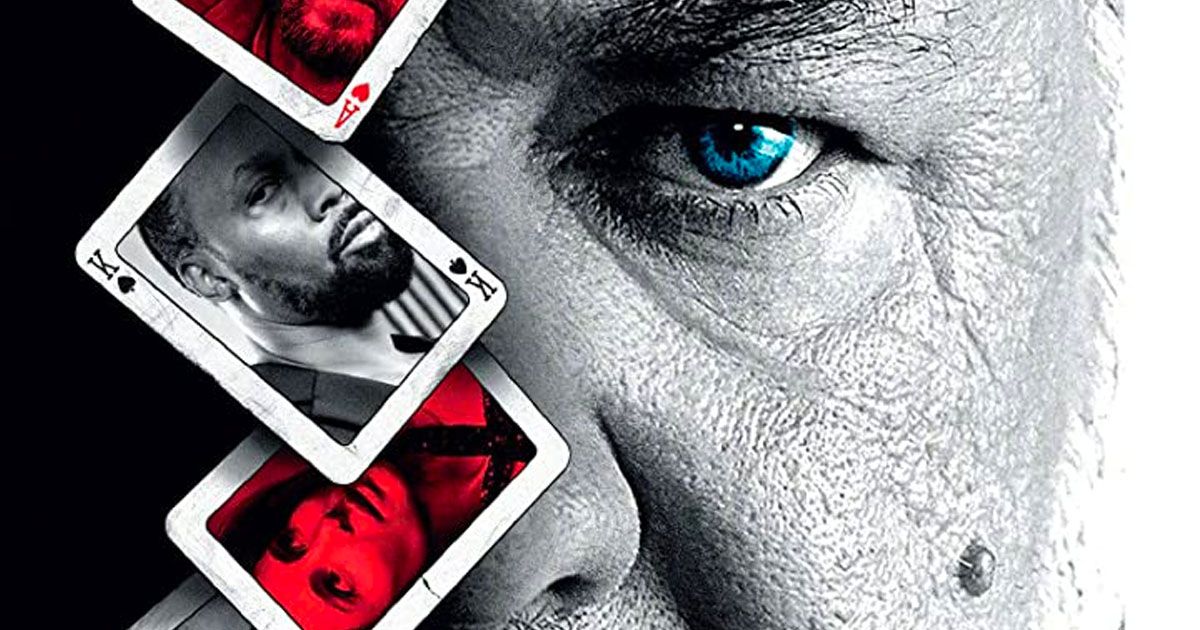 A wealthy gambler with a devastating secret invites his childhood friends for high-stakes Texas Hold'em, which also attracts a jealous criminal looking for an easy score. Russell Crowe stars, directs, and co-writes a big set-up thriller with a lackluster finale. The first act hints something sinister is brewing. The protagonist mysteriously organizes the reunion with his accomplice lawyer. He's got a special plan for the dear old chums. The arrival of an unexpected interloper throws a spanner in the works. This turn should have increased the tension. It has the exact opposite effect and leads to a somewhat predictable conclusion.
In the past, a group of Australian boys play poker by a waterfall. A bully interrupts their game to steal the pot. A daring escape seals their bond as besties. Decades later in present day Sydney, Jake Foley (Crowe) sits in a museum staring intently at a painting similar to that setting. A captivated onlooker asks to paint his portrait. She gets permission after he admits to being a professional gambler.
Jake visits a spiritual retreat. He collects a deadly instrument upon leaving. Jake returns to his spectacular penthouse apartment. He ignores his younger second wife (Brooke Satchwell), but gives his teenaged daughter (Molly Grace) spending money. Jake's lawyer, Sam (Daniel MacPherson), assures him that everything is ready for that night.
Alex (Aden Young), a successful writer, meets Paul (Steve Bastoni), a government minister, and Mike (Liam Hemsworth), a struggling addict, in a parking garage. Sam awaits with a fleet of exotic cars. They follow the GPS to Jake's seaside mansion on the coast. Drew (RZA) is the only person missing from their youth. Jake informs his dealer, Penelope (Elsa Pataky), that there are $25 million dollars in RFID chips. The guys arrive with zero suspicion that more than a game is afoot. Jake, who's meticulously staged the event, has no inkling that another adolescent acquaintance (Paul Tassone) is en route.
Related: Taurus Review: Machine Gun Kelly Spirals Out of Control
Jake Has Scores to Settle
Poker Face establishes Jake's personal problem early on. He seemingly has several scores to settle, but you're not sure about his objectives. The script tosses in another plot element that truly muddies the water. Intrigue slowly builds as the machinations take shape. Does Jake mean to harm his closest companions? What's he trying to achieve by luring them?
A key development cracks the narrative wide open. It's an aha moment that deflates expectations like popping a plot balloon. Everything that Jake's done could have easily been solved by group therapy. Save the theatrics and settle differences over a pint. That doesn't make for a compelling movie, but the poker premise gets played out. There's very little card playing here. Poker Face refers to bluffing the supporting characters.
Jake has an intermittent voice-over that spouts Newtonian principles. It's a significant reach applying that logic to this storyline. There are also jump cuts to water visuals throughout the film. This is meant to be Jake's poetic remembrance of treasured youth. The placement feels awkward and clunky. Crowe is a supremely gifted actor. He has a ways to go as a director. Poker Face deals a slippery hand instead of pocket aces.
Poker Face is a production of Arclight Films, Rebellion Studios, Alceon Entertainment Partners, and Catchlight Studios. It will have a theatrical release on November 16th, followed by a digital debut on November 22nd from Screen Media Films.