A hot-headed misfit with adrenaline in her veins steals motorcycles for a dirt bike gang but makes enemies along the way. Rodeo, Un Certain Regard winner at the 2022 Cannes Film Festival, kicks the throttle in high gear for a mesmerizing street urchin. Julia (Julie Ledru) lives by her own rules and takes whatever she needs to survive. Her reckless endeavors fuel an unyielding desire to ride and be free. But her brazen attitude and raw sexuality stokes different reactions from the machismo-dripping boys club.
A furious Julia (Ledru) curses when her bike gets stolen from a French housing project. Her mother has had enough. She's no longer welcome in their apartment. Julia resolves to get a new bike that day. She looks online for sellers in the Paris suburbs. Pretend to go for a test ride and rocket away while giving the finger. She's mastered the art of motorcycle theft.
Julia begs for fuel at the wheelie-popping urban rodeo. Daredevil riders show off their skills while raucous partying ensues. Guys scoff at her but she's relentless. Kaïs (Yannis Lafki) offers her a liter just to go away. She pours two and hits the road to be part of the thrilling action.
On Dangerous Ground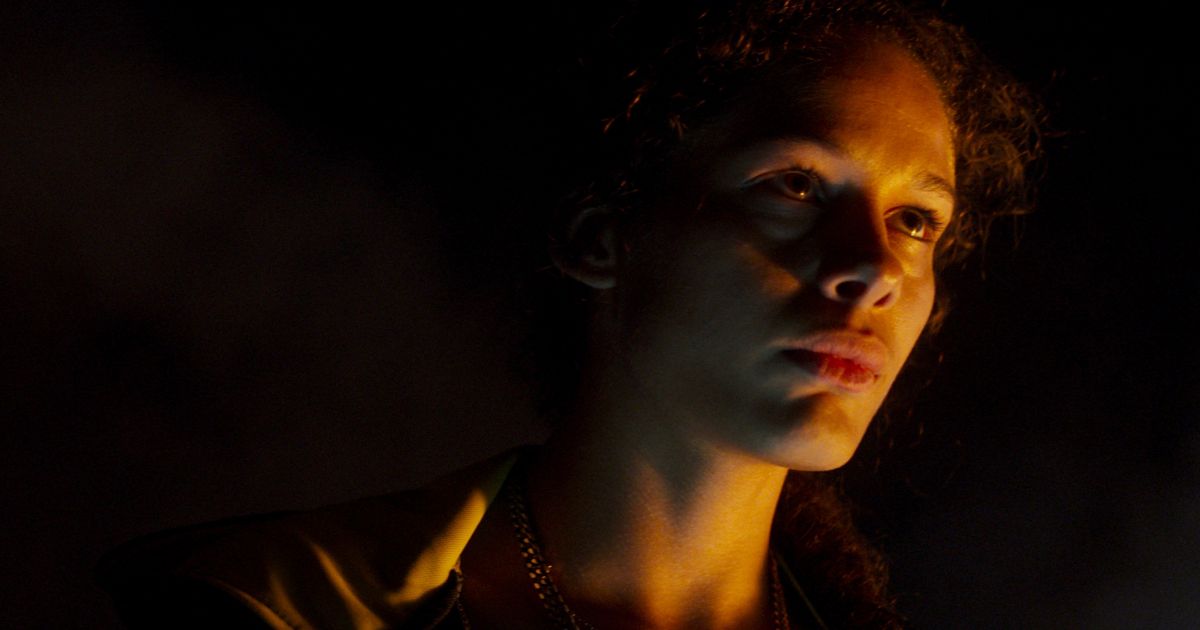 A tragic accident and police raid force the gang back to their garage hideout. Julia tags along much to the chagrin of some members. What's this girl doing here? She asks to sleep in the garage. An entranced Kaïs needs permission from their jailed leader. Dom (Sébastien Schroeder) wants Julia to earn her keep. The guys will use her to steal valuable motorcycles, but she also has to run errands for Dom's wife. Julia's instantly smitten by Ophélie (Antonia Buresi) and her young son, Kylian (Cody Schroeder). She treads on dangerous ground by getting close to Dom's family.
Director/co-writer Lola Quivoron crafts a fiery protagonist in her feature film debut. Julia's wild hair and tomboy look reflect an uncompromising personality. No one tells her what to do. Julia's entire being revolves around riding. She'll do whatever it takes to keep that dream alive. Haters be damned. Julia's hubris and arrogance are major character flaws. She laughs at danger but it still exists. The plot parallels her fascination with risky stunts and robbery. The rush of success comes crashing down when she pushes every pedal to the limit.
Related: All the World Is Sleeping Review: Melissa Barrera Stuns as a Drug Addicted Mother
Rodeo immerses you in a world of burnt tires and exhaust. Quivuron juxtaposes tight focus on intense character interactions with sweeping motorcycle shots. She captures the grease of chopping bikes in a confined space and the liberating exhilaration of open road theatrics. These aren't CGI adventures cooked up on computers. Energy pours from the screen as Julia and the gang get dramatically bolder.
Quivuron keeps a fluid outlook on attraction. Julia curses anyone who leers at her. She's hooked Kaïs but inspires ugly disdain in others. Ophélie feminizes her to lure targets and dispel caution. This is an unnatural state for Julia, but she embraces the deception. Ends always justify means. Her friendship with Ophélie evolves into something else. Yet Julia fantasizes about male bikers in her vivid dreams. She follows her carnal instincts in the moment. Julia doesn't recognize or care that some boundaries cannot be crossed.
A Refreshing Genre Departure
Rodeo is a refreshing genre departure from the overblown and unrealistic. It grips with a soft tread on a hard track. This isn't a Fast & Furious experience. Quivuron defies convention with Ledru as her star and a gutsy approach.
Rodeo has French dialogue with English subtitles. It is a production of CG Cinéma, Canal+, and Ciné+. Rodeo will have a limited theatrical release on March 17th from Music Box Films.