A British tutor and aspiring writer learns dark secrets when hired to teach a renowned author's troubled son. The Lesson simmers with palpable tension and an eerie sense of foreboding. Taut performances from a distinguished cast are accompanied by a fantastic score. Alice Troughton, known primarily for her television work, is brilliant in her feature directorial debut. She crafts an engrossing narrative on the ugliness of human nature that will keep you guessing to a disturbing climax.
The Lesson is told in five parts. The prologue begins with Liam Sommers (Daryl McCormack) sitting for an interview in front of a rapt audience. His first novel has propelled him to stardom. The Interviewer (Tomas Spencer) asks Liam what inspired his riveting story. Liam pauses while carefully gathering his thoughts.
Part One has Liam going through the motions of a struggling writer. His attention strays to a video of the same interviewer on stage with his idol. J.M. Sinclair (the great Richard E. Grant) is a titan of literature. His novels are held in the highest regard, but Sinclair hasn't released a new book in many years. The Interviewer is keen for any advice the sage can give to young writers. Sinclair laughs slyly before offering two nuggets of wisdom. There are no more original thoughts. Every writer is a thief who steals for a living.
Richard E. Grant as J.M. Sinclair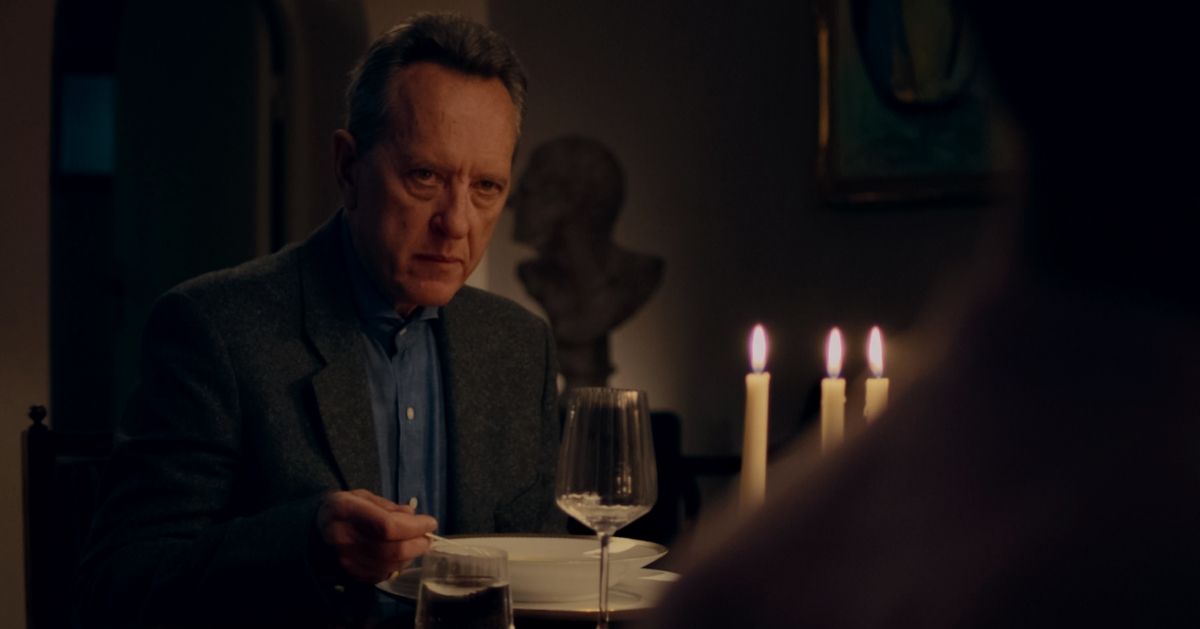 Liam is overjoyed at his next assignment. He will tutor Sinclair's teenage son for his entrance exam to Oxford. Liam travels to a lush estate in the beautiful countryside. He marvels at the grounds and mansion but gets a rude introduction. Liam won't be staying in the residence. The butler, Ellis (Crispin Letts), escorts Liam to a guest house with a view of Sinclair's office. The unwelcome treatment continues to his new pupil. Bertie (Stephen McMillan) scoffs at his teacher with open distaste. He doesn't need or want Liam's help.
Hélène (Julie Delpy), Sinclair's beguiling art curator wife, offers the only warmth. She appreciates Liam's services. He's come highly recommended. Hélène stresses that Bertie must get into Oxford to please his father. Her French and American education are of no use to her son problems. Liam should get started immediately, but must first sign an ironclad non-disclosure agreement and employment contract.
Related: Exclusive: Julie Delpy Talks Film Noir, Misogyny, and The Lesson
Liam meets the revered Sinclair at dinner. The patriarch lords over the table while playing Rachmaninoff. Liam feels like a fool for knowing the composer's history but not the music. He gets his first taste of Sinclair's domineering personality and harsh rebukes. Liam peers through his window later. Sinclair writes vigorously through the night. His long overdue book must be a masterpiece. Liam's furious he can't keep up the pace, but his attention shifts once Hélène enters her husband's office to seductively spark creativity.
A Stellar Open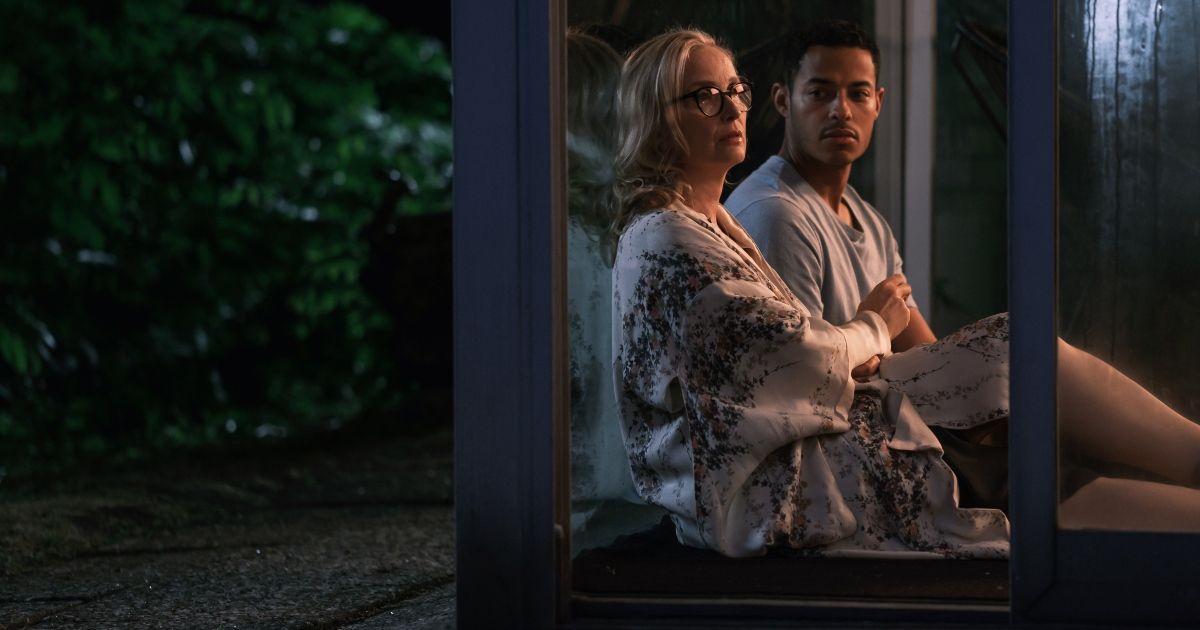 The Lesson holds its cards close in a stellar open. What exactly is happening in the Sinclair household? You also don't have a clue about Liam. Is he a reliable narrator of the story? Liam's an equally unknown commodity with a very special gift. He has an uncanny ability to remember verbatim everything read. Liam also puts notes on his mirror to remind him of any mishaps. He won't make the Rachmaninoff mistake again. Liam will be an expert for the next conversation.
The plot thickens like syrup in an engrossing second act. Liam gets better insight to the family's dynamics. Sinclair is supremely arrogant and narcissistic. He cherishes being put on a pedestal. Bertie struggles to meet his demanding father's expectations, but warms up to Liam in unexpected ways. Hélène remains the most enthralling mystery. Liam falls under her spell while browbeaten by her husband. Sinclair is a cruel taskmaster. Yet Liam cannot tear himself away from anyone. He's snared in their collective grip. Liam must know what really lies beneath the Sinclairs' surface.
Related: The 15 Most Recognizable Movie Scores
Troughton shows considerable skill. The entire film takes place at the estate. She explores palace intrigue with a deft touch and slow boil. Liam is a servant at the beck and call of his masters. But he's also ingratiated himself and become indispensable to their needs. The question than arises about Liam's intention. What does he expect to gain? Does Liam lust after Hélène or crave recognition as a writer from her husband? Troughton teases masterfully before big reveals. The answers will surprise you.
What Lies Beneath the Surface?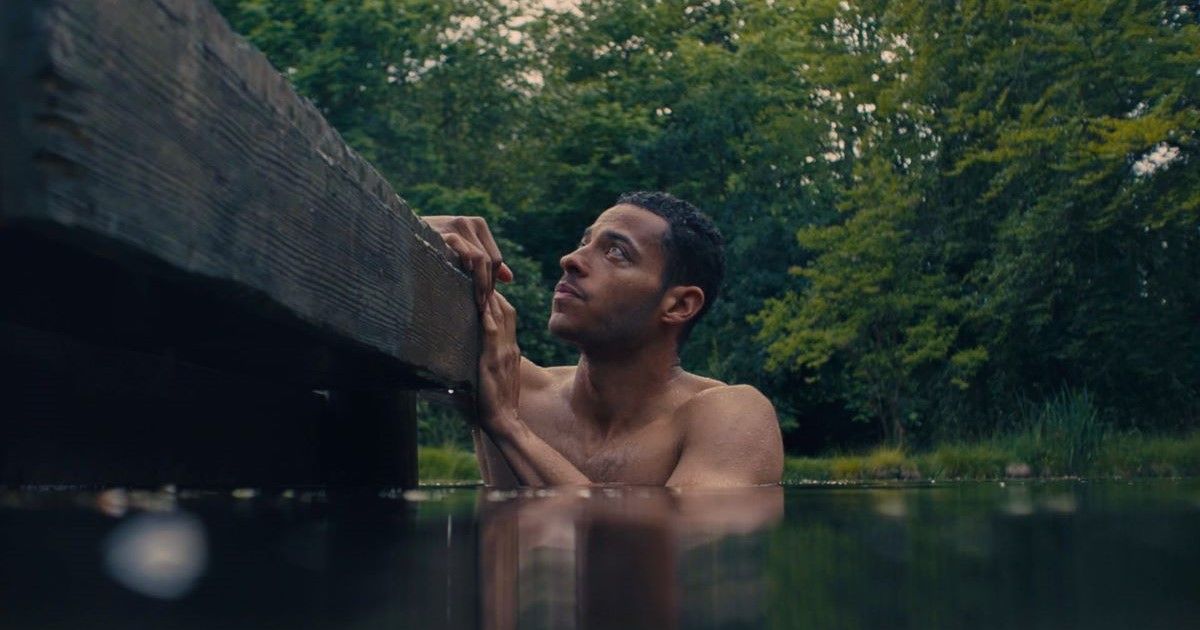 Composer Isobel Waller-Bridge (Emma, The Phantom of the Open) is integral to the film's success. Her escalating dance of piano and violins accompanies the plot like a shadow over its shoulder. She changes tempo as intentions become clear. What had been a steady walk turns into a sprint. Her contribution is awards-worthy. She may achieve the recognition of her younger sister, Fleabag star and creator Phoebe Waller-Bridge.
Richard E. Grant owns this film in another amazing performance. He's damn good as a man with everyone in his clutches. Sinclair is both magnetic and detestable. Grant marvels with his extraordinary range. The Lesson stands on great pillars. The acting, direction, and music are sublime.
The Lesson is a production of Poison Chef, Egoli Tossell, and Jeva Films. It will be released theatrically on July 7th from Bleecker Street.