Action movies and Bruce Willis go hand in hand. From the Die Hard films and Looper to Armageddon and Red, movie audiences can't get enough of the star. It's no surprise that Willis has reportedly appeared in films that grossed more than $2.5 billion.
In March 2022, Willis's family released a statement announcing his departure from acting due to complications with aphasia, a challenging language disorder that affects one's ability to communicate. Fans were shocked, and recent reports indicate Willis's health struggles continue.
So, to see Willis appear in Detective Knight: Redemption, the second film in the Detective Knight trilogy, is bittersweet. For costar Paul Johansson (Van Helsing, One Tree Hill, Mad Men), working alongside Willis in Redemption was a major thrill.
"The first scene we shot together was the climactic finale—they always do that to you," Johansson said, chuckling. "By that point in the film, we're supposed to have had enough background [between our characters], then you get on set, and you meet the actor that day. Fortunately, I'd met Bruce in Alpha Dog in the '90s, directed by Nick Cassavetes. So, I had an opportunity to talk to him about that before we shot the scenes. I reassessed his energy. As an actor, you really want to delve into that. And Bruce is a pro. He knows his stuff."
The new film finds Willis returning as Detective James Knight, who's now in custody but suddenly finds himself in the middle of a jailbreak led by The Christmas Bomber (Johansson). The guy is a brutal fanatic with a frenetic and devoted troop of Santa Claus disciples bent on terrorizing the city. With the promised return of his badge in exchange for taking out the terrorists, Knight heads back to "work."
The action-packed film is directed and written by Edward Drake (Gasoline Alley, American Siege) from a story created by Drake and Corey Large, who also serves as one of the producers. Lochlyn Munro, Corey Large, Beau Mirchoff, and Miranda Edwards also star.
Roll Out The Action
Johansson plays a complex man in Detective Knight: Redemption. The past hasn't been good to The Christmas Bomber and his wrath is deeply layered.
"As far as seasonal action films go, I think it hits all the markers," Johansson said. "When I read the script, I was most excited about the opportunity to play a man who'd lost so much, and who'd decided to create a philosophy and enact change. The way he did it was basically starting a cult. You can call what he's doing a 'calling,' because [his group] isn't robbing banks for money, they're robbing banks to change the system."
Related: Empire of Light Review: Sam Mendes' Superbly Acted but Flawed Homage to Cinema
"Changing the system" factors into many plot devices these days, which was something that also intrigued Johansson. "That's what's interesting about the character—he has a deeper purpose, which is founded on the fact that his son was lost from a corrupt military scheme, and he really went off the deep end. He justifies it by trying to change the world."
Admittedly, the other big perk of the film was working alongside Willis. "I was thrilled to go back to work with him again. And Bruce does more with a glance that would take people paragraphs to do."
Stepping Into a Madman's Shoes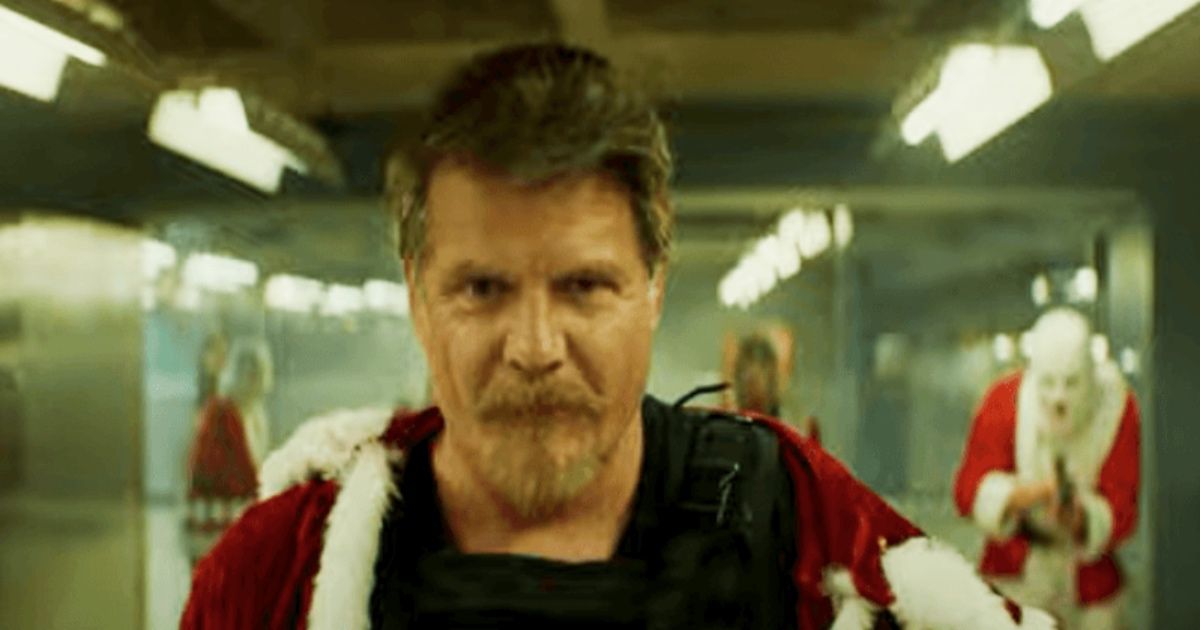 Surely the action in Detective Knight: Redemption will keep audiences on the edge of their seats. The Christmas Bomber's escalated and frantic actions have devastating ripple effects. To prepare, Johansson psyched himself up to morph into a zealous self-help guru of sorts.
"To me, this guy was selling an idea. He's a big salesman," he explained. "To prepare myself when rehearsing, which was profound for me, I wanted to fully connect with someone on a one-on-one basis in a scene; to drop down into us talking; me talking to you super personal, being revealing and vulnerable. And when I'm on 'stage' in the film, it's televangelism, selling the big idea."
He also wanted to make sure that he showed the character's great loss. Basically, that he had a "story" to tell. The Christmas Bomber believes in what he's doing, but you can't change the world if you're a shy, humble dude.
"You have to step up there and sell it. You are selling the dream," Johansson said. "I wanted to make sure that I was able to do that clearly."
Tis the season, too—or era, actually—where audiences experience a bevy of holiday films with a thrilling edge. When asked what the fascination is on turning a holiday-themed film on its head, Johansson said that it adds extra value to a seasonal film.
Related: Exclusive: The Santa Out There Is Frightful in Director Joe Begos' Christmas Bloody Christmas
"You're sitting down with family and watching something with a Christmas theme, but you may also want to watch an action film," he shared. "Families getting together in December, and people are sitting around, or running out, and maybe they're tired of talking to Uncle Jack. Sometimes you just don't want to talk. You want to watch an action movie."
Johansson also noted that he "loved" wearing a Santa outfit while "robbing" the bank—basically telling the bank teller in the film that… "We're not taking money from you; we're taking it from 'them.' This isn't your money. This money is the people's money; money that's been taken from them. The banks lend more money than they have. They're lending fake money. They're inventing money and causing poverty.
"So, my character is saying, 'I'm restarting. I'm bringing this money back for people,'" he added. "All that intrigued me, and I think audiences will find it intriguing, too.
Detective Knight: Redemption, from Lionsgate Films, is in select theaters, on demand, and digital on December 9.