Is it the summer of love? For lots of folks around the world, it's certainly a summer filled with record-breaking heat, with more to come this season. In a new queer rom-com from producer Greg Berlanti (the brains behind hit shows like Riverdale and You), things certainly heat up between a couple of young lads whose parents hold royal, prestigious titles in political society.
At first, the guys butt heads. Then, things get kinky as they get to know each other. Filled with steamy sex scenes and occasional laughs, Red, White & Royal Blue may not be too memorable at the end of the day, but it is bold and raw across the board. Plus, some fun cameos help keep our attention. Here's our take.
Taking Notes from Love, Simon
The folks behind Red, White & Royal Blue may or may not have taken notes from a breakout 2018 movie called Love, Simon — which, IMHO, was one of the year's best films. And the similarities extend beyond the fact that both movies center on young men discovering their sexual identity. The modern filmmaking techniques are visible in each project, where text-message conversations come to life on the big screen to really capitalize on all the visual devices film has to offer viewers. Love, Simon is a far superior film — no wonder it got a TV show spinoff — but Red, White & Royal Blue has its moments, too.
One of said moments comes during the film's absurdly hilarious opening sequence. Tragedy strikes — but in the funniest of ways. Alex (Taylor Zakhar Perez) is the son of the U.S. president (the beloved Uma Thurman, who's great to see). He finds himself at a royal engagement and ends up brushing shoulders with Britain's infamous Prince Henry (Nicholas Galitzine). At least, "infamous" is how Alex sees Henry. Alex vents to his comic-relief pal Nora (a standout Rachel Hilson) about how he loathes Henry based on past experiences. It's a rivalry, to say the least, as this is the same way Henry feels about Alex. Who doesn't love a little royal English scandal, be it fact or fiction?
This little run-in at the beginning leads to — as some might have seen in the promotional trailer — an epic cake tumble all over the two. Of course, we can expect that there's more to the pair of strapping young chaps besides their bitter rivalry, and after their noble families force them to come to a public truce, we see Alex and Henry stay in touch via text messages, phone calls, and more.
Related: Passages Review: A Sexy Love Affair Makes Waves in Paris
Perhaps a buddy bromance will become a full-on romance? As their journey progresses, we witness a couple slapstick moments that match the hilarity of the cake catastrophe, such as the president's chief of staff, Zahra (Sarah Shahi), walking in on them hiding out together in a swanky hotel room. Her panic attack caused by the situation might just make you laugh out loud. And Hilson as Alex's best pal Nora steals the scenes she's in, with endless one-liners that keep the sexually-charged Alex in check. Too bad the movie doesn't feature more of Hilson, though surely the young actress has a bright future in Hollywood ahead of her…
Cute Love Story or Steamy Sexcapade?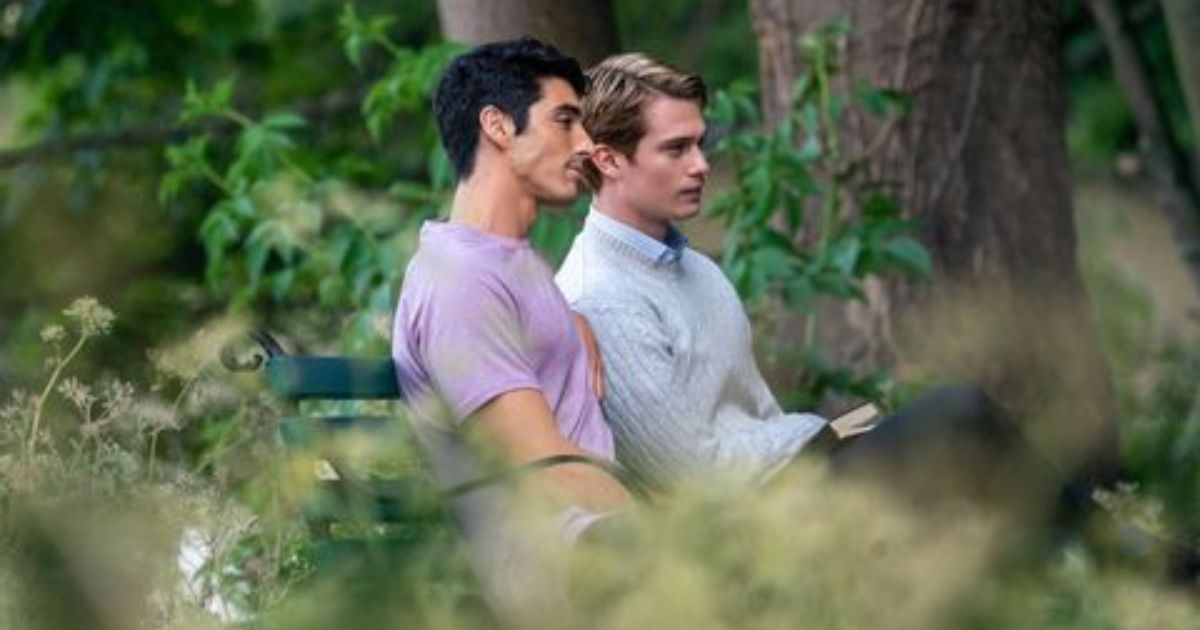 Other than that, however, the main problem is that Red, White & Royal Blue — the directorial debut of Tony Award winner Matthew López — tries to tackle too many rom-com clichés and subgenres all at once. Perhaps this kind of effort is best saved for the books, like the New York Times bestselling novel of the same name by Casey McQuiston, which serves as the film's source material.
Related: Best LGBTQ+ Movies You Can Watch on Prime Video Right Now, Ranked
The hard-R-rated sex scenes might throw off some adults who were in the mood to watch a fun rom-com with their kids — this serves as your fair warning. But both lead actors are likable enough, though the spotlight will always be stolen when Beatrix Kiddo — aka Uma Thurman — steps on screen. "We're gonna need some pizza," she tells her staff in a heartfelt mother-son scene where Alex wants to open up about his sexual awakening.
Another component of the movie that falters is the overall struggle to balance those slapstick laughs with romantically charged drama. Taylor Zakhar Perez shows promise as a comedic actor; you may recognize him from Minx and The Kissing Booth franchise. Nicholas Galitzine, however, comes off as a bit too melancholic for this project from time to time. He's a talented performer, and folks will know him from Cinderella (2021) and even the newer film, Bottoms. The two actors' on-screen chemistry definitely works, but they deserve a better rom-com that's taken in a more confident direction.
From Amazon Studios, Red, White & Royal Blue is now streaming on Prime Video.