Help us make Essential California serve you better. Take this survey.
Good morning, and welcome to the Essential California newsletter. It's Wednesday, Jan. 25.
In the span of eight days, a family home in the San Joaquin Valley, a popular dance hall in Monterey Park, mushroom farms near Half Moon Bay and a gas station in Oakland all became scenes of horrific gun violence.
Twenty-five people were killed and more than a dozen others wounded in four shootings across California — three of them mass shootings — that have left communities shocked, mourning the victims and looking for answers.
Last Monday, Jan. 16, in the rural community of Goshen, police said two shooters entered a family's home, hunting down and killing six people. A seventh person survived the attack.
Among the dead were an infant boy, his teen mother and the girl's grandmother. Authorities believe the executions were gang-related and have not yet made any arrests.
The victims were identified as:
Rosa Parraz, 72,
Eladio Parraz Jr., 52
Marcos Parraz, 19
Alissa Parraz, 16
Nycholas, 10 months old
Jennifer Analla, 50
In Monterey Park, family, friends and community members are mourning the deaths of 11 people at a well-known dance studio in the majority Asian L.A. suburb.
Shortly after a community Lunar New Year celebration ended Saturday night, a 72-year-old gunman went to the Star Ballroom Dance Studio and opened fire. Twenty people were shot and 11 of them died.
Times reporters are beginning to learn more about the victims from family and friends. Their names are:
Mymy Nhan, 65
Lilian Li, 63
Xiujuan Yu, 57
Hong Jian, 62
Muoi Ung, 67
Valentino Alvero, 68
Yu Lun Kao, 72
Chia Yau, 76
Wen Tau Yu, 64
Ming Wei Ma, 72
Diana Tom, 70
They loved to dance, many family members said. Some had immigrated to the U.S. years ago and settled in the San Gabriel Valley, a haven for many new Asian Americans.
Then Monday evening, news broke of another mass shooting in California — this one in the beach community Half Moon Bay, south of San Francisco.
A gunman opened fire at two agricultural businesses: Mountain Mushroom Farm along State Route 92, then the nearby Concord Farms. Seven people were killed and another person was wounded.
The San Mateo County coroner's office said two victims had been identified early Tuesday, but officials declined to release their names as they work to locate their families.
The suspected shooter, identified by officials as a 66-year-old man, was arrested after he was spotted parked outside a sheriff's station. Authorities said they found a semiautomatic handgun in his car, which they believe he used in the killings.
The gunman is a resident of Half Moon Bay and worked at the farm where the first shooting happened. He had a history of violent threats, according to court documents obtained by the Bay Area News Group. Investigators referred to the shootings as possible "workplace violence."
"This is tragic on multiple levels," San Mateo County Supervisor David Canepa said, noting that some of the victims were Chinese farmworkers.
"[It's] horrific that it's a Lunar New Year [and] you have people massacred both in Monterey Park and in the Half Moon Bay area," he said. "We should be celebrating, but instead we find ourselves — because of gun violence — burying innocent people."
Later that same day in Oakland, 40 to 50 people were gathered outside a gas station to record a music video when police say gunfire broke out among several shooters.
An 18-year-old, later identified as Mario Navarro, was killed and five people were wounded. Three other individuals were injured in car crashes as they fled the area.
There's a familiar cadence to the aftermath of mass shootings. We seek out the horrific details, we remember the victims, we show a grieving community, we profile the shooter, our leaders visit the scene, the gun debate flares up and the news cycle moves on — until the next mass shooting.
After learning about yet another senseless tragedy, I find myself confronting a range of emotions: anger, anxiety, numbness, a sort of hopeless immobility.
Maybe you've felt that way too.
While it in no way compares to the trauma the victims and their loved ones are going through right now, news coverage of mass shootings can create what experts call secondary and collective trauma. Times reporters previously spoke with some therapists about the impacts of that, plus some healthy ways to process and cope with so much tragedy in the news.
And now, here's what's happening across California:
Note: Some of the sites we link to may limit the number of stories you can access without subscribing.
L.A. STORIES
The city of L.A. plans to build a memorial marking the Chinese Massacre of 1871, a brutal mob attack that left 18 Chinese men dead — 10% of the city's Chinese population at that time. Six final design concepts are now in the running and a public Zoom meeting is being scheduled so Angelenos can weigh in. Los Angeles Times
Check out "The Times" podcast for essential news and more
These days, waking up to current events can be, well, daunting. If you're seeking a more balanced news diet, "The Times" podcast is for you. Gustavo Arellano, along with a diverse set of reporters from the award-winning L.A. Times newsroom, delivers the most interesting stories from the Los Angeles Times every Monday, Wednesday and Friday. Listen and subscribe wherever you get your podcasts.
POLITICS AND GOVERNMENT
L.A. Mayor Karen Bass and Bakersfield Rep. and newly elected House Speaker Kevin McCarthy are old political pals. Their friendship will be put to the test as the Democrat Bass seeks more federal help to address homelessness and McCarthy wrangles a right wing that's at ideological odds with deep blue cities. Los Angeles Times
How could charging for public restrooms affect the homeless crisis in downtown San Diego? City officials want the state to lift its ban on pay toilets, saying the revenue could help them open more safe, clean restrooms. Homeless advocates are conflicted on whether it's a good idea. San Diego Union-Tribune
HEALTH AND THE ENVIRONMENT
A wildlife camera captured a rare visitor in the southern Sierra: an endangered Sierra Nevada red fox. It's the first time the fox has been seen there since the 1930s, according to the California Department of Fish and Wildlife. San Francisco Chronicle
CALIFORNIA CULTURE
The 2023 Academy Award nominees are out. The multiverse mind-bender "Everything Everywhere All at Once" has the most nods with 11. Check out the full list, which includes some historical firsts. Los Angeles Times
Free online games
Get our free daily crossword puzzle, sudoku, word search and arcade games in our new game center at latimes.com/games.
AND FINALLY
Today's landmark love comes from Irvine resident Grant Hoag: Mt. Whitney in the Sierra Nevada.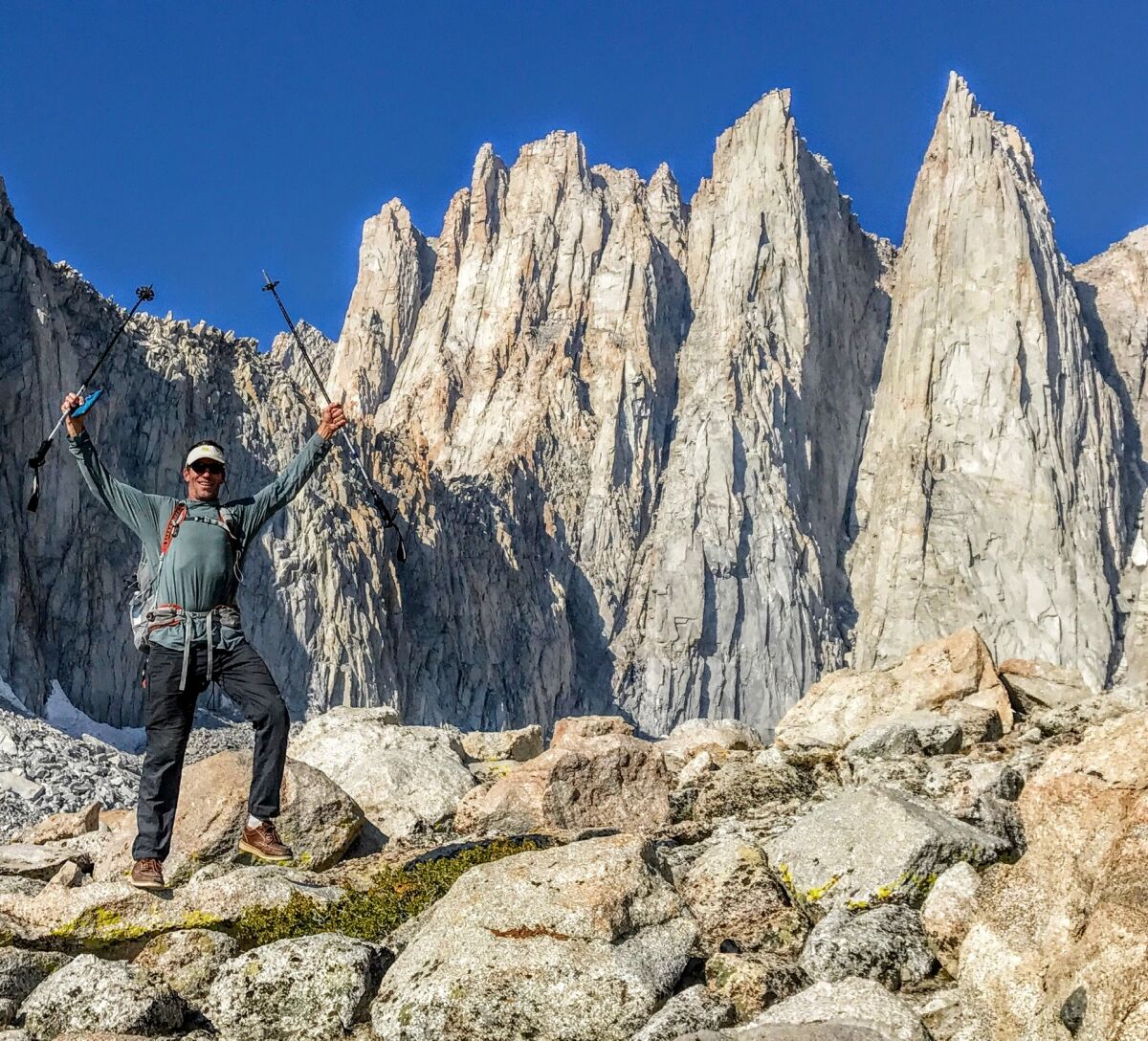 Grant writes:
Mt. Whitney, the highest peak in the lower 48, represents the geological splendor of the state. Climbing it is on the top ten of every American adventurer's bucket list.
What are California's essential landmarks? Fill out this form to send us your photos of a special spot in California — natural or human-made. Tell us why it's interesting and what makes it a symbol of life in the Golden State. Please be sure to include only photos taken directly by you. Your submission could be featured in a future edition of the newsletter.
Please let us know what we can do to make this newsletter more useful to you. Send comments to essentialcalifornia@latimes.com.