The idea must have sounded great on paper. Cull from popular Buzzfeed videos dubbed Puppyhood — cute yet manipulative — and make a film about an unlikely couple whom fate has drawn together. Make that two dogs. Let the tail-wagging begin. Thing is, in Amazon Freevee's new doggy rom-com, Puppy Love, there's not much to wag about. You want there to be, but alas, this dog has already been put to pasture 15 minutes in. The premise — one that has been used before countless times — could have worked if the story offered more than just a quirky meet cute that becomes incredibly predictable.
Still, if you're craving something sweet (to the point of inducing cavities) that feels plucked out of the 1990s rom-com cellar, then take this pup for a walk. In the meantime, let's see what went wrong (and the few things this film got right).
Dogs Fix Up Humans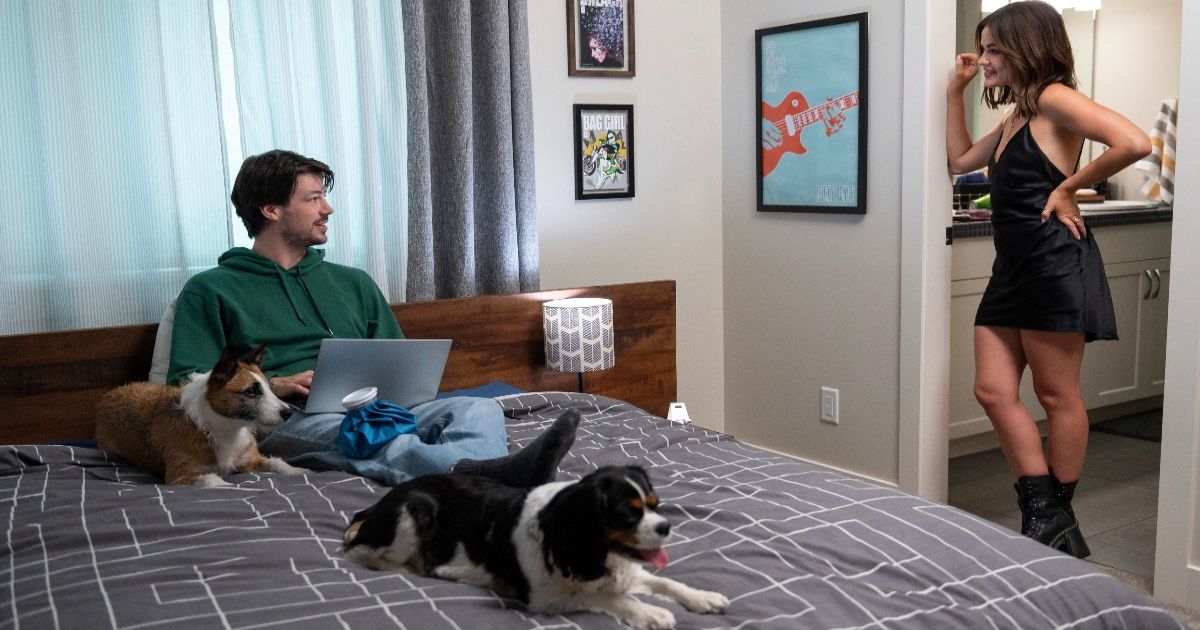 There ought to be a dating app out now that hooks people up based on the dogs they have. What a cash cow it must be. That would have been a more interesting take than the story we get in Puppy Love, which tracks two humans who wouldn't necessarily ever meet, somehow coming together. Because of their dogs.
Related: Grant Gustin's 5 Best Performances, Ranked
Meet Nicole (Lucy Hale of Pretty Little Liars and Scream 4) and Max (Grant Gustin of TV's The Flash). They are polar opposites in so many ways. Nicole is frenzied and living out the aftermath of her father's death. Art school swerved into a real estate gig where she helps stage high-end homes. Max has his own issues. He's anxiety-ridden and full of quirks, often avoiding the office to work from home as a computer programmer. Nicole is externally driven, Max internally focused. Their first date doesn't go well. They decide to lose each other's numbers, but what's this? Puppy power saves the day. Ish?
You see, Nicole and Max both have recently become pet owners. Max took in a dog to manage his anxiety; Nicole found a stray. The dogs (cutely named Channing Tatum and Chloe) seem to like each other, so much so, that during Nicole and Max's meeting, apparently doggy sparks fly and — what's this? — Chloe becomes pregnant. You can see where this is headed. Maybe we should have been paid to write this. Well, about those writers…
A Plot Without Spark. But Why?
Puppy Love was directed by Nick Fabiano (Other Dads) and Richard Alan Reid, who produced The Black Demon and Book of Love. Reid is also one of the five — yes, five — writers on board here. You'd think this team was producing Oppenheimer. That said, the writing team includes Greg Glienna, who was one of the writers behind Meet the Parents and Little Fockers. That sounds promising. Then there's Peter Stass, who took on Relative Strangers, which starred Kathy Bates. It's writer Kirsten Guenther's first outing here. Finally, there's Dan Scheinkman, who fueled My Fake Boyfriend.
Related: The Best Dog Movies of All Time
These writers may not be multi-Oscar winners, but they are talented. What appears to have gone wrong is too much tinkering, too many cooks (or dogs) in the kitchen. Fabiano's directing is fine, hitting all the creative marks the script suggests. But somewhere in the mix, it feels as is this writing team plucked plot devices from their previous films to create a dog-com mash-up. It doesn't work. We've experienced nearly every scene in this movie in other rom-coms.
Some good news: the delightful Lucy Hale and Grant Gustin do a fine job with the material they've been given. Hale tends to carry the movie, whether it's because of her character's forward-moving personality or the fact that Lucy Hale is a good actress. Gustin tends to be overshadowed by his costar. Still, the actors give it their best shot.
The biggest irony: These canines, bless their doggy hearts, lack — how does one say this? — on-screen doggy chemistry. This is no Marley & Me. Oh, forgive us father, for we have badmouthed acting canines. That's what it's come to. That said, like Nicole taking in a stray dog in this film, maybe we can do the same. Maybe it's okay to give a messy little beast a little love. So, tune in if you want to adopt this little runt for a couple of hours… but try not to tune out.
Puppy Love streams on Freevee beginning Aug. 18