It all begins with a simple yet hilarious mistake in Christmas on the Farm. Sort of. Frenzied New Yorker Emmy Jones (Poppy Montgomery) finds her recently deceased mother Clementine's journals after attending her funeral in Australia. Somehow, she weaves it into a book about getting back to nature on a blissful Queensland farm and, well, uses her mother's name.
To Emmy's surprise, the book is snatched up by a powerhouse New York publisher who suddenly wants to experience an authentic Australian—and, this is important—"Clementine" Christmas before signing the deal. Now what? Emmy races back to the family farm and ropes in her cousin David (Hugh Sheridan) and his husband Miles (Nicholas Brown) to help maintain the big ruse.
The catch? Publishing CEO Ellison London (Jeanette Cronin) brings her handsome adult son Jack (Darren McMullen). And if Jack somehow winds up remembering the night he met Emmy back in New York, the game is over.
As far as holiday movies go, Christmas on the Farm, is a keeper. It's breezy, festive, and funny. Directed by Christopher Weekes and written by Jennifer Notas Shapiro, the film is produced by Tracey Robertson, Nathan Mayfield, and Tracey Vieira. Montgomery (Without a Trace, Reef Break, Unforgettable) also serves as executive producer alongside Ruthanne Secunda and Jennifer Notas Shapiro.
The Genesis of the Project
MovieWeb: What a fun film. How did it all come together?
Poppy Montgomery: I came up with the story, and we all wrote it together. Actually, my mother passed away in 2019 in Australia on our family farm very unexpectedly. She went out to feed the horses and had a heart attack. It was so jarring. But what was just as jarring was that I inherited my mother's farm, where I never really fit in. So, the movie is true to life in that respect. The animals didn't like me, I was terrified of everything. I've become very Los Angeles, and much less Outback Farm. You know, jumping spiders and whatnot.
MW: Interesting. So that was the genesis of the project?
Poppy Montgomery: I came up with the idea with—I call him my gay husband and best friend—David and his husband, Michael, who are the characters of David [Hugh Sheridan] and Miles [Nicholas Brown] in the movie. I sent them to kind of take the farm over because I couldn't. They're very crafty and "Martha Stewart" and I'm not. And out of that came the movie. We wanted to do a tribute to my mother. So, the flashbacks of my character being with her mom…. all a lot of the dialogue is texts that my mom wrote me and things she said. It came out of that—what if this girl from America inherits a farm and must pretend she's Martha Stewart when she can't even boil an egg? That's the movie.
Related: Exclusive: Christmas with the Campbells Director and Star on Their Naughty but Nice Holiday Film
MW: Fun. And to be in Australia to do it.
Poppy Montgomery: It was good to get to show the Australian Christmas and what it's like there. Because it's summer there, you know, and in America, it's very snowy, very New Yorky. It's that magical. In Australia, it's 90 degrees with flies and mosquitoes and outdoor barbecues. It was good to get to show both worlds.
MW: What is your mother's name and was this experience cathartic for you?
Poppy Montgomery: Her name is Nicola. She was very British, but we'd moved to Australia when I was a kid. Originally, we'd written the film using New York and Vermont. And it just sort of happened that we couldn't shoot there when the pandemic hit, and we went to Australia and readapted the script to be completely like my life. Once I got there, it was a little overwhelming because I hadn't been to Australia since my mother died. And then we're filming a movie sort of about her. We started filming on the exact day of her memorial three years prior because we kept getting pushed due to the pandemic. So, it was cathartic, but it was also, "Wow, this is a romantic comedy, too." Yet it was kind of hardcore for me and there was a lot of emotion.
MW: Was it filmed on your family farm?
Poppy Montgomery: No. We shot in Brisbane and the Gold Coast. My farm is not that nice. That farm in the movie is really beautiful. That's like the Hollywood version of life.
Honoring Her Mother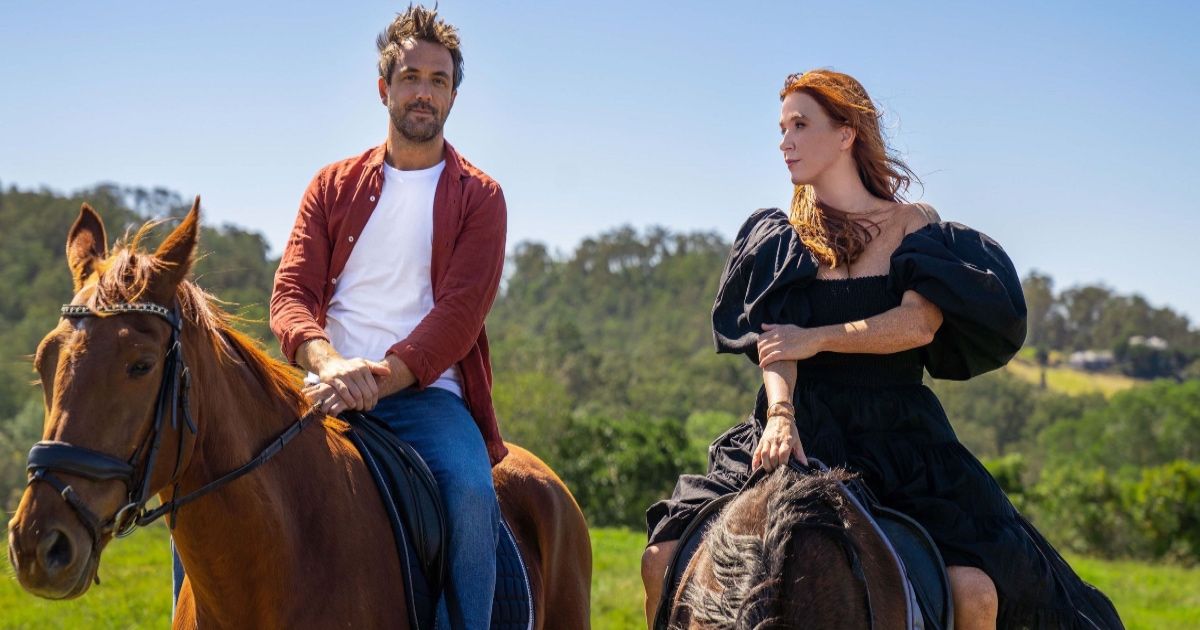 MW: Because your mother is such a big part of this, I'd love to ask you what bits of wisdom your mother imparted on you that stood out?
Poppy Montgomery: A lot of them are in the movie—the flashbacks, the words are from real texts. But my mother was the queen. She was very, you know, "pull yourself up by your bootstraps and get on with it." She'd do these things like, "I'm just gonna leave Sydney and buy a farm." And I was like, but you're from London." She gave me a sense of not being afraid to try something new—that if you have an instinct to try something, to really go after it, which is why I moved to America at 17. She gave me a sense of fearlessness, for sure.
Related: Lady Chatterley's Lover Review: A Smoldering Adaptation of the Classic Romance
MW: What do you think this film says about courage and the holidays?
Poppy Montgomery: For me, it's the idea of finding a home again, and how that place where you never really wanted to be or end up, sometimes forces you to go places you don't want to go. And yet it ends up being the very best thing for you. That's an ongoing theme in my life. I keep getting put into positions I think I don't want, then it ends up being wonderful. That's big in Christmas on the Farm… it's The Wizard of Oz, you know? Where you go, "Oh, this was home all along."
MW: What else stands out for you about the story?
Poppy Montgomery: I like that Emmy's family is unusual—that sort of extended family. She hires this kid and brings in these people and they form this makeshift family. I like the idea that people who don't have big families, and who feel alone during the holidays, can just find a group or even a ragtag group, and form your own weird little world. This is a Christmas movie, but it's also about loss, then finding yourself again.
Christmas on the Farm, A Stan Original Film, premiered on December 1 on Hulu.