Movies about movies are reliably engaging, especially for all those cinephiles and real-life filmmakers out there. They offer an insightful look into certain Hollywood professionals' line of work and how they go about contributing to the end result in their own unique, artistic way. That includes Foley artists, who are responsible for creatively capturing and reproducing sound effects that accompany the film's visual components to achieve a satisfying, robust moving image.
Piaffe, the new German-language experimental feature from acclaimed artist and filmmaker Ann Oren follows a sexually charged Foley artist named Eva (Simone Bucio) on an epic quest to capture the necessary audio for a product commercial involving a horse. We won't give away much, but during this head-spinning process, Eva lures in a seemingly unassuming botanist named Novak (Sebastian Rudolph). She also begins taking on a unique new physicality that calls attention to the graceful horse whose sounds she's trying to reproduce on-screen. It's experimental cinema at its finest and a can't-miss for movie buffs everywhere.
We recently caught up with Oren to learn more about her film that explores themes of control and gender. She opened up about the challenges of shooting on 16mm film, her other exciting projects in the works and more.
'The Psychology Between Riders and Horses'
They say, "write what you know." Given her extensive filmmaking experience and knowledge of various fields of study such as botany and horse riding, Piaffe co-writer and director Ann Oren had plenty to draw on in crafting her latest feature about Eva, a Foley artist in distress.
"When I was a student, I tried to do some animations in my past and to do animations using Foley, so I experimented with it. And then I think with Foley, it's very do-it-yourself," Oren told MovieWeb. She continued:
"And the fact that it's hand work gives it something very, very personal, very intimate, even if the sound quality in the end is not so good. So I played with this… and I visited Foley studios. And I saw how these people work and how animated they are and how they get into the character of whatever it is on-screen. And I think it's amazing because there are a lot of people that don't even know that this profession exists. And I think that they are these silent magicians that are working in order to enhance the element in the film."
Oren also commented on how horse riding came to be a prominent component of Piaffe:
I was interested in the psychology between riders and horses, and especially the connection between women and horses. If you go to horse stables, you mostly see women there.
"And there is a sociologist, Jean O'Malley, that wrote this book, Horse Crazy, and she interviewed a lot of horsey girls, and she looked at the normativity in women through their connections. Because they're caretakers and, at the same time, leaders of the horse," continued Oren. "They're caretakers because riding horses is an expensive hobby. So a lot of girls get into it by taking care of somebody's horse, being a groom, and then slowly, they get a chance to ride the horse."
And this kind of psychology between rider and horse was something that really interested me, and I wanted to bring that into the relationship that [the main character] Eva has with herself and then later with other characters.
Related: Bad Things Review: Kubrick Shines Through a New Female-Driven Thriller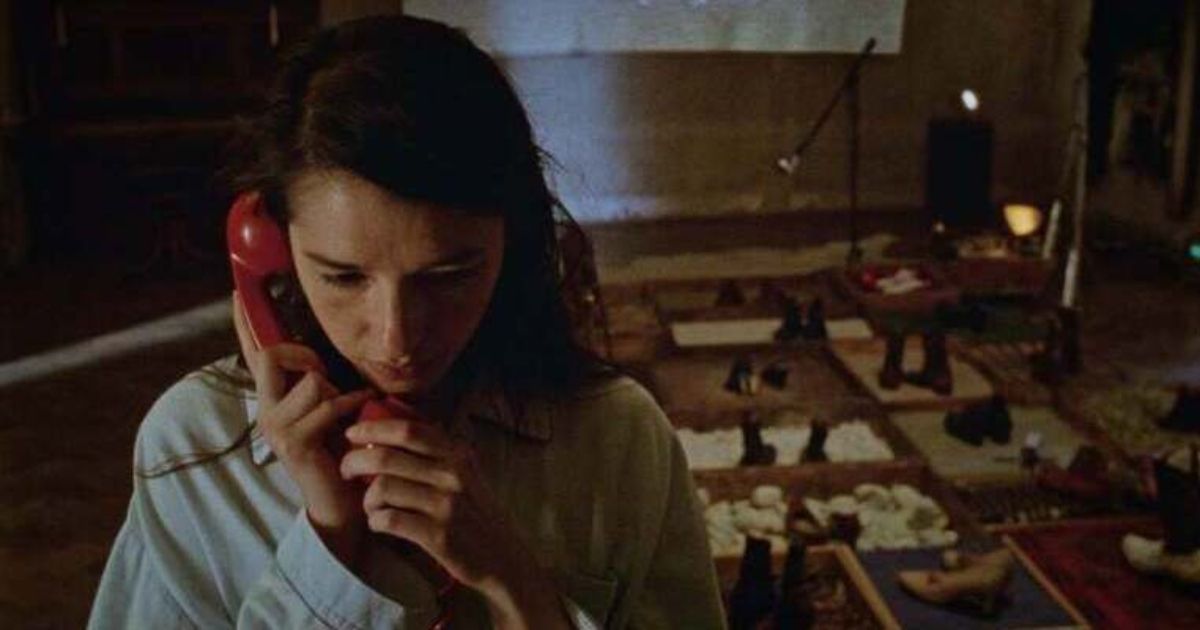 And what about Novak, that botanist Eva stumbles upon amid this epic journey of discovery? The character's unique profession was no accident; the whole character is designed in a way that relates to Eva's own horse-like physicality that she takes on in tackling her Foley artist challenges. "It was very important for me that the character is going to have an element of human, animal, and plant," said Oren. She continued:
"So I thought that because [Eva] doesn't move a lot, she doesn't talk a lot, I thought it would be really interesting that a botanist would fall in love with her because they have desire [and interest in plants], but plants aren't moving so much, or they're moving through the light, they don't have arms and legs. And I imagined this charm between them in a way to bring in the plant world into the film."
"And I was looking originally for plants that would have this coil because a horse, when they're in full submission in dressage riding, it's called "on the bit," and they curl their head down, which looks like friendship, and it means that the rider can release the tension in the mouth of the horse, and then the horse commits to react to the rider, so the rider can much more elegantly control it. And this is how you have this kind of like elegant dance. So I was looking for a plant that would have this shape."
And when I learned about the ferns, that they're self-fertilizing hermaphrodites, they reproduce in two stages […] And I thought it's very interesting to create a parallel between that and between Eva's body. I mean, she's also interspecies in the end; she's intersex and interspecies.
The Beauty and Challenges of Shooting on Film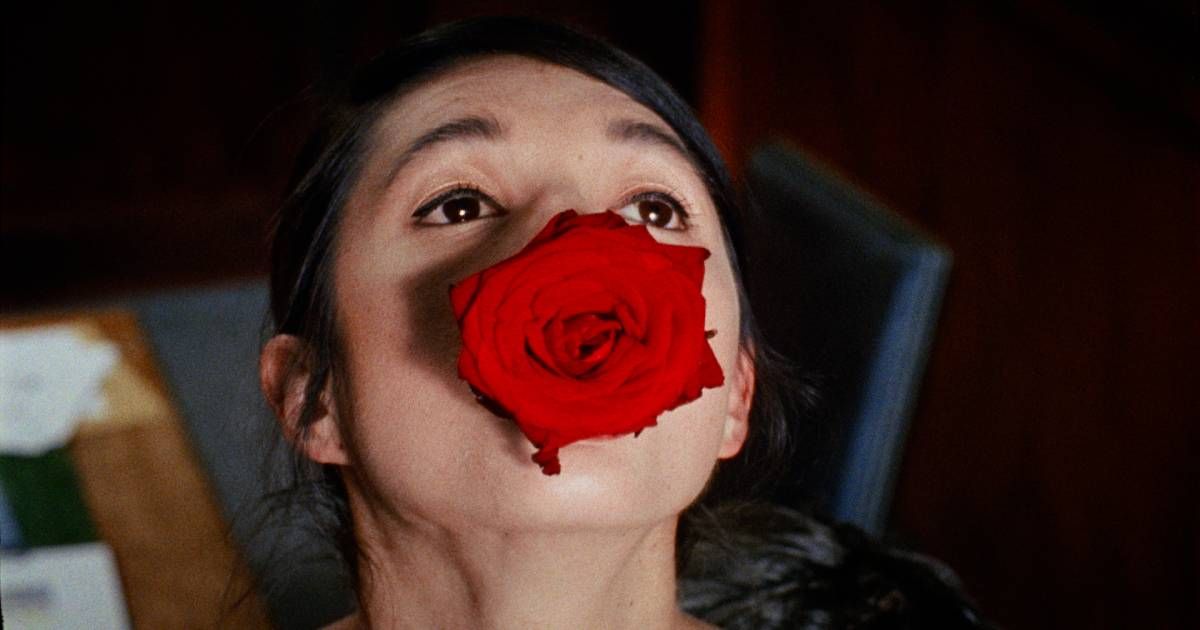 As pictured above, there's a memorable sequence involving a rose that really solidifies Eva's sexual awakening as she becomes more drawn to Novak the botanist. It's composed of many different camera angles, as Oren told us, and they even had a shrubbery master on set to really achieve an authentic look. This was Oren's most challenging scene to shoot.
Another that came to mind involved a drone shot of the horseshoe colony in the film. The kicker? Piaffe is shot entirely on 16mm film, so the drone she used was "huge" and "made a lot of noise." But the lush look of film is perfect for a project like Piaffe. "When you make a film where you want a very visceral feel, you can't really do it with digital," said Oren.
Related: 5 Great Experimental Films Everyone Should See
Piaffe is actually part of a unique trilogy of sorts and serves as the second in the series. The first film was a short, as will be the upcoming third installment. The rest of her filmmaking career has been much more academic and multimedia:
I'm an artist, but I was always working with the moving images. I studied film, so I did video installations, which have multiple screens using found footage to create a new video animation, all kinds of experimentation, documentaries, but not a narrative film.
"So right before I made Piaffe, I made a film that is kind of in the trilogy, it was a video version called Passage that features Zara's character [from Piaffe]… It was in Slamdance; we got Best Experimental Short Film," continued Oren. She added:
But I actually intended it as an installation. So it was exhibited in KINDL, which is a contemporary art space in Berlin, and I had installed [barn] hay behind the screen, so you don't see it, you smell it. And there were these old cinema benches that I reupholstered in leather. So you kind of feel like you're together with the character through your other senses.
In addition to working on the "sequel" to Piaffe, Oren is also writing her next feature film. But for now, she continues to travel with Piaffe, a film worth traveling for.
From Oscilloscope Laboratories, Piaffe is now playing in New York at The Quad Cinema and will play in Los Angeles on September 15 at Landmark's Nuart Theatre.