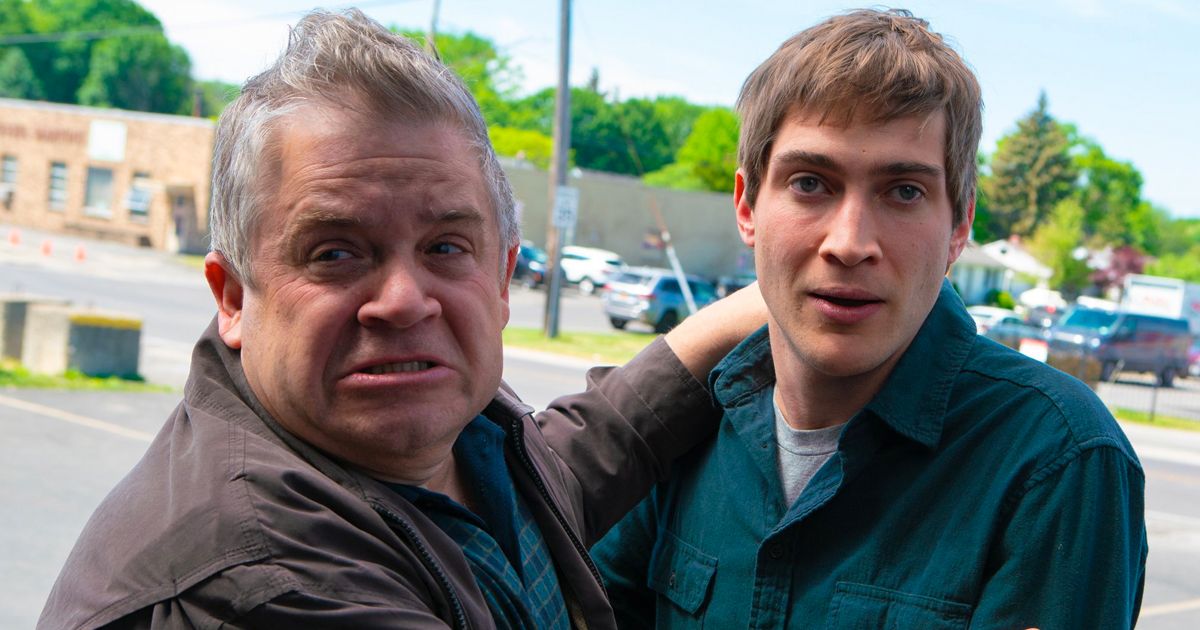 An absentee father and compulsive liar catfishes his troubled son after being blocked. I Love My Dad will have you cringing between bouts of raucous laughter. The lengths a parent will go, even an admittedly poor one, to help their child is explored in darkly comic creative detail. Writer, director, and star James Morosini tells a crazy story with clever editing and a surprisingly affecting script. I Love My Dad also paints a truthful picture about loneliness and depression. Finding companionship online replaces a vacuum with hope. That's if your kindred spirit is actually who they purport to be.
Patton Oswalt stars as Chuck Green, a divorced father who perennially disappoints his son. Chuck has missed Franklin's (Morosini) birthdays and graduations with lame excuses. He always has a pathetic reason for failing to show up. Franklin struggles with depression and suicidal thoughts. His mother, Diane (Amy Landecker), has cut Chuck out of her life. Franklin decides to do the same and cease all contact with his father.
Chuck complains about being ghosted by his son to a coworker. Jimmy (Lil Rel Howery) advises to just create a fake profile to follow Franklin online. He can keep track of his son's life from afar. Chuck decides to copy the social media profile of Becca (Claudia Sulewski), a cute waitress at his local diner. Franklin is initially skeptical of the random friend request but quickly swoons over a beautiful girl's attention. Chuck ups the catfishing ante with elaborate tricks to get close to his son. He becomes too successful as a smitten Franklin wants to meet Becca in person.
Related: Not Okay Review: Abhorrent Satire of Social Media Falls Flat
Morosini Hits a Home Run
Morosini hits a home run with his staging of the deception. Franklin pretends to see Becca when he texts or online chats with her. She's everything he's always wanted in his imagination. Chuck uses the fake Becca persona to try and overcome his past failures as a father. Franklin, painfully reserved and shy, feels a human connection for the first time. Morosini's editing is quite brilliant here. Franklin stares blissfully at the gorgeous Becca, then the scene cuts to Chuck pounding away on his burner phone. The timing is perfect and adds to the utter creepiness of Chuck's scheme.
Lil Rel Howery and Rachel Dratch, who plays Chuck's raunchy girlfriend and boss, nearly steal the show. They're the concerned onlookers watching in horror at the impending train crash. I almost fell out of my chair laughing at their stupefied responses to Chuck's brazenness. They constantly remind him that he's gone too far. Patton Oswalt is in peak comedic form. He's fantastic juggling multiple cell phones discreetly in Franklin's presence. You'll blink in disbelief as the digital romance gets hot and heavy.
I Love My Dad always comes from a sweet place. This year's SXSW Grand Jury and Audience Award winner for Narrative Feature never has ugly intentions. Franklin isn't being fooled by someone who wants to hurt him. Chuck is genuinely concerned for his son's welfare. The poop does hit the fan when the jig spectacularly blows up. The climax lobs a grenade of awkward embarrassment. I don't think I could ever forgive being catfished. You'll have to watch and find out Franklin's reaction.
I Love My Dad is a production of Hantz Motion Pictures, Atlas Industries, Burn Later Productions, and American High. It will have a theatrical release on August 5th. Followed by a streaming debut on August 12th from Magnolia Pictures.