Meet Brianna Jackson, a 16-year-old gifted rapper who attempts to take the battle scene by storm to lift up her family and the legacy of her father — a local hip hop legend whose career was cut short by gang violence. But when her first hit song goes viral for all the wrong reasons, she finds herself torn between the authenticity that brought her fame and the false persona that the industry wants to impose upon her.
That's the premise of On the Come Up, which is based on the New York Times' best-selling novel by Angie Thomas. The Paramount+ film, now available for purchase on digital and will release on DVD on February 14, is directed by Hollywood staple Sanaa Lathan (Love & Basketball, Succession), who also co-stars as Brianna's mom. Lil Yachty, Method Man, Mike Epps, Rapsody and Da'Vine Joy Randolph co-star in a stacked cast, among others. But we recently caught up with the film's central star, Jamila C. Gray, who plays the embattled protagonist Brianna.
Films about young musicians and rappers are typically gripping and capable of reaching a wide audience. It was just announced, for example, that Eminem's 8 Mile will now be adapted for television. In our interview for a more recent rap film, On the Come Up, Gray dished on working with Hollywood staples and her own music career.
Rapping and Working with Hollywood Veterans
MW: What was it about On the Come Up that attracted you to the project?
Jamila C. Gray: Sometimes, when you're doing auditions, you love them because you get them, to get auditions. But I think with this one, it was just honestly a feeling. I read it, and I was like, "Oh my gosh, I like this character. I feel like this girl." Something about the script, in the writing, felt familiar to me. And that's what attracted me to it. And I didn't know that it was going to be mine. So I'm blessed that it ended up going that way.
MW: What was it like working with Sanaa Lathan?
Gray: It was really great. She taught me so much. It's great that I'm still in cahoots with her today. I feel like we formed a great relationship during and after the film. And she's been such a mentor from the very beginning. She allowed us to come in and rehearse before we started filming, which usually doesn't happen on a film set. So yeah, it was a really great experience working with her.
Related: Succession: Where You've Seen the Actors Before
MW: On the Come Up is a drama film, but there are also a lot of fun scenes in it. What was your favorite scene to shoot, or favorite moment on set?
Gray: I have a few. One of them would, of course, be the final battle rap scene that we did. I loved that day. It was so much fun. And there was a lot of good energy from everybody in the room, including the extras, who were really involved in and really enjoying everybody's performance. And also, the house scene with Method Man, when I went to visit him and talk business — I don't know why, that day was just so much fun. It was a cool house.
MW: What was it like working with Method Man?
Gray: He was really cool. He was a really cool guy. He came prepared. He took everything serious, which was really cool to see. And he did his thing. And of course, I feel like there was a lot to learn from everybody. And I feel like there was a lot to learn from him. And yeah, he did his thing. He was really fun to work with.
MW: Were any of your character's rap lyrics improvised by you?
Gray: They were all scripted. I did work closely with Rapsody. She wrote most of the rap battles. I worked kind of closely with her. And she would ask me, "Well, what do you think of this? What do you think of that?" So I would like to say that I did have a little bit of involvement in the writing of the bars. But I would definitely say that was mostly Rapsody with Sanaa's approval.
Preparing for the Role and Working in Music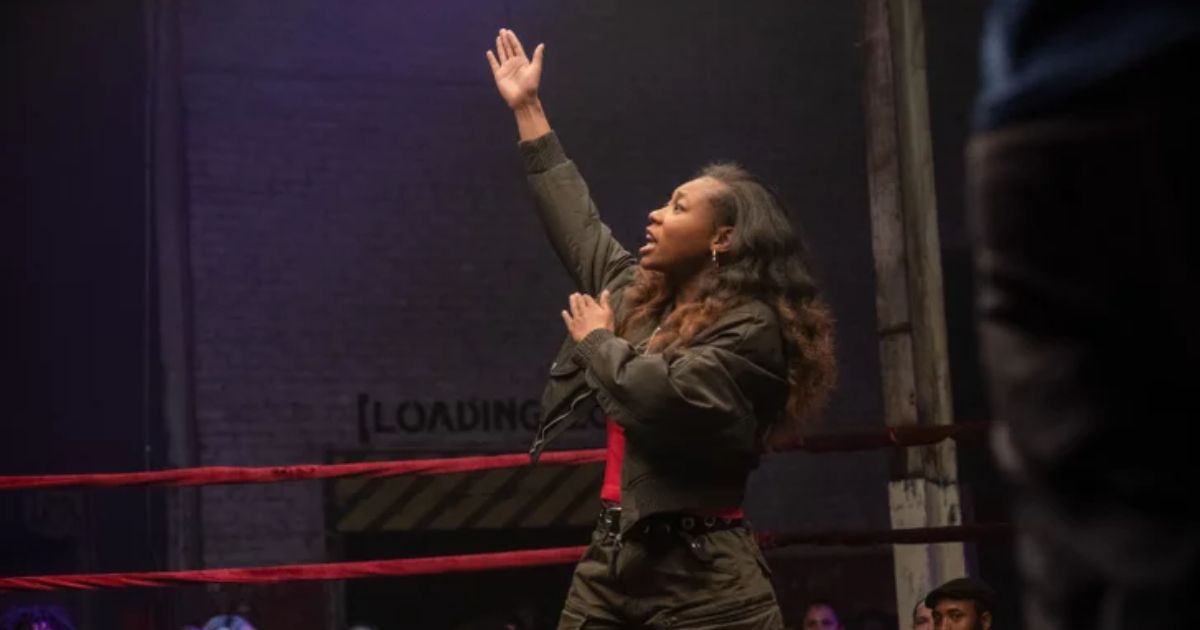 MW: In preparing to play your character, did you draw on any personal experiences?
Gray: Yeah, I had a friend at the time who had a parent who was addicted, but her father passed away very young for similar reasons. So I would talk to her a lot about, "OK, how did this impact you emotionally, them passing away? How do you view him now? Was there resentment, because of the way that he passed away, toward him?" And she would help me a lot in building Brie. And based on her own experience, I brought a lot from her… I would go on YouTube and watch this girl's blog. I can't think of her name at the moment, but her parent was a former heroin addict. So I would watch her emote on YouTube. Even though I had never experienced it, most of acting is empathy. So I would empathize with it and use that to play Brie accurately.
MW: Do you have an interest in a music career in addition to your acting?
Gray: 100%. I had been heavily involved in music before I got the role. I'm actually a DJ. I produce and make beats as well.
On the Come Up is available now.