From Crazy Rich Asians to just "crazy good," Joy Ride is the best comedic ensemble film since Bridesmaids and The Hangover, and swings the pendulum so far opposite from almost any mainstream Asian narrative you've seen before.
Joy Ride follows four unlikely friends — Asian American adoptee Audrey (Ashley Park, Emily in Paris, "The Responsible One"), her longtime best friend, Lolo (Sherry Cola, Good Trouble, "The Mouthy One"), Lolo's eccentric cousin, Deadeye (standup comedian Sabrina Wu, "The Chaotic One"), and Chinese soap opera star Kat (Oscar nominee Stephanie Hsu, Everything Everywhere All at Once, "The Sorta Famous One") — on an international adventure turned sideways.
Loosely based off actual "hot mess friends," screenwriters Cherry Chevapravatdumrong (Family Guy) and Teresa Hsiao (Awkwafina Is Nora From Queens) penned the script for Crazy Rich Asians co-screenwriter Adele Lim in her directorial debut here.
The film also stars Ronny Chieng (Crazy Rich Asians), Lori Tan Chinn (Awkwafina is Nora From Queens), David Denman (Greenland), and "thirst traps" Desmond Chiam (The Falcon and the Winter Solider), Alexander Hodge (Insecure), and Chris Pang (Crazy Rich Asians).
Adele Lim on the Joyful Ride of Her Directorial Debut
After co-writing the screenplay for the Disney animated film Raya and the Last Dragon, Adele Lim shared during the Joy Ride SXSW premiere that she just wanted to "tell dick jokes."
Cherry, Teresa, and I would go out to dinner, shoot the sh*t, and talk about all our messed-up, thirsty, ridiculous friends. One day, we were cracking ourselves up, thinking that we need to write a movie about this. We don't know who's going to want to make this, but it'll make us happy.
Lim, Chevapratdumrong, and Hsiao would quickly learn that their story made other people laugh nonstop, too, and found producing partners in Seth Rogen and Evan Goldberg at Point Grey Pictures. Lim was approached to direct shortly after Lionsgate signed on to produce and distribute the film.
Stephanie Hsu Goes from Joy to Joy Ride
Beyond the over-the-top, laugh-out-loud, road trip genre movie filled back-to-back with delightfully cringe-worthy and raunchy moments in a solid 92 minutes, Joy Ride also carries a heartfelt story of friendships, identity, and belonging along the way that all audiences can enjoy. Well, the jury is still out on whether their grandmother should see the film, shared Hsu, who also recounts the wild journey premiering Joy Ride at SXSW just five days after Everything Everywhere All at Once swept the Oscars, in our MovieWeb interview:
That was just wild to see how much has happened in a year. The fact that Everything Everywhere All At Once did win an Oscar and had the year that it had, it almost feels perfect that something like Joy Ride is hitting our screens because it completely swings the pendulum in the other direction, and breaks open the box that feels so exhilarating. Yeah, we can do prestige, but we can also have a freaking good time and make you laugh.
The Emergence of Asian Americans in Popular Film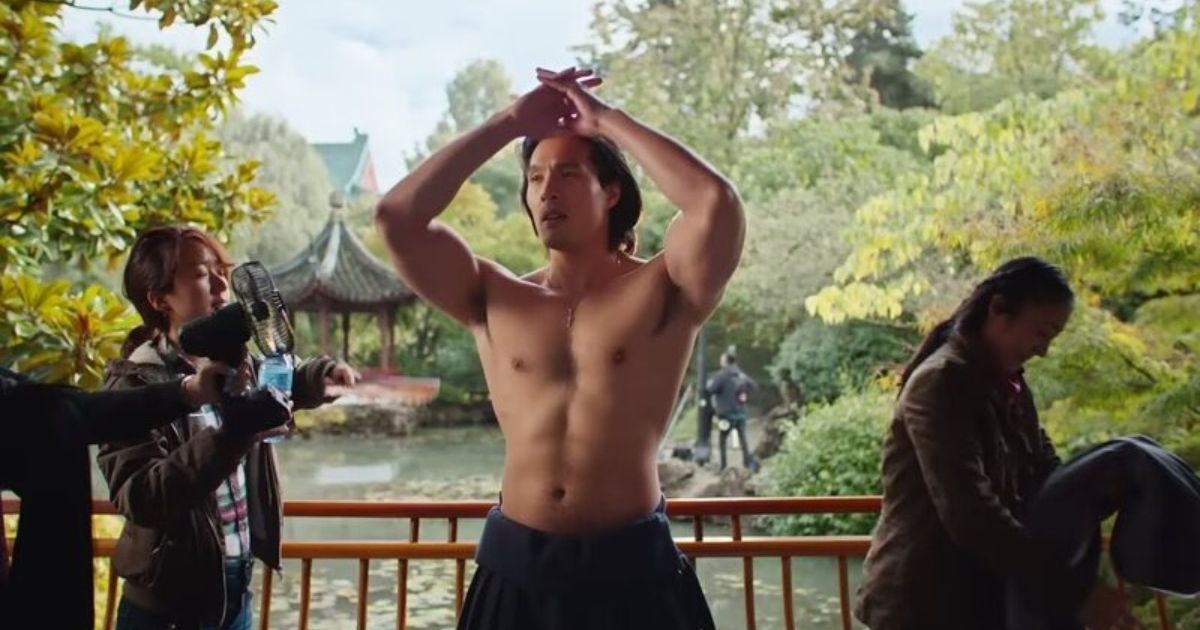 For a long time, the Asian community has had very little to reference when it comes to a diversity of blockbuster hits. So little, in fact, that there's oftentimes the pressure for every film centering on a majority Asian cast to be Oscar-worthy "good" or needing to "represent" without flaws. There's also this prayer that happens right as moviegoers in the AANHPI community sit down to watch a film: "Dear God, please let this be a good film." If anything, this should prove to Hollywood that stories surrounding the Asian Diaspora are bankable.
Related: Best Asian-American Movies to Watch on Netflix
As an Asian American woman in particular, I've been wanting to see more representation other than the exhausting plethora of "wealthy Asians" content that followed Crazy Rich Asians in 2018, or the impact Everything Everywhere All at Once (rightfully) had both culturally and cinematically very recently. I personally have been wanting to see Asian womxn break free from stereotypical "submissive" and "timid" roles, whether they concern filial piety and "saving face," or unhinged and hilarious versions of themselves. And girl, does Joy Ride deliver.
This film allows and encourages four incredibly talented individuals, who have mostly played supporting characters on popular TV shows (The Marvelous Mrs. Maisel, Emily in Paris, Good Trouble), to take up space, front and center, as leads. From consuming and shoving copious amounts of drugs in places where the sun don't shine to scoring (sexually) with an entire basketball team led by Baron Davis, this film is an instant R-rated classic with cultural twists (and surprise guests) that puts unapologetically messy, chaotic, funny, and raunchy womxn at the forefront.
Sherry Cola and Ashley Park Hopes Joy Ride is Just the Start of the Conversation
Besides all the wild fun that happens throughout the film, friendship and belonging are major themes that keep the story well-balanced, namely with Cola and Park's characters Lolo and Audrey, as the film kicks off with how they instantly become best friends over the racist adversity of being called "ching-chongs" by a young boy on the playground. In response, young Lolo punches him square in the face, almost intentionally signifying that Joy Ride is about to be very different from what you expected, and these characters are about to proceed accordingly.
Related: The Rise of Asian Directors and Film in Hollywood
Regarding what Park hopes Joy Ride adds to the mix:
As much as we talk about breaking down barriers, or [Joy Ride] being the first of its kind, I hope that it's just the start of the conversation, you know?
On a personal note, after interviewing and covering so many stories within the Asian American community for the past 13 years, it brings me so much joy to finally see a film like Joy Ride hit the big screen to be enjoyed by all audiences. As Hsu says, it's a giant pendulum push in the right direction that opens up the conversation for additional stories, of all kinds, to be told, and I'm here for it.
Grab your friend group and watch Joy Ride in theaters everywhere, July 7th.