Summary
Writer/director Nicholas Maggio made the action thriller Mob Land for his 13-year-old self, inspired by independent films of the 1990s.
Maggio was inspired to create the story after meeting guys in northern Alabama who were avid muscle cars fans and documenting their lives.
John Travolta plays a beleaguered sheriff caught in the crossfire of a revenge-seeking mafia in the film, which pays homage to the American neo-noir genre.
Here's a case for catharsis through creativity. Writer/director Nicholas Maggio made the new John Travolta action thriller Mob Land for his 13-year-old self. "I was 13 and in my friend's basement in Pennsylvania, and we got a copy of the VHS for Reservoir Dogs," Maggio admitted. "I remember having my mind just absolutely blown that this was all possible. I didn't know that film because I grew up with my dad. We watched Ben-Hur and Lawrence of Arabia. We didn't watch French Connection or Bullet. I had never seen this gritty kind of film before.
"That's when I fell in love with filmmaking," he quickly added. "I fell in love with what film could be, especially the independent films of the 1990s." Decades later, Maggio has given birth to a gritty action-packed tale, which he co-wrote with Rob Healy.
The story takes place deep in the heart of Dixie, where a small town is struggling with a rise in addiction. An intrepid sheriff (John Travolta) keeps things in check as best as he can, but when Shelby, a frenetic family man (Shiloh Fernandez of Evil Dead) robs a pill mill with Trey (Kevin Dillon of Entourage), his reckless brother-in-law, things turn dire. The New Orleans mafia enters the picture, and the action kicks up. Nicholas Maggio shared more about the film with MovieWeb. Read on.
A Story Inspired By Real Life?
Curiously, Nicholas Maggio was inspired to create the tale, thanks to an unconventional encounter about seven years ago. An avid muscle cars fan, he found several guys on Instagram who shared the same interest. They were located in the northern part of Alabama.
"They were all about driving these old beat up muscle cars and I had never met them. I didn't know anything about them. So, I hit them up on Instagram, and said, 'Hey, I want to come down and take photos of you guys.' So literally, a buddy of mine in New York met me in Alabama, and we ended up becoming very good friends with these guys. And we documented their lives for four or five days."
Maggio loved the area — both his parents were born and raised in Mississippi — and he found northern Alabama intriguing. "It wasn't totally new to me, but it was a side I hadn't seen before. And they were taking me to all these small towns where they're from. So, I knew I wanted to write a story that revolved somewhat around these guys, and this idea of what the American Dream is, and what it means to them. It's definitely fictionalized, and I ran with it. I mean, my buddies in north Alabama are not hooked on pills and run clinics. But it is something that, you know, they probably have friends who do."
Related: John Travolta's Best Movies, Ranked
John Travolta Caught in the Crossfire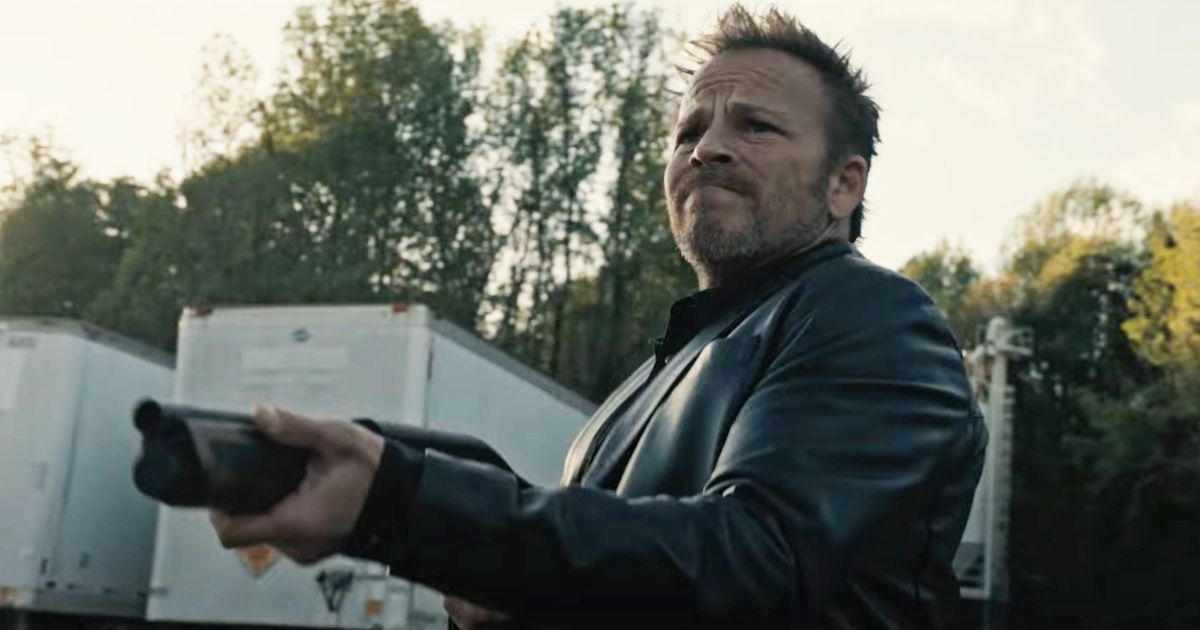 Between Paradise City and Die Hart, it's been interesting to track Travolta's career choices of late. Regardless, there's a fascinating sense of ownership and power in what the Grease and Pulp Fiction star brings to the screen in Mob Land. Once the action gets rolling, audiences discover that the man fueling the New Orleans mafia twist here is a revenge-seeking brute (Stephen Dorff of Blade, Old Henry), who soon threatens Shelby's wife (Ashley Benson of Pretty Little Liars) and daughter. Travolta's beleaguered sheriff has to rise to the occasion.
"John read the script, and he expressed to me that it was something he could see himself doing," Maggio says. "I had a couple of conversations with John and as a first-time director, I think some people grilled me a little bit, wanting to know things. I got very different questions from everyone. But John wanted to know what I was going to do with the film, and why I wanted to make it."
He was pretty interested in not just the technical aspect of what I was going to do, he was more interested in why and what it meant to me, which is really fun. But once he was involved, I mean, we tore through it.
Related: The Most Essential John Travolta Moments in Movies, Ranked
Along the way, Maggio kept recalling his younger self, and why it was important for him to make a film that was, in some ways, a throwback to those 1990s action movies.
"That whole scene, the whole genre, all the great films that we got out of that era was incredible," he said. "For Mob Land, I wanted to do not just a love letter to the American neo-noir genre, but to the independent film spirit. I wanted it linear, simple, you know… filled with great characters. I wanted it to be defined by its protagonists and antagonists. Brutal and poetic."
Mob Land, from Saban Films, will hit theaters on Aug. 4.