A married couple (Jermaine Fowler, Anna Conkle) deal with the aftermath of dropping a baby at a friend's wedding.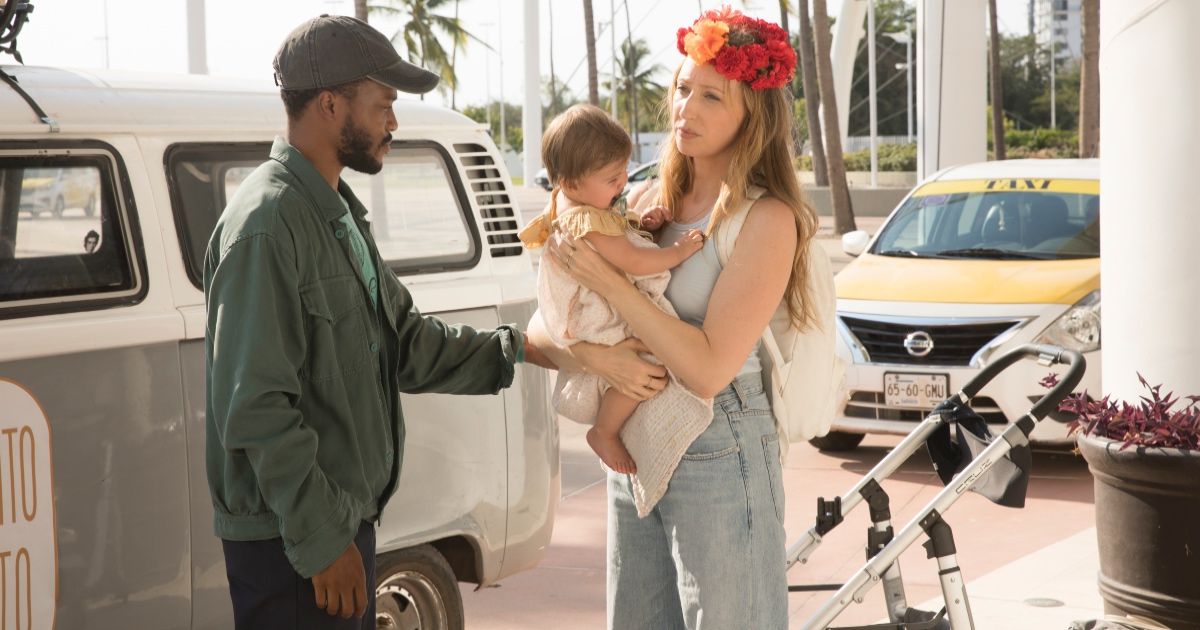 A married couple trying to conceive face crisis after an accident at a friend's tropical wedding. The Drop runs intimacy, relationships, and family planning through a comedic grinder. It takes a while to identify each supporting character, but you're laughing hysterically the whole time. Wackiness compounds as long-held insecurities erupt at the worst possible time. It doesn't help that the group were all previously intimate to varying degrees. The resulting chaos leaves the protagonists pondering their future together. The film gets convoluted but delivers biting humor.
Los Angeles bakery shop owners Mani (Jermaine Fowler) and Lex (Anna Conkle) look forward to starting a family. They're on their way to the airport, heading to Mexico for a dear friend's wedding. Mia (Aparna Nancherla), who once dated Lex, is marrying Peggy (Jennifer Lafleur). They already have an infant daughter. Mia has strangely requested that Lex write their wedding vows.
The flight introduces the obnoxious Shauna (Robin Thede), her jerk husband Robbie (Utkarsh Ambudkar), and their perverted adopted son Levi (Elisha Henig). The gang is met at the airport by hippie naturalists Josh (Joshua Leonard) and Lindsey (Jillian Bell). They own the resort where the nuptials will take place.
Lex Drops the Baby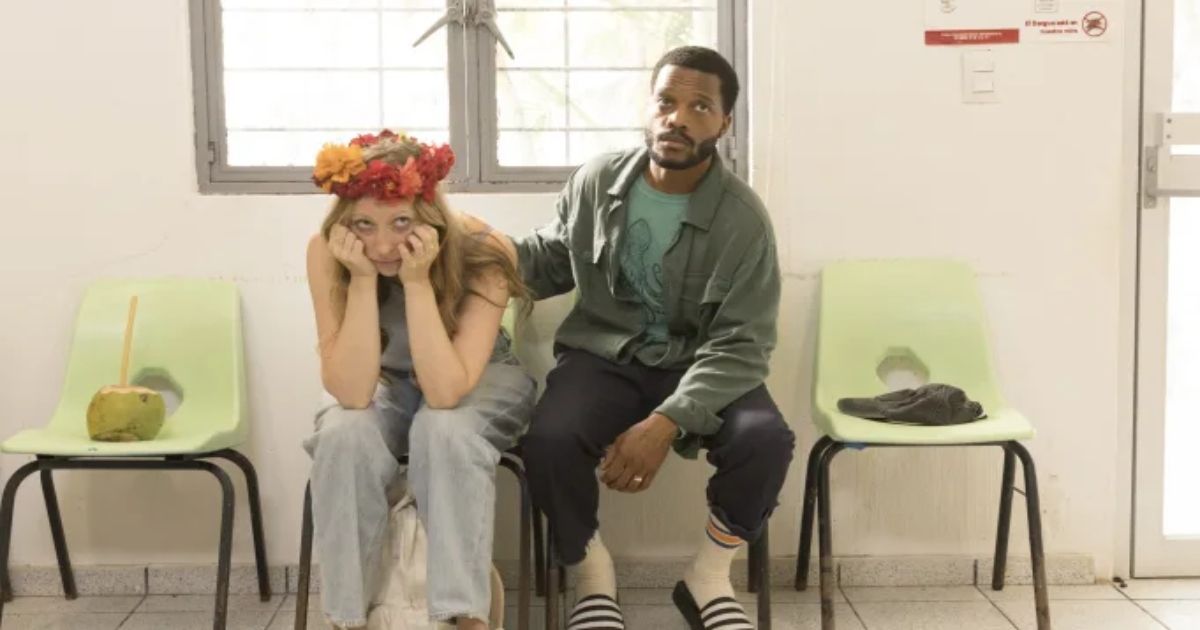 Mia hands her baby to Lex. She and Mani share a loving moment as they sample their dream. Happiness turns to horror when Lex drops the baby with a thud. Later in the hospital, Lex is utterly devastated. What kind of mother can she be if holding a baby is problematic? Mia's absolutely furious at her bestie and former lover. It turns out that Lex also dated Robbie and Josh, who each have weird issues with their partners. As everyone reconvenes at the lush villas, Lex and Mani struggle in the aftermath.
Related: Night Court Review: A Classic Sitcom Comes Back but Stays the Same
Director/co-writer Sarah Adina Smith (Birds of Paradise, Hanna) weaves the cast together like a neon tapestry. Everyone has eccentric personalities that end up instigating further conflicts. For example, Mia brings her gun to the wedding. This bothers Peggy who, gasp, thinks her future wife and mother to their child might be a closet Republican. This is just a snippet of the complications that engulf the characters. It's a lot to process but never fails to entertain.
Substantive Roots Amidst Madness
The primary arc between Mani and Lex has substantive roots amidst the madness. Lex's guilt at her awful mistake forces serious introspection. Does she actually want children? Mani loves his wife but is overcome by the situation and their bonkers friends. The Drop's best moments have the leads bumbling toward a collective realization.
Smith uses crashing waves imagery with soaring orchestral accompaniments to frame the narrative. Her point being that the hits keep on coming whether you're prepared for disaster or not. This approach works initially before losing the desired effect.
The Drop has a lot going on in a short amount of time. Some may get lost in the narrative avalanche. The naughty bits are pretty funny. Smith's final scene had me laughing out loud.
The Drop is a production of Duplass Brothers Productions, Everything Is Everything, and Perception Media. It premieres on January 13th on Hulu.