You won't be screaming "Opa!" with glee after seeing My Big Fat Greek Wedding 3, but there is enough feel-good charm in writer/director Nia Vardalos's third go-around in her Big Fat Greek Universe to keep you satiated. For a while, anyway. It would have been great if the third time was a charm for the Portokalos family, but alas, how we find that family here and the story they're given to exist in simply doesn't work.
That's not entirely Vardalos' fault. Her intentions are pure: Create films that remind audiences of the universal bonds we all share around family, relationships, and loved ones. The problem — there are quite a few actually — is how Vardalos and her creative team chose to execute what could have been a truly rewarding endeavor. Fear not. Hope is not all lost. A few Greek muses try to save the day.
Not Enough Ouzo to Go Around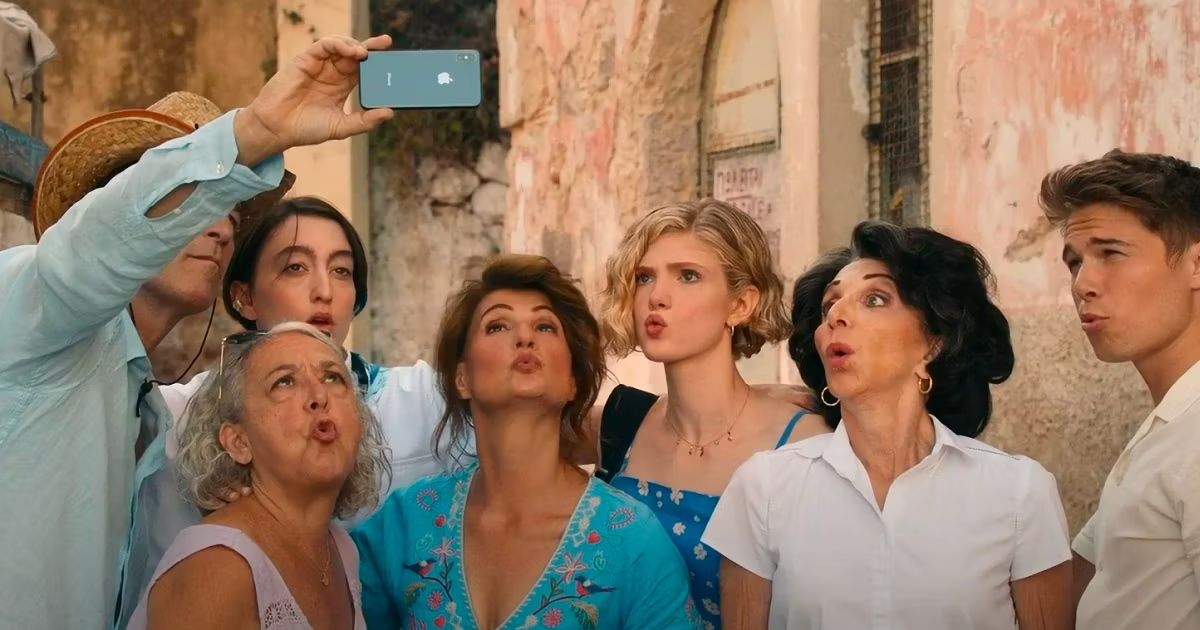 The premise of My Big Fat Greek Wedding 3 is inviting. It finds Toula (Vardalos), hubby Lan (John Corbett), and members of the Portokalos clan all heading back to Greece so Toula can hand her deceased father's treasured notebook to three of his childhood friends. Ah, a sense of purpose. All good, because that notebook is filled with his reflections about what life has been like being an immigrant and raising a family in America. Timely. But then… things immediately derail with the storytelling. You know that feeling you tend to get when you've been with family members a little too long on any excursion? Welcome to My Big Fat Greek Wedding 3.
Most of the clan make the trek to Greece, save for Toula's ailing mother, Maria (Lanie Kazan), and cousins Nikki (Gia Carides) and Nick (Joey Fatone), all of whom aren't given much to work with here, although Kazan shines as always. Toula's daughter Paris (Elena Kampouris) holds a secret about college life. It's easy to guess and later, when the family discovers it, it's not worthy of the buildup. There's a potential love interest in Aristotle (Elias Kacavas), who's tagged along as Aunt Voula's (Andrea Martin) "assistant." As if this woman would ever need one. Voula has always been a free spirit and one of this group's most dynamic family members.
Related: My Big Fat Greek Wedding 3 Cast and Character Guide
Maybe she's bringing Aristotle along to repair a fracture in their relationship, which never really took off, but the script doesn't bother to make any of that clear. Martin stands out throughout the film, delivering great lines with fervor. And hats off to Maria Vacratsis as Aunt Frieda. She pairs nicely with Martin. They're a great duo, and you'd like to spend more time with these characters, but one fears even writing that because, well, let's not even consider the possibility of MBFGW4.
Newcomer Melina Kotselou does well as Victory, who escorts the family back to the village where Toula and Nick's (Louis Mandylor) father, Gus grew up. Victory is jazzed about the family reunion and believes it will be a festive affair. But as more time passes, and Toula's search for her father's three friends proves more challenging than she thought, it sends the film into a choppy third act.
Riding on Past Success
My Big Fat Greek Wedding was released in 2002. It became a massive box office hit, and found a place among the finest, highest-grossing romantic comedies in history. Vardalos nabbed an Oscar nomination for Original Screenplay, and Golden Globe nom for Best Actress. The ensemble cast garnered a Screen Actors Guild Award and Critics Choice Award. The film was so big, Vardalos agreed to develop a sitcom, but the series fell flat and was canceled.
Related: 25 Classic Rom Coms That Are Worth Rewatching
Flashforward to 2016 and My Big Fat Greek Wedding 2 was met with open arms, even though the script never rose to the spark of the original. Part three holds promise but fails to deliver creatively. It's a shame because there's a good movie in here somewhere. The main problem is how poorly the film is edited. Sure, this is Vardalos' first time directing, and while the script she's written here doesn't always gel, it could have been enhanced with proper editing. What we do get is far too many frenetic cuts and shoddy transitions that become far too distracting.
Fortunately, the film was mostly shot in Greece — stunning beauty all around. With Rita Wilson, Tom Hanks, and Gary Goetzman on board as producers, obviously there was confidence about the material going in. The absence of Michael Constantine, who played Toula's father, Gus, is felt — Constantine passed away in 2021 — and Lanie Kazan's limited presence is another story arc that doesn't pack the punch the filmmaker wanted it to.
A few clever plot twists arrive after the film's midpoint. They work for the most part. There is another wedding, but best to experience how that plays out on your own. My Big Fat Greek Wedding 3 may not be the best of the bunch, but there's enough spirit running throughout the endeavor. Like Lite Greek Yogurt, it's an acceptable little snack.
My Big Fat Greek Wedding 3, from Focus Features, hits theaters Sept. 8.