If Halloween is indeed "gay Christmas," as it is lovingly called by many folks in the LGBTQ+ community, then My Animal makes for a solid teaser. Directed by Jacqueline Castel and written by Jae Matthews, both of whom are making their feature film debuts here, My Animal follows Heather (played by non-binary actor Bobbi Salvör Menuez) as she moves through her small northern town as an outcast, trying to keep her darkest secrets from coming to light. Tomboyish and desperate to play on her town's all-male hockey team, not only is Heather secretly queer, but she is also a werewolf (the product of a family curse).
Every full moon, her father — also a werewolf — and her overbearing alcoholic of a mother chain Heather to her bed as she completes her lycan transformation. Though it seems this is done to protect herself and others, it wouldn't be surprising if the main motivation was actually to avoid undue embarrassment on the family. And for the most part, Heather seems to have accepted her fate (as a social pariah, as a werewolf, and as a young woman with very little opportunity in her small, conservative town).
Of course, everything starts to spin out of control when Jonny (played by Amandla Stenberg), a figure skater with secrets of her own, arrives and uses Heather's ice rink for practice, piquing Heather's interest. Irresistibly drawn to each other, Heather and Jonny engage in a steamy but tumultuous relationship that threatens, for better and worse, the life Heather has tried so hard to maintain thus far.
An Atypical Werewolf Movie
Die-hard horror fans are, by now, are likely familiar with the best werewolf movies cinema has had to offer, whether it's the classic 1941 film The Wolf Man, '80s gems like The Howling, or more modern attempts like the Underworld franchise. My Animal, however, charters a somewhat atypical route, favoring mood and the exploration of our lead characters' internal lives over traditional gore and body horror.
Indeed, Heather's lycanthropy, here, functions as a veritable metaphor for her queerness. It harkens to the 2000 cult horror film Ginger Snaps, in which the titular Ginger (Katharine Isabelle) similarly undergoes her first werewolf transformation alongside her first period and her first experiences of sexual desire, all of which escalates violently. However, in My Animal's case, Castel focuses more on Heather and Jonny's relationship, carefully navigating the intricacies of queer desire in a space as hyper-heteronormative as a sports arena.
Related: 13 Best Horror Romance Movies, Ranked
Menuez and Stenberg, in this regard, are the MVPs of the film, turning in powerfully restrained performances of two women trapped in the social confines built by those around them. As Heather, Menuez channels a quiet desperation that pulls at the heartstrings. Meanwhile, Stenberg is as alluring as she is soulful, proving once again why she's a star. What's more, their chemistry is never a question — in fact, My Animal radiates with it — and it's wholly captivating to watch as they tightrope-walk that all too knowable line between love and lust, need and want, fear and reckless abandon. Even though you know it won't end well, you can't help but root for their forbidden love.
Also deserving of praise are cinematographer Bryn McCashin and production designer Emma Doyle. Red is a prominent motif in My Animal — it's everywhere, from the walls of the ice rink and Heather's hockey jersey to even her sheets and curtains — and while it might seem like an on-the-nose pick for a romantic werewolf flick, it's juxtaposed with a certain steeliness in everything else. McCashin's lens captures this blood-and-ice contrast, fluid and sensual one moment, then sharp and assured the next, mirroring the journeys our lovers are on.
Promising New Voices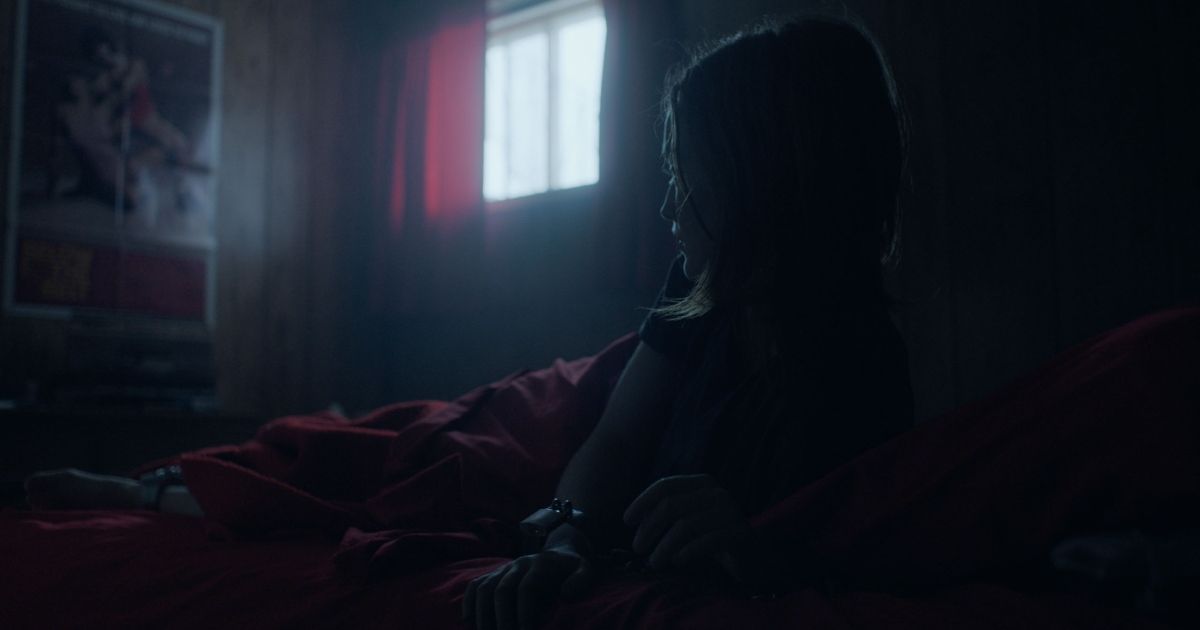 Where the film somewhat falls short, however, is its follow-through on some of the questions it aims to answer. Castel's greatest strength here — her sharp instinct for mood and atmosphere — is also, at times, the film's greatest weakness. There are moments when horror and romance are at odds with each other, one always waiting in the wings while the other has its moment in the spotlight. By striving to be many things — queer romance, sociopolitical allegory, werewolf horror — the film is spread a little thin, leaving enough loose threads that, particularly in the third act, you're wanting more.
Nevertheless, there's evidently no shortage of talent among My Animal's cast and crew. Castel and her team certainly know how to make a movie, and they've established themselves here as up-and-coming, and much-needed, new voices in cinema. Not all the risks they took may have paid off, but they dared to put a new spin on a century-old trope. Considering the current precarious state of the film industry, that's certainly worth something. The promise of having something exciting to offer — it's as bright as any full moon.
My Animal releases in select theaters on September 8 and on digital September 15.