Nothing helps wash down turkey gizzards and your uncle's racist rants better than a trip to the Satellite of Love! Mystery Science Theater 3000 is back with its annual Turkey Day Marathon, and they're bringin' all the fixins!
Season 13 of the fan-favorite series is currently streaming on its new home, Gizmoplex. The familiar plot has Gizmonic Institute employee Johah Heston (Johah Ray) forced to watch bad films against his will. Joining him are robots Tom Servo (Baron Vaughn) and Crow. T. Robot (Hampton Yount). The evil Mads dishing out the films include the daughter of Dr. Clayton Forrester, Kinga Forrester (Felicia Day) and Max, "TV's Son of TV's Frank" (Patton Oswald), as well as the clone of Pearl Forrester, Synthia Forrester (Rebecca Hanson). A cast of characters also join in on the fun, including Gizmonics technician Emily Conner (Emily Marsh) and original test subject Joel Robinson (MST3K creator, Joel Hodgson).
This year's Turkey Day Marathon features the first ever all-female hosting lineup in MST3K's history, with Kinga Forrester and Synthia Forrester dishing out the barrage of bad movies. Additionally, for the first time, this year's marathon will include eight classic episodes newly remastered, showcasing visual and audio components upgraded from the original broadcast versions.
We spoke with Rebecca Hanson and Felicia Day about this year's Thanksgiving festivities, as well as how they were each brought into the relaunched version of the show, what their writing process is like, and who would win in a fight with their rival riffers.
MW: First of all, congratulations on season 13.
Felicia Day: Thanks!
MW: You've got the Thanksgiving Turkey Day marathon coming up too, which is always a fan favorite. And it's ladies only too, which is nice.
Rebecca Hanson: Yeah, I'm not complaining.
Felicia Day: No, not at all. I have had such a good time working with Rebecca. It makes me want to go on the road with her because she is such a delight. Also, I'm so mean to her on camera. I just wanted to be able to make it up to her.
Rebecca Hanson: Thank you, Felicia! You know, when they said, "Hey, let's have Kinga and Cynthia host Turkey Day this year," I was like, "Oh, yes, please!" I'm glad they didn't ask us to cook or anything like do like real turkey day stuff. But yeah, as someone who doesn't want to host a Thanksgiving dinner, I'm very happy to host Turkey Day.
Coming Aboard for the Revival
MW: I'd like to start by going back a little bit. Can you talk about your experience joining the show for its revival?
Felicia Day: Well, I can tell you my origin story and how exciting it was. I saw Joel across the room at a green room at a convention, and I was like, "I'm gonna go take a selfie with him and rub it in my brother's face." From that interaction, I got to become part of a show that I love more than anything. So, every day on set is always a joy. Whether we're in Rebecca's garage or whether we're on a huge sound set, it's just wonderful. I'm so grateful to Joel for bringing me aboard to be part of this family.
Rebecca Hanson: I first met Joel Hodgson in November of 2013 when he was in Chicago with Tracy and Frank. They were doing a 25th anniversary Q&A, and I went up to get some DVDs signed by the three of them At the time, I was working at Second City in Chicago, as was my husband, Tim Ryder, and a friend of ours, Ross Bryant, and we were going to ask if they maybe wanted to come play the improv set that night with us. Before we even got up to the table, Joel was like, "Oh, hey, these are the Second City guys." Unbeknownst to them, Joel had been in the audience night before us and saw Tim and Ross performing.
So, long story short, they did not play the set with us, but he had dinner with us that night, and he kept in touch with us after that. He asked me to help him at Wizard World in Chicago a couple of years ago. I just hung out with Joel all day, helping him at the booth and stuff. He asked if the show was ever to come back again and if I'd want to write because he knew I was a performer and improviser. So, after the Kickstarter ended in 2015, he called me the next day and was like, "Hey, you want to make some TV? Would you want to write? Would Tim like to write? Would you want to play a clone of Mary Jo? Would Tim want to be a Bonehead?" I said, "Joel, anything you want to ask? Because we're gonna say yes."
Related: The Best Sci-Fi Comedies, Ranked
MW: The show progressed and changed over the years, but this was a pretty hard reset. I kind of feel like Joel was hedging his bets a little bit by bringing you in, Felicia, as well as Jonah and Patton. If there's a Venn diagram of the fan base of the three of you and the show, there's going to be a lot of overlap.
Felicia Day: Definitely. I feel this nerdcore. I feel like MST3K will always endure, and I'm just so lucky to have been part of that culture and to be acting and performing in this world and be a part of the shows that I would watch anyway. My goal in my career is to do the stuff that I'd consume myself and knock on wood, hopefully, I'll get to keep doing it.
MW: I just want to say real quick, I follow you on social media, and it's almost exhausting. I feel like you're doing absolutely everything. I can't imagine what your schedule is like.
Felicia Day: I mean, it's too much. I have a problem. I have a child, and she's made me slow down a little bit. But just I say yes to too many things and I can't stay idle. I'm doing a bunch of charity auctions now, and I'm like, "Why? Why can't you just have a relaxing holiday?" But at the same time, I just love what I do. I was fortunate enough to kind of stumble into a career that I created myself and cobble together the things that I like to do to make it work. So, it doesn't feel like work. I just don't stop working. We'll see. Hopefully, I'll be lazy one day.
Trust the Process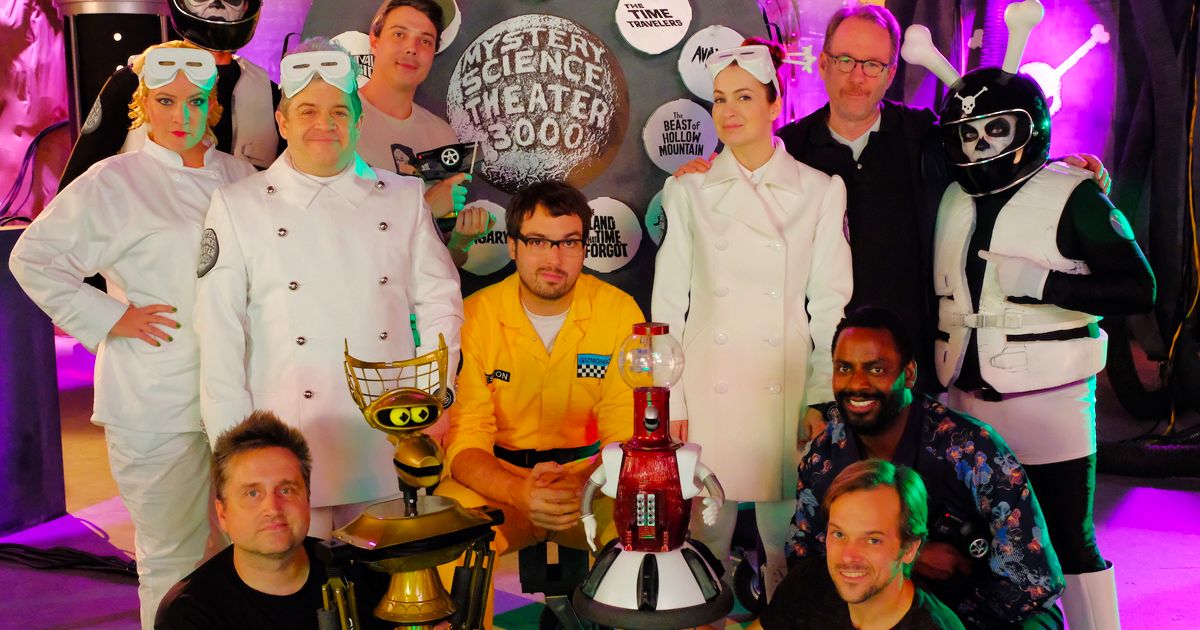 MW: Can you talk about the writing process a little bit? Because I feel like there are a lot of misconceptions about the writing for the show because it's so different than any other television show.
Felicia Day: Yeah, we work together. Rebecca and I finally got to work together on Munchie, which was awful, because it's the worst film ever made and the worst experience ever. It was just a real poop shoot, and the writers will always be scarred from that experience. But always be close to each other. It was a trauma. It was a mass trauma. So anyway, yeah, go ahead and say the practical stuff.
Rebecca Hanson: I feel like we refined it a little bit for season 13 as opposed to seasons 11 and 12, which are the other two seasons both Felicia and I wrote on. Our writers' rooms were Zoom rooms. Some of us would write ahead of time, or we would pitch ideas in the room. Some days, we would strictly be writing riffs, and there'll be other days where we're pitching host segment ideas. Then we get divided up and write towards different host segments with the sketches. This season, the writers got to do a little bit of what we call 'riff producing.' After our day was done, we would pair up into groups and cover about a minute or two and kind of refine some of the riffs that we felt were the funniest and the best and we would maybe try to fit them in so they're not overlapping the actual movie dialogue. I feel like that process this particular season really helped sharpen my writing. You can't be too precious with your words or what you pitch.
Felicia Day: You have to give credit where credit's due. You know, when you're in there and you're like, "I have all the power to put my riffs in," you'd have to think, "You know what, no, this one was funnier." It was really fun to see that. Everybody brought a different angle, and a different sense of humor, and putting them all together is really what MST3K is all about.
MW: Obviously, the host segments are almost exclusively character-driven, but when you're writing the riffs, are you writing to the strengths of Jonah or Hampton or Baron, or is it, "Here's the best joke. Who wants it?"
Rebecca Hanson: When you're riffing, we don't do that line assignment. That's not even in our jurisdiction. Sometimes, you can pitch a line and be like, "Of course, this is like Servo's voice." But no, you literally are just writing. You're writing what's funniest, you're picking what's funniest, and you're picking what fits within the movie dialogue. For the host segments, sure, we're writing toward characters specifically.
Related: 10 Classic Sci-Fi Movies That Could Use a Sequel
MW: Did Joel steer you guys in a direction as far as, "This how we used to. This is our old process. Maybe you guys should work this way?"
Rebecca Hanson: I think it's primarily the same.
Felicia Day: Yeah, I think it's the same. I don't know how they did it in years past, but in the last three years, I think it's pretty much the same. For the first few years, I did all my work remotely, so I didn't get to do the Zoom Room. So, that was a fun thing this year. I felt like, "Oh, we're having a party. We're suffering together or laughing together. It was really fun. And like Rebecca said, the riff producing was really great because then you put a different hat on, and you're like, "Okay, what's the best joke to go here?"
MW: What's your shooting schedule like?
Rebecca Hanson: This season, there were two different locations for the shoot.
Felicia Day: Because there were so many hosts and the East Coast and West Coast. Patton and I worked three or four days, something like that. And it was fun. It goes fast, believe me. And because it was lower budget, more indie, it was just pages and pages and pages and pages every day. But it was really freeing in that.
Rebecca Hanson: Yeah, you just jam through it. I was fortunate enough to do the Philadelphia shoot last fall and then the LA shoot in December. And yeah, I mean, the great thing too, is we don't have to memorize lines, it's all on a teleprompter.
Felicia Day: Thank god, because it would never get done.
Rebecca Hanson: We would never be able to shoot so many pages a day if we had to memorize so. It's always a blast when the puppeteers are in. It's fun seeing all the weird characters or the weird costumes and all that stuff. But, I think the whole the whole season shot and probably four weeks total.
Felicia Day: Really, the longest process is writing. Everybody should always appreciate writing more because it's really the hardest, longest process of anything and bringing it all together goes much faster than you would have expected.
Rebecca Hanson: Yeah, you get three takes at the most we usually do things in one or two takes. We do a second just for safety sometimes. Nothing about this is too precious. You just gotta go with it.
MW: OK, last question. If it came down to it, who would win in a no-holds-barred bare-knuckle flight? The current crew of Mystery Science Theater 3000 or the Rifftrax crew?
Felicia Day: I don't want to beat anybody up, but…
Rebecca Hanson: I mean, there are more of us on MST3K, right?
Felicia Day: I think they're older. I could take them.
Rebecca Hanson: And Jonah is tall.
Felicia Day: He's a mountain of a man.
Rebecca Hanson: We've got a few over-six-feet people.
Felicia Day: I'd rather just have a hug party, please
Mystery Science Theater 3000′s Turkey Day Marathon will be streaming on Gizmoplex on November 24.