Kyle Gallner (Scream, Smile) and Holland Roden (Teen Wolf: The Movie, Ted Bundy: American Boogeyman) work through some major mommy issues in Mother, May I? It' a throwback flick that may or may not be about possession, and leans toward sophisticated psychological horror. Fortunately, writer/director Laurence Vannicelli's (Porno, The Young Housefly) keeps the plot steady throughout a heady film that asks you to wax psychological as much is it wants to jolt you.
Oh, how the plot is rife with promise. Emmett's (Gallner) mother dies, and he's quick to clear out the house to flip it. His fiancée Anya (Roden) sees it as an opportunity to heal some part of his past and, in turn, their relationship. That doesn't appeal to Emmett initially, but like any good psych thriller, our protagonists don't always get their way. What does unfold, and how Emmett and Anya cope with that in Mother, May I?, is enticing enough, even though the film doesn't always rise to the place you sense it wants to. Nevertheless, there's enough eerie thrills here to keep audiences stimulated.
Mother, May I Be Healed From Thee?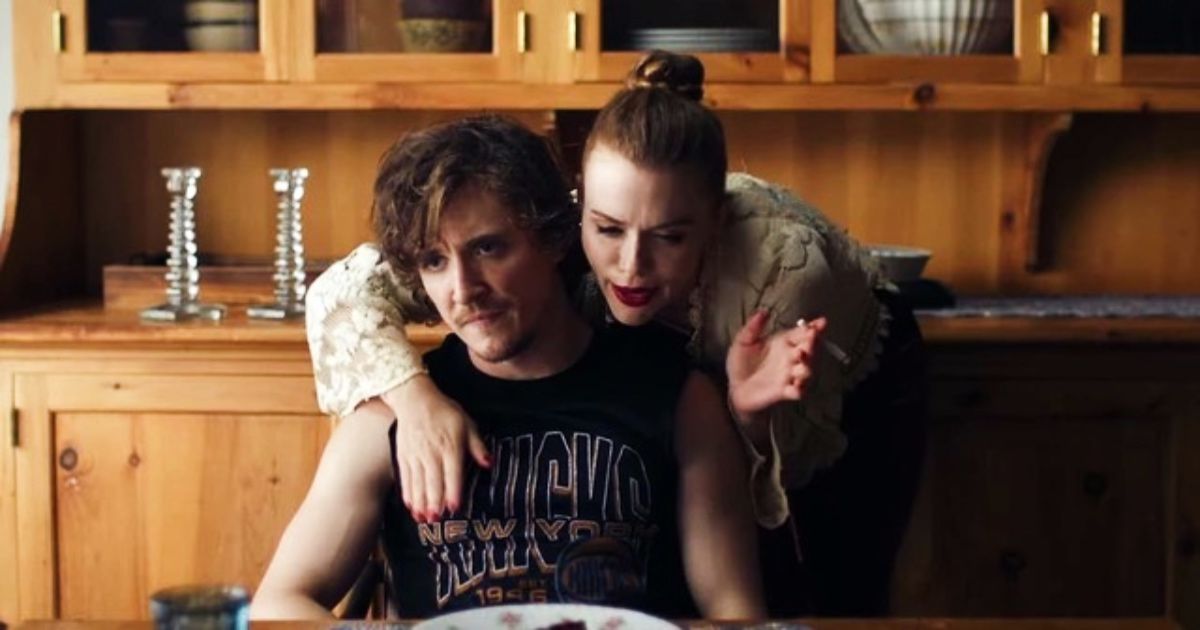 Perhaps it was intentional on writer/director Laurence Vannicelli's part to showcase two characters who clearly can be ideal poster children for diving into therapy and working through your own crap. Emmett's mother abandoned him as a child, and he's never shaken off the trauma. Meanwhile, Anya's mother, a stern psychiatrist, filled her childhood with less affection than she would have liked. These are two open emotional wounds in the shape of people headed toward disaster.
We soon learn that Emmett and Anya have been working through some of their issues by way of chair reversal. The method finds them swapping chairs and pretending to be the other person, perhaps as a form of reflection. It sets things up for what happens next: during a night of 'shrooming, Anya surprisingly begins to act like Emmett's mother, Tracy. It's all quirky and tolerable at first, but come morning, Anya is still acting like Tracy, embodying the woman — to the tee.
Related: Exclusive: Holland Roden and Director Laurence Vannicelli on the Mind-Bending Horror of Mother May I?
Tracy was a dancer and a tad elitist, so it's great fun to watch Roden slip into her emotional shoes and, essentially, play two extremely diverse characters in this film. We never "met" Tracy, after all. And what we do experience of her via Anya clearly suggests that the woman was a piece of work. No wonder Emmett needs a hug.
Bottom line; Emmett wants Anya to drop the act. But what "act?" This sort of thing goes on for a while and with each and every turn, Emmett is forced to sit in his core wounds so that he can deal with them and move on. Will he? He's not opposed to fighting back. Even if this is his, uh, "mommy."
One 'Shroom Too Many?
Vannicelli does a nice job playing off the 'shroom experience because, well, are we to believe that Anya is still in a 'shroom-induced state or has Tracy fully possessed her? To that end, the director keeps the audience guessing and doesn't resort to big shocking thrills. He simply keeps things in the middle, thereby allowing the audience to come to their own conclusions about the events playing out in front of us. If you recall, Nanny, the great indie hit from last year, writer-director Nikyatu Jusu employed a similar technique.
Related: Exclusive: Kyle Gallner Chats Up the Global Success of Smile and its Streaming Launch
Other things that stand out is that film purposely has a claustrophobic vibe to it. Chris Mulkey costars as a distant neighbor and provides information to both Emmett and Anya to keep the plot moving along, but mostly this film is in the hands of its two leads. Gallner has that everyman appeal and seems to be riding a wave of good roles in that realm. Roden shines in a complex role that showcases her depth. No doubt Emmett and Anya have things to work through — especially after their time at mommy's house — but therein lies the struggle. On that note…
Therapy and personal transformation aren't always "fun." It takes effort. It's work, after all. We can relate with Emmett. I mean, who wants to dive deep into their core trauma with vigor? Vannicelli effectively captures the struggle, yet also manages to poke you with the possibility that much more is going on here than we realize. True or not, somehow Mother, May I? works, yet one has to wonder if general audiences want to go along for the entire ride. Some won't. Most people will probably keep at it. The ending delivers some chilling notes and, thankfully, Gallner's and Roden are effective in their portrayals of flawed people. Watch these two. They are bound to generate a stir in other stories.
Mother, May I?, from Dark Sky Films, hits select theaters and arrives on digital July 21.